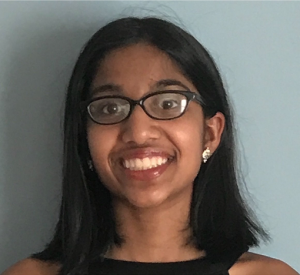 STAND Conflict Updates are published monthly and highlight current events in 11 conflict regions and countries around the world. To celebrate our conflict update writers and the work and research they put into their sections each month, STAND will be featuring a conflict update writer of the month along with their background and involvement with STAND. 
---
Please tell us a little about  yourself.
My name is Mira Mehta, and I'm a senior at Westfield High School in New Jersey. I'm the co-lead of the Yemen Action Committee, and this is my fourth year being a part of STAND. Last year, I was the New Jersey State Advocacy Lead, and before that, I was part of the communications task force for two years. Outside of STAND, I am the captain of my school's debate team and an Editor-in-Chief of my school's magazine.
Please write briefly what you've learned from writing conflict updates and why you choose to contribute to conflict updates each month.
I love contributing to the conflict updates every month because international atrocities rarely get the media coverage they should, and the conflict updates provide a very clear and concise way for people to stay informed. Before I joined STAND, I knew very little about mass atrocities or how prevalent they were around the world. The conflict updates were a really helpful resource for me to become educated, so contributing to them feels like a way of paying that forward. Writing them has also helped me stay informed on areas that I don't usually focus my advocacy on, like Cameroon.
Based on the region(s) you've written on, what do you wish more people knew about the region(s) and its issues? 
I wish that people knew there is a conflict between English-speaking and French-speaking people in Cameroon, which has been escalating for a long time and is likely to become an even larger atrocity. Cameroon is a country that most people never think about, but there are real people who are in danger. It's also important to note that neither side has a strong moral high ground in this case because both the English-speaking separatists and the military have acted with blatant disregard to and sometimes malice towards the well-being of civilians. There has to be international attention to help reduce the tensions before they escalate even further, and more innocent people get killed.
Why do you work with STAND and what have you enjoyed about the work you've done?

I love working with STAND because I've gotten the chance to make an actual difference and take action against atrocities around the world. I've been able to work with such incredible people from around the country who are passionate about these issues, and it's amazing to me to watch them work and learn from them. STAND makes advocacy work accessible and brings in young people, and I really appreciate the ability to pass that on and to continue learning.
Read Mira's featured sections here:
---
Read more about STAND's conflict updates and other published pieces on our blog. If you are interested in writing a conflict update or joining a STAND Action Committee, visit our interest form. Contribute to STAND to support youth activists like Mira! Donate any amount here.