STAND is the student and youth-led movement to end mass atrocities. Born out of the fight to stop the genocide in Darfur, Sudan, STAND is devoted to creating a sustainable student network that actively fights genocide and mass atrocities wherever they may occur. By creating political will, we hold our elected officials accountable for preventing and ending genocide and mass atrocities, and by supporting young peacebuilders in conflict-affected and post-conflict countries, we help communities build resistance to conflict.
Every successful social movement in history has included a vibrant student voice, and the anti-genocide movement is no exception. As such, STAND is the only student-led organization focused on genocide and atrocity prevention. By sounding the alarm on emerging and ongoing conflicts, mobilizing campuses and communities, building meaningful relationships with policymakers, developing young leaders, and creating innovative campaigns, we are leading members of the anti-genocide movement.
STAND is the U.S.-based Youth Department of the Aegis Trust.
Mission
To build, organize, and empower a grassroots network of students and young people committed to advocating for the prevention and mitigation of genocide and mass atrocities wherever they may occur.
Vision
We envision a world in which the global community is invested in preventing, mitigating, and sustainably resolving genocide and mass atrocities.
Model
STAND is truly youth-led. We mobilize our youth network to respond rapidly to emerging crises, educate their peers on ongoing issues, and advocate to policymakers to enact change. We offer several levels and types of engagement. Our volunteer Managing Committee oversees programmatic areas and leads our issue-based Action Committees. Individual activists participate in Action Committees, direct advocacy for their area as State Advocacy Leads, and/or participate in school and community chapters. Join the team here.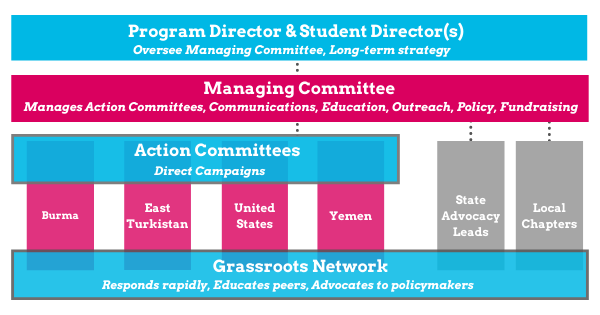 Finances and Annual Reports
Coalitions
STAND proudly co-leads the U.S. Youth, Peace, and Security Coalition with Search for Common Ground.
STAND is a member of the United Network of Young Peacebuilders, the Alliance for Peacebuilding, the Prevention and Protection Working Group, and many other topical coalitions.