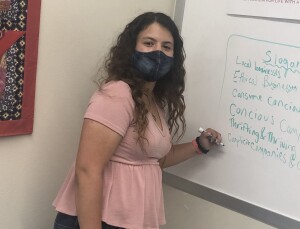 What if someone told you that the new pair of sneakers you bought was most likely assembled by someone who was forced to make them? Though it has long been known that Nike uses exploitative labor practices, they are just one of many corporations in a cycle of abuse going on halfway across the world.
In the East Turkistan (Xinjiang) region of China, the government has organized a system of "re-education camps" where Uyghur Muslims are imprisoned, stripped of the right to practice their culture and use their language, forced into slave labor, and are allegedly tortured. Former U.S. Secretary of State Mike Pompeo declared the Chinese government's actions to be genocide on January 20 due to the evidence compiled from numerous eyewitness reports, satellite images, and government documents. According to the Australian Strategic Policy Institute, there is evidence that more than 80 brands employ the coerced labor of Uyghur Muslims. This includes the brands you might guess, such as Nike and Amazon as well as ones that may shock you: BMW, Google, Coca-Cola, and Lacoste to name a few. Because they are using Uyghurs as a cheap source of labor, many, such as Apple and Coca-Cola, are lobbying against policies which aim to stop the Chinese government's inhumane practices. 
The Uyghur Forced Labor Prevention Act (UFLPA), H.R.1155 sponsored by Rep. James P. McGovern (D-MA), and S.65 sponsored by Sen. Marco Rubio (R-FL), seeks to put an end to forced labor. If passed, the UFLPA would block goods produced using forced labor in China from entering the US, as well as include ways to hold both the government and companies accountable for their past actions. It has 38 co-sponsors in the Senate and 19 in the House of Representatives. Right now, STAND is working on a campaign to call more attention to the act and advocate for its passage (if you'd like to talk to your state government about it, you can find a call script here). While passage of this act would greatly help the situation, it has been slowed by the lobbying power of companies such as Coca-Cola and Apple. 
You, as a consumer, have the power to "vote with your wallet." If you make sure that the companies you choose to buy from produce and manufacture their products responsibly, you are proving that we the people have power to make change and will not stand for the abuse of men, women, and children for our next t-shirt. The easiest way to prove that a company has a positive impact is by checking if they are B-Corporation Certified. The B-Corp is an organization that analyzes companies to see their impact on everything from where they get their supplies, to how they treat their employees, and even how their products affect consumers. Additionally, they determine the impact of production on the environment and analyze the company's investments. I encourage you to research the organization and use their directory to see what kind of impact your shopping decisions have. Another way you can help is by buying second-hand items. By thrifting, you are supporting the local community and not the companies that manufacture the goods you want. Frankly, it can be way cheaper than buying new things too. 
Sometimes it's hard to feel like you are making a difference, but in the middle of a worldwide crisis every action can be important. It is through small actions that we can band together and really make a difference. Making a conscious choice can prove to companies that we don't want things made by people who do not want to be making them. Right now, there are goods being made by the hands of people who are experiencing a genocide. Do you really want them in your home? 
---
Sarah Hanerfeld is a junior at Tampa Preparatory School in Florida. She has been a part of STAND for the last 2 years and has been the social media manager of @tampaprepstand for one of those years. Her biggest dream is to make a difference in the world and to work towards that with her friends, who inspire her every day.