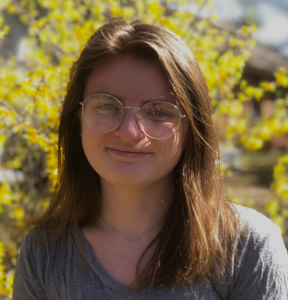 STAND Conflict Updates are published monthly and highlight current events in 11 conflict regions and countries around the world. To celebrate our conflict update writers and the work and research they put into their sections each month, STAND will be featuring a conflict writer of the month along with their background and involvement with STAND.
---
Please tell us a little about  yourself.

My name is Audrey Firrone, I am a third-year  student at the University of Memphis studying Creative Mass Media, French and Political Science. I joined STAND in July as an Action Committee member on the East Turkistan Action Committee. In addition to writing conflict updates about East Turkistan and the Uyghurs, I have helped research for the Committee for information that can be presented to STAND chapters. Outside of STAND, I have worked with the Free Uyghur Now student coalition advocating for Uyghur rights. Between November and the beginning of March, I was the communications director for the coalition and I have been one of the content creators for infographics and social media posts since September. 
What have you learned from writing conflict updates and why do you choose to contribute to conflict updates each month?

Since I started writing conflict updates, I have learned that it is important to be unbiased in not only writing, but in research. Human rights is something that should not be a partisan issue, and when researching what is happening the research shouldn't stop when something comes from a "side" that differs on other issues. I choose to contribute to the conflict updates each month because it allows me to not only stay up-to-date on what is going on in East Turkistan, but also helps with the work I do for Free Uyghur Now.

Based on the region you've written on, what do you wish more people knew about the region and its issues?

The thing I wish more people knew about the current atrocities happening in East Turkistan is that things are worse than many people realize. This is an emerging issue and as each month goes by new information is coming to light that is more atrocious than the last. Although this is a hard truth to understand, as more light is being shed on the issue the more things come to light. Since I started writing the conflict updates in August, several big and atrocious stories have come out and it is something that is going to keep happening as the world begins to put more focus on the crimes against humanity happening in East Turkistan. 
Why do you work with STAND and what have you enjoyed about the work you've done?

I work with STAND because it gives me inspiration that my peers care about making the world a better place. It is cliché to say, but it is true. Working as an Action Committee member has allowed me to meet so many people that are working to make the world a better place at so many different levels. Genocide  and mass atrocities are occurring and for many people my age that is something that they don't know or acknowledge, and to work with so many youth that are trying to bring these issues to light is inspiring. 
Read Audrey's featured sections here:
---
Read more about STAND's Conflict Updates and other published pieces on our blog. If you are interested in writing a Conflict Update or joining a STAND Action Committee, visit our interest form. STAND Managing Committee positions are now open- check out the application!