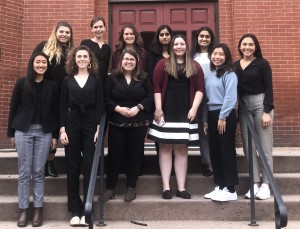 From the beginning, STAND has been youth-led, not only at the campus level, but also at the national level. We offer several levels and types of engagement. Members of our volunteer Managing Committee (MC) coordinate our Action Committees, develop STAND's national advocacy focus areas, craft our public brand and messaging, and coordinate our grassroots organizing efforts. Managing Committee members work closely with Action Committees to develop our short- and long-term advocacy and grassroots organizing strategies, create educational materials, resources, and activities for our grassroots members, and work with partner organizations to advance shared goals.
STAND prioritizes inclusivity in our youth-led movement. We welcome submissions from all qualified applicants.
Action Committees
Action Committees (ACs) aim to educate young people on issues related to a region, center voices of affected populations, and provide spaces for movement-building and activism on each given issue. Each AC focuses on one of our priority regions. The Committee communicates regularly in STAND's Slack platform and hosts monthly calls during the school year. Committee activities can include sharing news updates, creating educational materials on the history and culture of the region, developing action opportunities and campaigns, partnering with leading organizations and experts, and training in advocacy skills. You are welcome to join one or more ACs. Committee members are welcomed at all levels of commitment. You can participate as little or as much as your schedule allows! ACs are designed for youth who are based in the United States.
Current Action Committees include:
Burma
East Turkistan (Xinjiang, China)
United States
Yemen
The Managing Committee reviews current and proposed topics for ACs and other issue areas each year. We welcome suggestions for additional topics from members.
Click here to access the Committee interest form. After you submit, an Outreach lead will contact you with information about next steps. We accept new members at any time!
State Advocacy Leads
STAND State Advocacy Leads (SALs) are the field organizers of the youth-led genocide prevention movement. SALs coordinate STAND's grassroots advocacy strategy in their local community. They learn how to write and publish op-eds, meet with policymakers, engage local leaders and influencers, research current events around the world, and mobilize their community. Along with our governing Managing Committee, SALs are part of STAND's Leadership Team.
Applications for State Advocacy Leads are closed until Spring 2023.
Student Director(s)
As the visible leader of the STAND constituency and the supervisor of the Managing Committee (MC) and Action Committees, the Student Director (SD) makes sure all of the pieces fit together in STAND's short-term and long-term organizational planning, campaign development and implementation, and outreach strategy. As SD, you will be responsible for facilitating internal MC discussions via Slack (our team communication platform) and weekly video calls, coordinating workflows for the implementation of national programming, working with Staff to plan national events such as MC retreats, and representing STAND at public speaking engagements. Working closely with STAND Staff, you'll also play a key role in developing relationships with partner organizations and in fine-tuning STAND's strategic plan.
Applications for Student Director are closed until Spring 2023.
Managing Committee (MC) Positions
The Managing Committee leads all aspects of the STAND movement and organization. Comprised of STAND's highest-level activists, the MC oversees Action Committees, develops national campaigns and programming, and mobilizes our grassroots network. The MC is responsible for looking out for STAND's long-term future and making sure we're effectively working toward our mission to end and prevent genocide and mass atrocities. The MC works as a remote team from across the United States.
MC members lead different components of STAND, including Action Committees, communications, policy, fundraising, grassroots outreach, and educational materials. In any role, you will be responsible for communicating daily with other MC and Action Committee members via Slack (our team communication platform), attending weekly team calls, regular Action Committee calls, and creating educational and campaign materials. Most MC members have two roles and share responsibility for an AC or program area with one other team member. The (co-)leads are in charge of their program area(s), with some support from outside advisors and partners. MC positions require a strong sense of initiative and responsibility.
Applications for the Managing Committee are closed until Spring 2023.