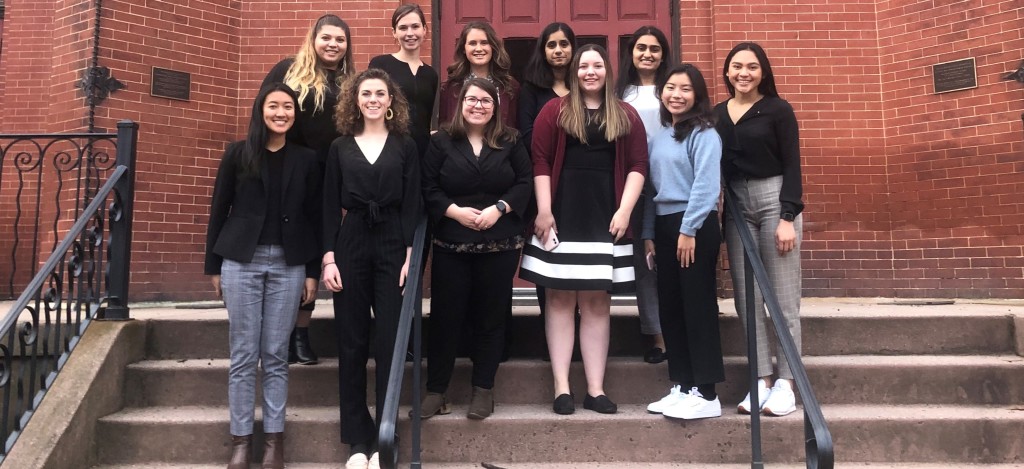 From the beginning, STAND has been youth-led, not only at the community level, but also at the national level. We offer several levels and types of engagement. Members of our volunteer Managing Committee (MC) serve as liaisons between Action Committees and STAND's Student Director and at-large MC members, helping develop STAND's national advocacy focus areas, craft our public brand and messaging, and coordinate our grassroots organizing efforts. Managing Committee members work closely with Action Committees to develop our short- and long-term advocacy and grassroots organizing strategies, create educational materials, resources, and activities our grassroots members, and work with partners to advance shared goals.
STAND prioritizes inclusivity in our youth-led movement. We welcome submissions from all qualified applicants, particularly women and minorities.
Student Director(s)
As the visible leader of the STAND constituency and the supervisor of the Managing Committee (MC) and Action Committees, the Student Director (SD) makes sure all of the pieces fit together in STAND's short-term and long-term organizational planning, campaign development and implementation, and outreach strategy. As SD, you will be responsible for facilitating internal MC discussions via Slack (our team communication platform) and weekly conference calls, coordinating workflows for the implementation of national programming, working with Staff to plan national events such as MC retreats and national conferences, and representing STAND at public speaking engagements. Working closely with STAND Staff, you'll also play a key role in developing relationships with partner organizations and in fine-tuning STAND's strategic plan.
Applications for Student Director are closed until Spring 2021.
Managing Committee (MC) Positions
The Managing Committee (MC) is comprised of STAND's highest level activists, who oversee the Action Committees, develop national campaigns and programming, and run our outreach efforts. The MC is responsible for looking out for STAND's long-term future, and making sure we're effectively working towards our mission to end and prevent genocide and mass atrocities.
We know MC members vary in skills and interests. Therefore, we encourage you to highlight in your application your leadership experiences, your skills and talents, and any issues we work on that you feel called to contribute to. Some MC members will be facilitating Action Committees and others will be working with SD and Staff to develop communications, partner relationships, and educational materials. In either type of role, as an MC member, you will be responsible for communicating daily with other MC and Action Committee members via Slack (our team communication platform), attending weekly conference calls, bi-weekly Action Committee calls, and creating educational and campaign materials, according to committee needs.
We consider these positions to be the equivalent of a part-time internship and expect MC members to prioritize these positions accordingly. In return, and at staff's discretion, we are happy to provide professional references and recommendations for exceptional team members.
Applications for Managing Committee members are closed until Spring 2021.
Action Committees
Action Committees aim to educate young people on issues related to a specific issue or conflict area, center voices of affected populations, and provide spaces for movement-building and political activism on each given issue. Committee members are welcomed at all levels of commitment, from those able to take one action a month, to those wanting to mobilize their communities, research policy options, and creatively fundraise for STAND's work. You can take part in as little or as much as your schedule allows!
Current Actions Committees include:
Sudan and South Sudan
Yemen
Burma
Kashmir
East Turkistan (Xinjiang, China)
The Managing Committee reviews current and proposed topics for ACs and other issue areas each year. We welcome suggestions for additional topics from members.
Click here to access the Committee interest form. After you submit, an Outreach lead will contact you with information about next steps. We accept new members at any time!
State Advocacy Leads
As a grassroots movement, we are working to build a community of activists in every state across the country in order to make an impact on local, state, and national policy. As a State Advocacy Lead, you will connect to influential grasstops and grassroots leaders in your state, plan local advocacy strategy with our Outreach and Advocacy Teams, write op-eds, lobby locally, and mobilize people in your state to take urgent actions.
Weekly Time Commitment: Approximately 5 hours per week
Position-Specific Requirements:
Excellent communication skills

Understanding of basic advocacy and campaign strategy

Ability to learn about state-specific politics and policymaking processes

Strong writing skills
Click here to access the application. Applications are accepted on a rolling basis. Please direct any questions to info@standnow.org.
Social Media Coordinator(s)
If you're social media savvy, enjoy thinking about visual representations of activism, and want to make a tangible difference by engaging students in human rights advocacy, this is the position for you! As a Social Media Coordinator, you would be responsible for drafting posts for STAND's Facebook, Twitter, Instagram, and Snapchat based on the latest #genprev news, STAND campaigns, and partner actions. Additionally, you would be expected to make engaging digital graphics like infographics or call-in scripts that can be shared with STAND's constituency to make political involvement more appealing. Our Social Media Coordinators will work closely with Action Committee leads to create social media tools for campaigns, including sample posts for activists, graphics, and other shareable content.
Applications for the Social Media Coordinator are closed until Spring 2021.