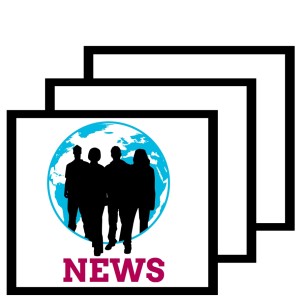 Get ready for a school year full of genocide prevention activism by getting caught up on the past 6 months in each of STAND's watch areas. Interested in contributing to STAND's reporting on these areas during the school year? Check out our Education Task Force applications here, due August 15. Contact Education Coordinator Bethany Vance at bvance@standnow.org with any questions!
Burundi
After over a year of political unrest in Burundi, nearly 300,000 people have fled to other countries, and over 400 people have been killed. There are over 6,000 political prisoners, including over 500 youth recently arrested for doodling on photos of President Pierre Nkurunziza. According to the UN, there have been 345 recorded torture cases, including by electrical shock and use of acid. Testimonies show women forced to strip naked to see relatives in prison, and Human Rights Watch has reported gang-rape of women by youth militia members as part of attacks on perceived opponents. UN Human Rights Chief Zeid Ra-ad al-Hussein has expressed concern regarding the growing use of hate speech, stating in June, "There are also deeply disturbing allegations of ethnic-based hate speech against Tutsis during a large public rally organised two weeks ago in the south of the country by the Imbonerakure militia. These allegations of speech amounting to incitement to violence must be urgently addressed."
On March 22, an army colonel, Lieutenant Colonel Darius Ikurakure, was killed in Bujumbura. A Burundi rebel group claimed responsibility for the killing, which took place in the Defense Ministry compound. The Burundi government was in pursuit of the killer. Reuters reports the event as "the latest in a series of killings" that has occurred due to political instability in the country.
In January, the African Union failed to pass a resolution to bring peacekeepers into Burundi after Burundi's government said they would consider such a force an invasion. On April 1st, the UN Security Council unanimously passed a resolution calling for the deployment of UN police to Burundi. Francois Delattre, French Ambassador to the UN, called the resolution "a first step towards a strengthened UN presence in Burundi to help ensure the respect for human rights and alert the international community on the reality of the situation on the ground." Since then, the UN Security Council has waffled over the details—whether 3,000 police officers should be sent, or as few as 20 police advisors. Finally, on July 29, the UNSC voted to send a 228-member police force to Burundi. U.S. Ambassador to the UN Samantha Power expressed her disappointment in the resolution, noting that the Security Council has not acted to prevent atrocities in Burundi.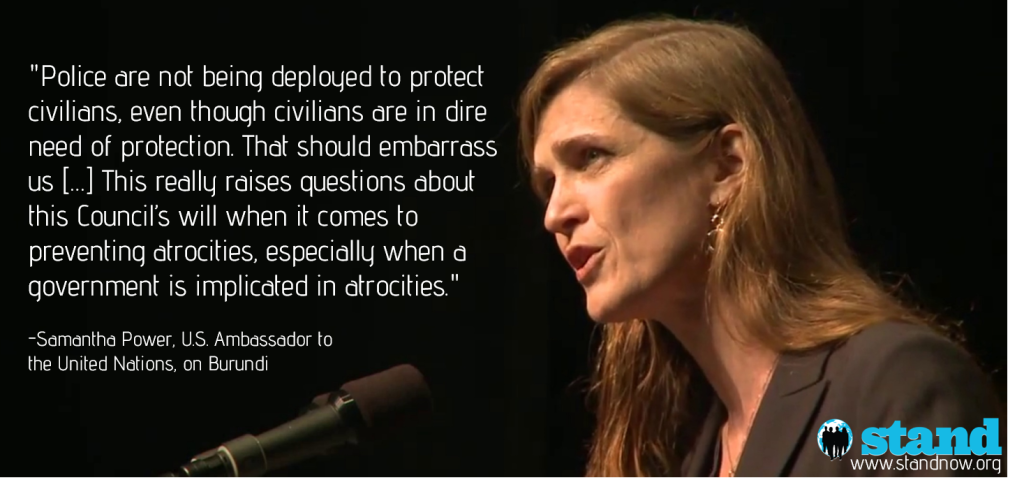 The Burundian government has thus far resisted efforts by the UN to deploy police and military monitors. Before the UNSC vote, Burundian Foreign Minister Alain Nyamitwe affirmed, "The United Nations has to remember that there are AU observers who are on the ground so we just need a few to help stabilise the situation in the country." Burundi was promised 100 AU military observers and 100 human rights observers, but so far, only 15 military observers and 32 human rights observers have actually been deployed.  
In April, The International Organisation of la Francophonie (OIF) suspended multilateral cooperation with Burundi. The OIF noted a 'lack of progress' and political will to resolve the conflict that has lasted over a year. The OIF articulated that several implemented programs that are "benefiting the civilian population in Burundi would continue." Later in June, UNICEF voiced their concerns for Burundi school children after arrests, expulsions, and injuries continued to take place in schools. They have urged that children be left out of the political violence taking place in the country in order to peacefully continue their education.

For in-depth analysis on the Burundi crisis, see our blog post here. Take action for civilian protection in Burundi by signing our petition to the African Union here.
Burma
On March 15, Htin Kyaw, a writer and close friend of National League of Democracy (NLD) leader Aung San Suu Kyi, was elected the new president of Burma. Suu Kyi was not expected to take a formal position in the new government, but rather to act as a senior advisor to the cabinet. The president-elect has already shown his commitment to the democratisation of the Myanmar government, notably by creating a new ethnic-affairs ministry that will support the peace process in ethnic minority areas. Shortly after the election, a statement from the Ta'ang National Liberation Army (TNLA), Myanmar National Democratic Alliance Army (MNDAA), and Arakan Army announced, "Ou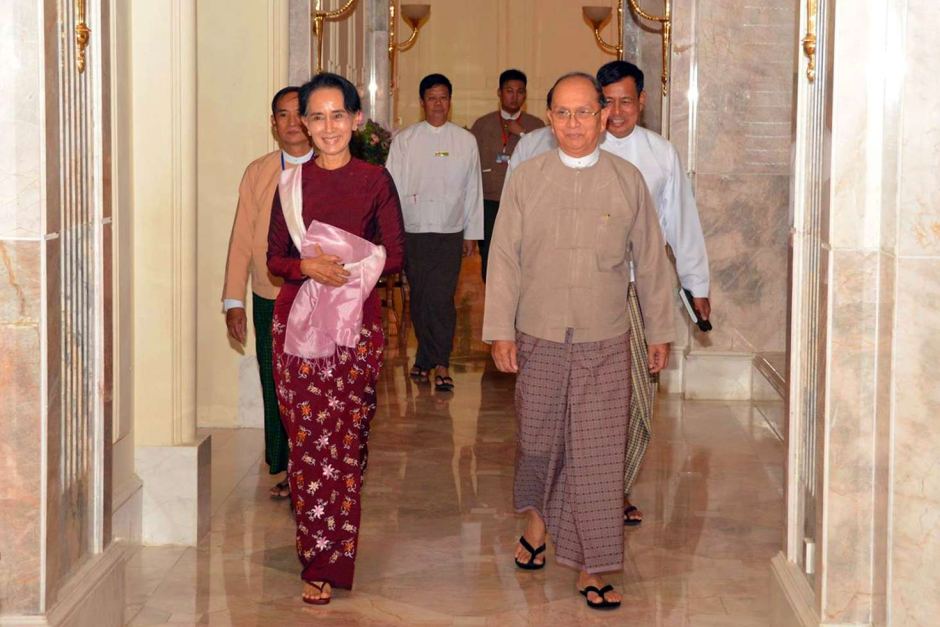 r armies are ready to find a real and better solution for ending the civil wars, seeing through a peace process and rebuilding Myanmar with the hope of national reconciliation by cooperating with the government of president U Htin Kyaw." These changes, however, seem to have given the international community the go-ahead to downsize operations in Burma. This is premature, as fighting has displaced 10,000 people in recent months, and caused an increase in incidents of forced labour, torture, and sexual violence against women. Over 100 civil society organisations in Burma have written to the UN asking for it to continue its monitoring presence in the country as a reminder that there remain massive human rights challenges facing the country, despite its democratic transition.
Aung San Suu Kyi issued an amnesty order for the release of 113 prisoners of conscience as her first official act as Burma's de facto leader. The new president Htin Kyaw announced that, in celebration of the Burmese New Year (04/17/2016), 63 political prisoners would be freed immediately to satisfy the majority of the people. However, while Burma was celebrating the release of student protesters and pro-democracy activists, two Muslim men were sentenced in Mandalay to two years in prison with hard labour for breaching internal migration laws by visiting the rebel-held Kachin state.
Plight of the Rohingya
On April 20, 21 Rohingya refugees were drowned when their boat, carrying 60 passengers, capsized during a routine trip from their refugee camp in Pauktaw Township to a local market in Sittwe. The UN denounced the treatment of Rohingya refugees at the camp and called for provisions for their transport to be improved immediately. On April 21, clashes between the Myanmar army and the Arakan Army (AA) forced more than 300 people in the Buthidaung township to flee their homes.
New disputes have risen along the Burma/Bangladesh border as the Myanmar government dismissed claims made by the Bangladeshi border control authorities that 340 displaced Rohingya refugees were unofficially deported across the border over those last 20 days in April. The 340 internationally displaced persons remained in detention in Bangladesh awaiting further decisions by the Myanmar authorities. Elsewhere, border security along the India-Burma border has been bolstered by both nations to guard against population movements.
The Myanmar government has not taken much decisive action to prove its commitment to freeing Burma's political prisoners. On April 9, the Myanmar police force announced that it was in the process of dropping charges against all of the county's remaining prisoners of conscience. However, this news was somewhat tarnished by the imprisonment of Nyi Nyi Lwin, better known as Gambira, a former anti-junta activist, on Tuesday for illegally entering Burma through Thailand. Gambira was sentenced to six months hard labour.
Commander in Chief of the Myanmar Armed Forces, Senior General Min Aung Hlaing, denounced the actions of the US Embassy, which on April 19 used the term 'Rohingya' in reference to the 20 people who drowned off the coast of Rakhine State last month. The army and much of the civilian population refuse to recognise the Rohingya and insist on referring to them as 'Bengali' temporary immigrants. In April, there was a sharp rise in anti-Rohingya activity in Burma, with several Buddhist nationalist groups mobilising to oppose the government's and the international community's recognition of the Muslim minority as a Burmese ethnic group. Tensions began to rise following a press conference on May 13 in which Min Aung Hlaing asserted that Burma has no Rohingyas and will not accept the term.
In response to this statement, several hundred Buddhist nationalists took to the streets in Mandalay demanding that President Htin Kyaw and foreign minister Aung San Suu Kyi declare the absence of Rohingya in the country within three days. Following the government's refusal, a se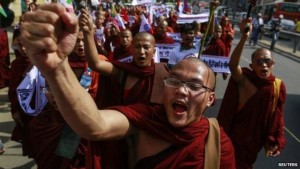 cond protest took place on the 18th in the Ayeyarwady Region's capital Pathein in which hundreds of protesters, including 90 monks and nuns, reasserted the demand for the Rohingya to be classified as 'illegal immigrants.' The government refused to bow to pressure, and, in a meeting with U.S. Secretary of State John Kerry last week, Suu Kyi asked for the United States to be patient in its support for the Rohingyas' claim to citizenship and to give the Myanmar government "enough space" to tackle this divisive and complex issue.Near the end of June, the United States State Department named Burma one of the worst countries for human trafficking. The indictment further marred their international reputation and could potentially lead to economic sanctions. This came as a surprise to many, as Burma has experienced a period of sanction lifting by the United States and other countries in recent years. Many think this black mark on Burma is not only due to their poor human trafficking record, but also to their continuous poor treatment of the Rohingya.
Central African Republic (CAR)
On May 4, UNICEF, released a statement recognizing that one-third of the entire school-eligible population in the Central African Republic would not be attending school due to the shortage of school openings owed to violence, displacement, and a lack of schools and teachers. Many had been hopeful that with the election of the new president in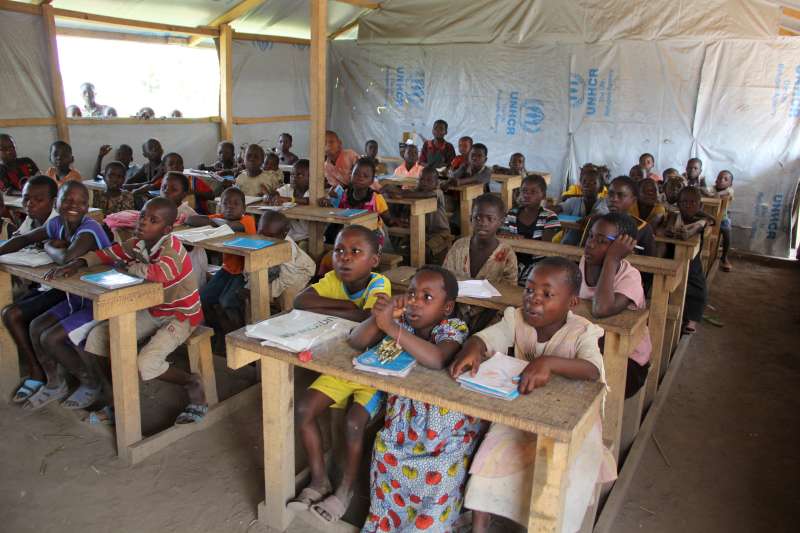 March, schools would reopen. UNICEF is providing classroom materials, teaching lessons to students, and providing psychosocial support training to teachers due to the trauma faced by many students.
The Lord's Resistance Army (LRA) was reported to have renegade fighters in the northern part of the Central African Republic, especially in Obo, a small community near the border of South Sudan. However, the village has equipped itself with high-tech measures to fight off the group over the past few years, including high-frequency radios and satellite telephones provided by the organization Invisible Children. With these tools, the Obo radio station reports attacks and sends information immediately to the Ugandan Army, the African Union, and U.S. troops to address the threat. Recently, many homes have been burnt by the LRA in the region and three farmers were kidnapped and later returned.
Victims of sexual abuse by UN peacekeepers in CAR say that they have received little to no help or reparations. According to many of these victims, gang rapes carried out by peacekeepers have not been addressed sufficiently. Many survivors have not been treated, have moved from the area in which trauma occurred, and have seen their attackers leave the region unharmed. At a recent hearing in the US Senate, lawmakers threatened to withhold aid, both for the UN Department of Peacekeeping and for countries that fail to hold their soldiers accountable.
On June 21, former Vice President of the Democratic Republic of the Congo, Jean-Pierre Bemba, was sentenced to 18 years in prison by the International Criminal Court for "leading a campaign of rape and murder in neighboring Central African Republic." Bemba has already spent 8 years in International Criminal Court Detention, meaning he will only be forced to serve 10 more in order to complete his sentence. Since the trial ended, accusations have also surfaced that defense witnesses were bribed and coached into lying for Bemba's defense in earlier trials. Aimé Kilolo Musamba, Bemba's defense lawyer, claims to have no knowledge of the accused actions.
Democratic Republic of the Congo (DRC)
On March 30, the UN decided to extend the UN mission in the DRC through March 2017. The Head of the UN Organization Stabilization Mission in the DRC (MONUSCO), Maman Sidikou, said the DRC was at a 'critical juncture' due to upcoming elections in November, which pose a threat of violence. The UN Security Council kept the authorized troop ceiling of 19,815 military personnel, 760 military observers and staff officers, 391 police personnel and 1,050 personnel of formed police units.
In northwest Congo, the Congolese military recently detained approximately 29 children suffering from dire conditions. More boys, ranging from 15-17 years old, have been held there since early 2015. They were allegedly members of the rebel armed group Democratic Forces for the Liberation of Rwanda (FDLR). Human Rights Watch (HRW) reported that none of the detainees were charged with any crimes. Ida Sawyer, a senior Africa researcher at Human Rights Watch has argued, "Congolese authorities should immediately release the children and adults held at Angenga prison who have committed no crime and fairly charge the rest." Sawyer further stated, "Children who were rebel fighters should be rehabilitated, not thrown into prison and held there indefinitely." HRW has also reported the poor conditions the detainees are forced to live in, "with inadequate food, clean water, and medical care."
Médecins Sans Frontières (MSF), which halted operations for four months in response to a December abduction of two MSF staff members, has decided to resume medical humanitarian assistance in Mweso, Masisi territory. After the attack, Annemarie Loof, MSF operational manager, explained, "this kind of attack against MSF is unacceptable, and we were left with no choice but to immediately suspend all activities and pull out the MSF teams." MSF mandated proper security and the return of everything taken in the attack as a condition to resume work. Loof recently reassured that "MSF is now in a position to resume its lifesaving activities" for more than 390,000 people.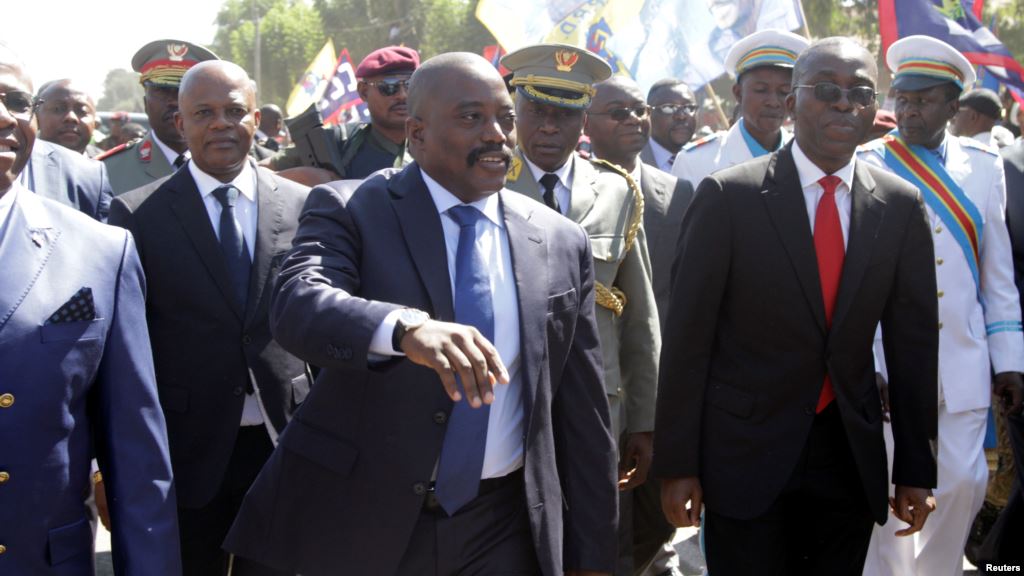 In June, many Congolese opposition leaders began calling for elections to take place on time in November and for a review of the electoral commission, in spite of its request to have more time to prepare. The opposition fears elections may be postponed to keep President Joseph Kabila in power beyond his mandate. Later in June, the president promised democratic elections and assured that they would take place in November. However, Kabila has still not made it clear whether he intends to run for president again. On July 1, opposition leader Moise Katumbi spoke out against Kabila publicly for the first time for refusing to promise that he will step down. The Democratic Republic of the Congo has not had a democratic transition of power in 56 years.
Sudan
In March, President Al-Bashir declared that military operations would continue in Darfur, South Kordofan, and Blue Nile State, and that he would not renew a ceasefire that was originally put into place to encourage groups to join the widely boycotted National Dialogue initiative. This dramatic and troubling change in policy came after a week of deliberation in Addis Ababa between the SPLM-N, JEM, NUP, SLM/AMM and the Sudanese government. The deliberations, facilitated by the African Union, produced an AU-proposed roadmap to ending conflicts in Darfur, Blue Nile State, and South Kordofan. The agreement called for a total and permanent ceasefire, a national dialogue, and the provision of humanitarian aid across Sudan. Although the AU and the Sudanese government agreed to uphold and implement the agreement, all opposition groups in attendance refused to sign it. The opposition claimed that the agreement favors the government and that the dialogue outlined by the agreement would be unproductive and exclusionary. In response, the UN and AU urged Sudanese rebel groups to sign the agreement, and gave non-signatories five days to sign. The March 28 deadline passed without any additional signatures.
Darfur
The AU and the UN issued a joint statement reiterating their concern over clashes and the displacement of over 90,000 civilians surrounding Jebel Marra, as fighting began again in mid-January. A lack of access to Central Darfur prompted a call from the US and other members of the international community for Khartoum to open Central Darfur up to aid agencies, much like it has done with North Darfur.
As it has been for years, the relationship between the UN and their peacekeeping mission in Sudan remains thorny. In a meeting between the UN, the AU, and Sudan, the Sudanese government renewed their call for UNAMID to speed u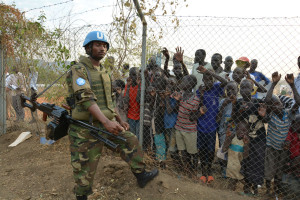 p their exit strategy. In early June, Sudan expelled a top UN human rights official, Ivo Freijsen, claiming that he was publishing false reports about Khartoum's conduct and displacement numbers. Burkina Faso, along with South Africa, recently withdrew forces from the UNAMID mission after the Sudanese government claimed they were no longer needed. On June 30, the United Nations Security Council voted unanimously to extend the UN-AU Mission in Darfur for one year—until June 2017. This decision to extend the mandate proceeded from the need to address the continued violence and weapons proliferation in Sudan as well as the needs of over 1.6 million Sudanese people still living in internally displaced persons (IDP) camps.
Blue Nile and Nuba Mountains
The SPLM-N claimed that they stopped a government offensive conducted in March 2016 in Blue Nile, as the Sudanese Armed Forces started sending reinforcements to Jebel Kolgo, stoking fears of a dramatic military escalation in the area. In late March, Blue Nile State saw some of the fiercest fighting in clashes between rebel groups and the Sudanese Army. Renewed shelling in Jebel Marra led to the displacement of thousands more civilians in the region, adding to a UN-approximated total of 129,000 displaced persons.
The Nuba Mountains became a flashpoint of violence in South Kordofan as the Sudanese Army launched new offensives in March in six areas of the region in response to SPLM-N rejection of the roadmap ceasefire agreement. Allegations also surfaced that both sides have targeted civilians on the basis of religious or ethnic identity. The international community condemned Sudanese bombing of civilians in South Kordofan, but the condemnation was rejected by Khartoum, claiming it was biased.
South Sudan
As political instability grows, violence and unrest continue to wreak havoc in South Sudan, as the Ceasefire and Transitional Monitoring Mechanism has claimed that they have observed at least five violations of the ceasefire stipulated in last August's peace accords. The SPLA-IO has accused the government of planning to launch an offensive on their positions in Mundri. As fighting rages on, human rights violations and egregious war crimes such as mass rape and indiscriminate targeting of civilians continue to play a role in the conflict in South Sudan. The United Nations recently accused the SPLA of committing atrocities across the country, including killing 50 civilians by stuffing them into shipping containers. South Sudan's Presidential spokesperson dismissed these allegations, calling them "unethical" and blaming the opposition for committing these acts.
In early March, there was renewed optimism surrounding the imminent creation of a new transitional government, despite numerous obstacles to long-term peace in the country. The arrival of a number of SPLM-IO forces to Juba, South Sudan's capital, raised hopes that the August peace accords would begin to come into full effect, especially as Vice President and opposition leader Riek Machar reiterated his intention to return to the capital city as soon as a minimum of 1,370 SPLM-IO forces were in place. Despite months of delay and logistical issues, on March 25, 22 opposition police officers entered the city as part of a joint police force—the first time armed members of the SPLM-IO have been in Juba in two years. More troops followed in the next several weeks.
On April 27, Riek Machar returned to Juba and was sworn in as Vice President of South Sudan. His return, which had been hampered and constantly delayed over security concerns and logistical difficulties, was seen as the next step to the formation of a transitional government and creation of a new constitution to govern South Sudan, after 3 years of civil war. Machar's presence in the capital was lauded by the US and other members of the international community as a positive move. After additional pressure from the UN to quickly form an interim government, as well consultations with political organizations in the country, a unity government was formed.
Although fighting between the SPLA-IO and SPLA have died down markedly from the apex of the South Sudanese Civil War, inter-communal fighting and tensions continue to rise as major social issues remain unaddressed in the country. At a Dinka church, Machar made controversial remarks calling for the people of South Sudan to forget past atrocities and fighting between ethnic groups. Displaced Nuer people have also called for South Sudanese leaders to emphasize reconciliation and forgiveness. Following these remarks, violent Dinka protests forced the pastor, who invited Machar to the church, to resign. The UN has called for a transitional mechanism to try those who committed war crimes during the course of the conflict.
United Nations announced on June 23 that it was removing its peacekeepers in the South Sudanese city of Malakal for failing to respond to a violent attack on a UN camp that took place in February. During the attack, armed men stormed the camp and opened fire on civilians before setting many parts of the camp on fire, leaving 40 dead and 123 wounded. "There was a lack of responsiveness by some, a lack of understanding of the rules of engagement by some," said UN peacekeeping chief Herve Ladsous, who refused to single out any individuals. 48,000 people were being housed at the camp before the blaze cost 20,000 their homes. The attackers were said to have burnt the homes of civilians who belonged to particular tribes.
On July 7, troops loyal to South Sudan President Salva Kiir and soldiers loyal to Vice President Machar clashed in Juba. This confrontation sparked the worst violence the country has seen in months. At least five soldiers died on July 7 alone, and over the 5 days of violence, over 300 people, including many civilians, were killed. The killings stopped on Saturday, South Sudan's fifth anniversary of independence from Sudan, but continued on Sunday and Monday. Several foreign countries withdrew their citizens from the country, and several elite officials, including UN Secretary-General Ban Ki-moon, called for an end to the violence. Monday evening, the clashes ceased after leadership from both sides called for an end to the fighting. While tenuous, the ceasefire ended virtually all violence in the region and has held to this day. Vice President Machar left Juba in response to the fighting. On July 23, an armed opposition group claimed to have replaced Machar with Taban Deng, who acted as the rebel's chief negotiator during peace talks with the South Sudanese government. Machar refuted the claim and stated that he fired Taban earlier that week for holding negotiations with Kiir without Machar's permission.
The United Nations Security Council voted on Friday, July 29 to extend the UNMISS mandate to August 12. Many are hoping that, following this extension, an arms embargo on South Sudan or a security force in Juba would help lessen the violence. Some groups are pushing for the UNSC to include an arms embargo in their next resolution on South Sudan.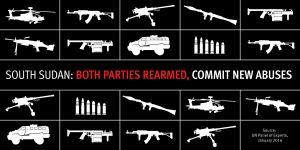 Syria
The Geneva peace talks, which had been delayed repeatedly, finally resumed on March 14. Representatives from the HNC (the opposition's High Negotiations Committee, formed in Riyadh last December) did not meet with Assad regime representatives, but rather negotiations occurred by proxy through United Nations Envoy Staffan de Mistura. De Mistura held substantive talks with the HNC to discuss the HNC's proposal for political transition in Syria. The talks focused on conceptualizing the mechanics of political transition in Syria with Assad's potential role remaining a point of contention.
Peace talks in Geneva continued through the end of March. After the first week, de Mistura praised the depth of the opposition's proposals, but remained frustrated with the Assad regime's reluctance to discuss specific issues, as opposed to vague principles of transition. In the second week, the UN increased pressure on the Syrian government to explicitly express their vision for political transition in Syria, specifically in regards to the expected role of the Assad regime. As negotiations paused, with an aim to reconvene on April 9, De Mistura hoped that the next round would focus more on the detailed mechanics of the political process. Diplomats on all sides expressed cautious optimism following the first round of talks, and expressed that they felt the early stages of negotiations set the foundation for tangible change. However, in an interview published on March 30, Assad expressed his plans to reject the opposition-proposed idea of a "transitional body," asserting the need for Syria to move directly from one constitution to another.
The March ceasefire had some success in reducing violence and creating the necessary conditions for the delivery of humanitarian aid. However, the ceasefire was not wholly successful, as accusations of violations continued to come from all sides of the conflict. In response, the US State Department created a 24-hour hotline to monitor ceasefire violations. The 17-Nation International Syria Support Group created a task force to monitor violations, but complications have arisen due the role of Russia (which has also been accused of violations) in leading the group. Representatives from the opposition's High Negotiations Committee have been the most vocal critics of the temporary ceasefire, which, they argue, has allowed Russia and the Syrian government to make significant military gains, while refusing demands for the release of detainees.
Russian President Vladimir Putin announced that he would begin withdrawing forces from Syria on Tuesday, March 15. While this announcement came as a shock to many, analysts claimed that the Russian withdrawal was not entirely unexpected, given that Putin has largely accomplished his goals in Syria by bolstering the Assad regime, preventing Western- or American-led regime change, and reasserting Russia's role as a major world power. De Mistura and Syrian opposition negotiators expressed hope that the Russian withdrawal would have a positive impact on negotiations, pushing the Syrian government to be more participatory. However, Putin made it clear that Russia could resume its military presence within Syria in a matter of hours, whenever necessary. Finally, a leading Kurdish group declared the creation of an autonomous federation in Northern Syria. Practically, this declaration is unlikely to change much, as the area is already under autonomous Kurdish control, but the declaration raised serious political concerns for the HNC, the Syrian government, and the Turkish government, and may complicate the Geneva talks.
Despite diplomatic progress, new reports indicate that progress on on-the-ground humanitarian initiatives have stalled. An April press release from Amnesty International reported that Turkish officials have forcefully repatriated hundreds of Syrian refugees through Turkey's southern borders. These estimates indicate that Turkish authorities have deported groups of 100 men, women, and children back to Syria on almost a daily basis since mid-January. These individuals have included children without their parents, a protected group that is illegal to deport under Turkish, EU, and international law. Another report from UN humanitarian chief Stephan O'Brien indicates that only 30% of Syrians living in besieged areas and less than 10% in hard-to-reach areas have received aid this year due to security concerns. The chief added that over 80,000 medical items had been removed by the Syrian government from convoys containing aid and medical supplies.
On May 12, Amnesty International released a press release describing reports of indiscriminate attacks carried out by armed opposition groups, possibly including the use of chemical we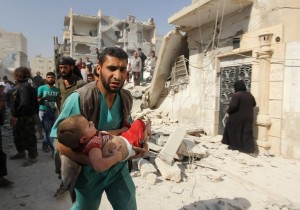 apons, surrounding the predominantly Kurdish Sheikh Maqsoud district of Aleppo. Two of the opposition groups said to have been carrying out these attacks, Ahrar al Sham and Army of Islam, had sent representatives to Syrian peace talks in Geneva in the past, leading many to question if they should be allowed to return. Doctors in the area reported treating 6 civilians who exhibited symptoms similar to those of chlorine gas victims, and most of these victims reported seeing yellow gas upon impact of the missiles. The Sheikh Maqsoud district was heavily under attack between February and April 2016. 83 civilians have been reported dead, while over 700 have been injured. Since the attacks, the United Nations has promised to investigate the use of chemical weapons in Syria, but has yet to pinpoint all of the exact groups carrying out chemical weapons attacks.
Approximately 224 people were reportedly killed within the first week of the holy month of Ramadan, an Islamic holiday observed in the ninth month of the Muslim year, which began on June 5. Most of these deaths were attributed to barrel bombs dropped by the Syrian government and Russian airstrikes. These bombings led to the deaths of 50 children and 15 women between June 6 and June 12. The deadliest attack took place in the city of Idlib when a single Russian airstrike killed 41 civilians, including many women and children.
–
This News Update was compiled by the 2015-2016 Education Task Force:
Ellen Bresnick

, Great Lakes of Africa Education Coordinator, Middleton High School '17

Ruhi Bhaidani

, Central and West Africa Education Coordinator, University of Chicago '19

Sophie Back

, Southeast Asia Education Coordinator, University College London, '16

Jason Qu

, Sudan and South Sudan Education Coordinator, Bronx High School of Science, '17

Maddie King

, Middle East and North Africa Education Coordinator, Johns Hopkins University, '17
We are also entirely indebted to STAND summer intern and incoming Education Coordinator Bethany Vance, University of North Carolina at Chapel Hill '18 for editing and updating this news brief.