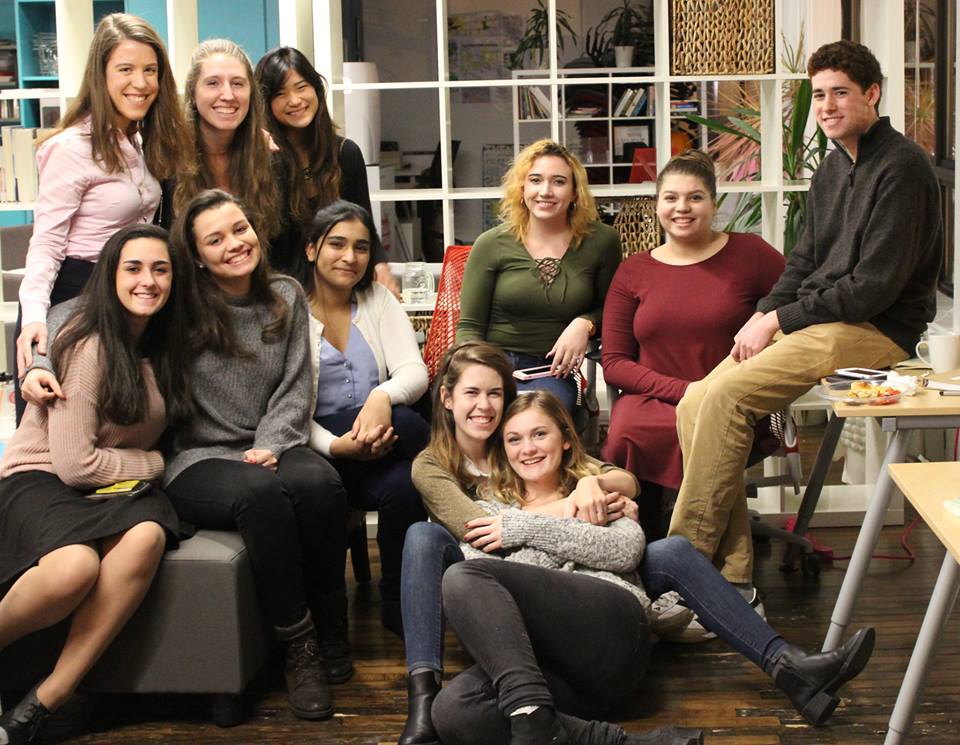 From the beginning, STAND has been student-led, not only at the campus level but also at the national level.  STAND offers two types of national leadership positions: Managing Committee positions, and Task Force positions. The Managing Committee is responsible for developing STAND's national advocacy campaigns, crafting our public brand and messaging, and coordinating our grassroots outreach efforts. Task Force members work with the Managing Committee to develop resources for our grassroots members, assist with policy analysis, and provide support to other crucial day-to-day functions.
Managing Committee (MC) Positions
Interested in joining a group of the most passionate, hardworking, and hilarious student leaders around? Ready to up your impact and take your activism to the next level, all the while learning how nonprofits work from the inside? Look no further than the STAND Managing Committee! The Managing Committee is STAND's national governing body, from organizing national campaigns and programming to running our outreach efforts on the ground. The MC is responsible for looking out for STAND's long-term future, and making sure we're doing all we can to work towards ending and preventing genocide and mass atrocities.
MC Members should expect to spend an average of 10 hours per week in their role, and all MC members are expected to attend (expenses-paid) summer and winter MC Retreats in Washington, DC for training, bonding, and campaign planning! Applicants should be prepared to attend weekly MC Calls and weekly Programmatic or Outreach Calls, based on position. Any questions? Send us an email at info@standnow.org!
Applications for the Managing Committee are now closed. Scroll down for additional leadership opportunities!
Task Forces
Without our dedicated Task Forces, we would have no power! We are looking for state-based grassroots organizers, writers, and policy analysts to help us fulfill our goals of building an informed and engaged grassroots constituency across the U.S. Join us!
State Advocacy Leads
As a grassroots movement, we are working to build a community of activists in every state across the country in order to make an impact on local, state, and national policy. As a State Advocacy Coordinator, you will connect to influential grasstops and grassroots leaders in your state, plan local advocacy strategy with our Outreach and Advocacy Teams, write op-eds, lobby locally, and mobilize people in your state to take urgent actions.
Primarily works with: Advocacy Coordinator
Weekly Time Commitment: 4 to 6 hours per week
Position-Specific Requirements:
Excellent communication skills

Understanding of basic advocacy and campaign strategy

Ability to learn about state-specific politics and policymaking processes

Strong writing skills
Click here to access the application. Priority will be given to applicants who apply by June 5. Please direct any questions to info@standnow.org.
Education Task Force
As a member of the Education Task Force, you will form a vital part of STAND's student leadership team. As a conflict specialist, you will draft regular news briefs on your region for our constituency; update and develop educational resources such as one pagers, blog posts, PowerPoints, and webinars; and advise the STAND Managing Committee on relevant policy points on your region.
As a Conflict Coordinator, your primary duties will be to assist the Education Coordinator with the Weekly News Brief by compiling and summarizing pertinent articles related to mass atrocity situations in your region of focus; and to inform STAND's Leadership Team on possible avenues for policy leverage on conflict(s) in your region. As events on the ground in each region are ever-evolving, you will be responsible for sending a policy brief once or twice a month to STAND's leadership team.
Within your position, you'll act as a resource for STAND's leadership and membership on the conflict(s) in your region of focus, by assisting in the creation of educational materials and blog posts on the history, context, and root causes of the conflict(s); the research behind possible options for U.S. policy to mitigate the conflict(s); and assistance of the Managing Committee in developing national campaigns related to the conflict(s).

Works with: Education Task Force Members, Education Coordinator
Weekly time commitment: 5-8 hours
Position-specific qualifications:
Interest in developing a nuanced, sophisticated understanding of your conflict(s) of focus

Strong research and writing skills

Ability to track, comprehend, and compile news reports, policy briefs, etc. for STAND's regular Weekly News Brief

Ability to communicate complex information to audiences of all knowledge levels

Background knowledge, previous coursework, and/or previous research experience related to the region for which you are applying will be helpful but not necessary.
Regional Coordinator Positions:
Applications will be accepted on a rolling basis until June 15. Please contact info@standnow.org with any questions.
Communications Task Force
We're looking for activists to write quality posts for our blog and to write for local publications. As a member of the Communications Task Force, you will be responsible for researching and writing a minimum of one blog post and/or one local opinion piece per month. Each team member will work with our Communications Coordinator to expand their knowledge about STAND's conflict areas, fine-tune their writing abilities, and producing content for our widely read national blog and other local or campus publications.
Primarily works with: Communications Coordinator
Weekly time commitment: 1-3 hours
Position-Specific Qualifications:
Strong writing skills

Experience writing blog posts

A passion for human rights and our anti-genocide mission
Applications will be online shortly. Please contact info@standnow.org with any questions.