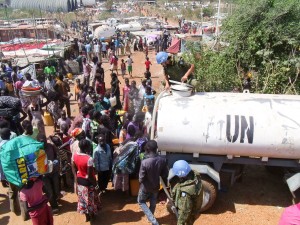 The United Nations Mission of South Sudan (UNMISS) recently released a report on renewed violence in South Sudan. The report provides new details on violence and abuses that occurred as South Sudan and their rebels negotiated the latest agreement to end a five-year civil war. This report is the latest in a series detailing the atrocities committed against women, men, and children in South Sudan, pointing to the continuing turmoil in the country.
Violence in South Sudan broke out in Juba in 2013 due to political tensions within the ruling Sudan People's Liberation Movement/Army (SPLM/A), specifically between President Salva Kiir, an ethnic Dinka, and former Vice President Riek Machar, an ethnic Nuer. Machar had served as the country's vice president between 2005 and July 2013, when he was dismissed by Kiir. The SPLM/A began to fracture further, with some members maintaining allegiance to the government and others defecting in support of the armed opposition, led by former Vice President Machar, which came to be known as the SPLM/A-In Opposition (SPLM/AIO). The violence quickly escalated with government forces deliberately killing Nuer civilians based on their ethnicity and perceived political affiliations.
Within a matter of days, the conflict spread to Jonglei, Upper Nile, and Unity States, with both the government and the opposition intentionally targeting civilians, often on the basis of ethnicity. President Kiir and former Vice President Macharboth drew support from members of their own ethnic groups, with ethnicity becoming increasingly associated with perceived political allegiance to either party. The conflict's brutality is staggering; since the violence erupted nearly five years ago, tens of thousands of civilians have been killed.
According to the UNMISS report, approximately 24,000 people were forced to flee their homes and around 900 people were abducted between April and August of 2018. Forces attacked at least 28 villages and a refugee camp, abducting young men and boys who were forced to become child soldiers. The report states that both sides of South Sudan's civil war have abducted hundreds of women and girls this year, many of whom were raped and forced into sexual slavery. Victims as young as 12 were lined up "to parade in front of [the soldiers] and they could choose whomever they wanted." The UNMISS has identified three commanders who were allegedly responsible for controlling the forces that committed abuses, which they say may amount to war crimes. High Commissioner Michelle Bachelet warns Machar's rebel group that keeping the abducted civilians could negatively impact the current South Sudanese peace process. In September of 2018, Kiir and Machar signed a peace agreement in to end the war between them. Bachelet says that the government must hold perpetrators of abuses and violations detailed in the report accountable, stating that "most of the abducted civilians are, as far as we know, still being held captive."
Trigger warning: the following segment contains accounts of extreme violence; reader discretion is advised  
The observations of the UNMISS report have been raised in other venues this year. In July 2018, Amnesty International published a report detailing similar crimes. Some interviewees report witnessing a girl as young as eight years old being gangraped and the rape of a fifteen year-old boy. Two women from Leer, Mayendit recalled a group of around twenty women and girls being captured during a government attack on the village in late April, tied together in a line, and forced to carry looted goods back to the military base. Once inside the base, the women and girls were told to sit down under a large tree and then were brought in smaller groups a short distance away to be raped. The two women said that those who resisted  were shot and killed. In addition to rape, many of the abducted women and girls were beaten, interrogated, forced to do domestic chores, and slept in a shipping container.
The use of sexual violence against women and girls during the government offensive appears to have been systematic. UNMISS documented the rape and gang rape of 120 women and girls, one as young as four years old, which they stated were used "to demonstrate power over … victims … to fracture families and the community through the stigma and shame attached to survivors." Men were also captured and detained, some even held in shipping containers in Mayendit. An official list released earlier this year reports that sixty two men and boys were killed in such containers in Leer.
The international community as a whole has failed South Sudan's civilians. Although the South Sudanese government has repeatedly refused the UN's efforts to send troops to stop massacres, the UN has a responsibility to continue to intervene. The UN has the right to intercede if a government fails to protect its own citizens. However, they can only do so with the consensus of its international members in the UN Security Council. Attempts to reach a consensus of passing sanctions were blocked by countries such as China, who refused because of their substantial stake in South Sudan's oil fields. However, peace reconciliation attempts have been made separately, with Kiir and Machar signing another ceasefire. Over the coming years, it will be seen whether or not lasting peace and stability will exist.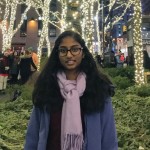 Rishika Gogineni is currently a senior at Lynbrook High School in California, interested in pursuing Cultural Anthropology. She is passionate about equality for all, and building a sustainable future for generations to come.