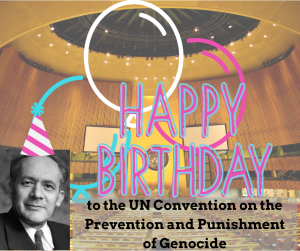 We are so thankful for our activists across the country who have taken action, hosted events, and fundraised for us throughout fall semester. As the fall term wraps up, we wanted to give STAND supporters an update on one of our biggest campaigns of the semester: "A Cause for Celebration," and invite you to join us!
STAND's "A Cause for Celebration" campaign celebrates the 70 year anniversary of the UN Genocide Convention, a landmark event that categorized genocide as a crime and began to focus on genocide prevention in the global community. Adopted on December 9, 1948, the Convention has made huge strides in recognizing mass atrocities worldwide; however, humanity continues to witness the loss of innocent lives in mass volume, and still has a large amount of work to do.
To celebrate the progress made since 1948, STAND has contributed in its own ways to prevent genocide and further mass atrocities. We've been raising money to support STAND's student programming to end mass atrocities, educating our representatives on the importance of atrocities prevention, and celebrating what the UN Genocide Convention has accomplished since it was signed into action. We poured our hearts into this campaign because STAND truly believes that it is students like us who will one day put an end to identity based atrocities across the globe.
The best way to get excited about atrocities prevention is to throw a party! The most exciting component of "A Cause for Celebration" is that STAND is asking you to celebrate. Pick a day in December, get together with your chapter on your school's grounds and have a blast celebrating Raphael Lemkin and the Convention. Eat pizza, have a cake eating contest, even "cake" your teachers and professors. Use this opportunity to party and bring attention to atrocities prevention. For more ideas, check out our toolkit.
Since our founding as an organization, STAND has been led by passionate student volunteers. We have been able to invest in students across the globe, preparing them to be future leaders in atrocities prevention. With one permanent staff person, STAND has made a tremendous impact in the atrocities prevention community with the help of many passionate student volunteers. However, many of our resources cost money that we do not have. Raising money for STAND is not about paying anyone's salary. It's about making copies of one-pagers for representatives to receive on Capitol Hill, training our student volunteers in policy and STAND specific actions, and ensuring that we can continue to be a leader in atrocities prevention. We ask that you consider raising money for STAND this year as a component of "A Cause for Celebration". You can do this by having a bake sale, event, or fundraiser at your school, asking local businesses to support STAND National, or buying our apparel on Bonfire (a percentage of your purchase goes right to STAND and its programming and you get to look cool in a STAND shirt of your choice).
Again, we are so thankful for your participation in our campaigns and advocacy actions this term. It has been a pleasure working with you. Don't forget to tag @STANDnow in your party pictures on Instagram. We cannot wait to see how you and your chapter choose to celebrate.