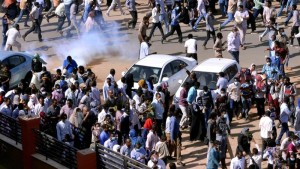 As a student-led organization born in 2004 during the movement to end genocide in Darfur, we stand in solidarity with anti-government protesters in Sudan. Since December 19, protests with the slogan "peaceful peaceful" have been staged across much of the country. Initially sparked by dramatic price hikes and fuel shortages, the rallies have escalated into broader anti-government protests demanding the resignation of President Omar al-Bashir. Bashir, who has ruled Sudan for 29 years, is wanted by the International Criminal Court (ICC) on five counts of crimes against humanity, two counts of war crimes, and three counts of genocide. Despite multiple arrest warrants, the international community has failed to bring him to trial and Bashir has continued to act with impunity.   
According to Amnesty International, 37 protesters were killed by Sudanese police in the first five days of demonstrations. Large numbers of security forces have been deployed across the country to subdue protestors by throwing tear gas, arresting journalists and opposition leaders, and opening fire on crowds. Opposition sources report that an estimated 45 civilians have now died, over 1,000 have been tortured, and an additional 2,000 have been detained.
As has been historically true in Sudan, the demonstrations have largely consisted of women, teenagers, and students. On December 23, 32 students from the University of Sennar were arrested, beaten, and accused of sabotage on state television as security forces attempted to coerce confessions of wrongdoing. Several peers have stated that the vast majority of these detainees were not politically active, and were "peaceful" and "highly respected students within the university." This is not the first time student life has been disrupted at the university – in September, up to seven students were injured in an attack by student supporters of the NCP, and in November, 14 students were detained under the pretext of violating a ban on political activity.
In a speech celebrating Sudanese independence on January 1, Bashir justified the government's suppressive tactics and promised increased economic development in 2019, claiming the recently-approved national budget would help Sudan "brave through the current crisis." As the NCP presidential candidate for the 2020 presidential elections, if the protests wane, Bashir will be allowed to continue to consolidate his power.
Young people in Sudan have a powerful history of mobilizing for political change. Most notably, the October Revolution in 1964, which overthrew Sudan's first military dictator, was prompted by an attack on student organizers at the University of Khartoum; and the April Intifada of 1985 led to the overthrow of Sudan's second military regime. Protests have also flourished more recently. In December 2011, Darfuri student leaders were arrested at Red Sea University, leading to mass student-led protests and in June and July 2012, women at the University of Khartoum sparked massive anti-austerity protests. In 2013, thousands of demonstrators called for Bashir's removal. These recent protests have been put down violently, leading to the increased public discontent that has predicated today's popular uprising.
Nothing can justify the use of live ammunition on peaceful protesters. We are dismayed by the brutal suppression of demonstrations in Sudan and call on the international community to urgently and strongly condemn the regime's response. Most importantly, we stand behind the thousands of Sudanese people who are demanding change.