As students, there are so many different things to get involved in and ways to fill our schedules. So how do we know when an opportunity is going to be worth the time commitment? In this case, why should you spend 10 hours a week working as a part of STAND's national managing committee?

The largest factor that came into play for me when filling out my application for Communications Coordinator was the cause itself. As one of the leading organizations in the nation working to end genocide and mass atrocities, STAND allows you to see the best in humanity while you work to eliminate the worst of it. As the most egregious human rights violation, genocide is not always the easiest of subjects to focus on on a regular basis, but getting to dedicate some of your precious time to working with others who are committed to such an important cause is an incredibly rewarding and inspiring experience.

As a member of the STAND Managing Committee,you also get the opportunity to develop yourself as an activist and enhance your understanding of the inner workings of a national nonprofit organization. While I've had internships with similar organizations that have been amazing experiences in their own ways, my time on the STAND Managing Committee has exposed me to organizational planning and execution at every level and has allowed me to give input and make decisions that I've never had the authority to make as an intern. By being able to create my own communications strategies and make my own mistakes I have been able to grow and learn in ways impossible in any other professional environment.

Whatever field you are interested in pursuing after college, the STAND Managing Committee is an incredible opportunity to expand your network and learn about ways to channel your passion for human rights when you finish school. Whether you find yourself making lifelong connections with your fellow Managing Committee members or receiving training from those at STAND's partner organizations who are working to implement genocide prevention policy at the highest levels, you will meet people who are committed to helping you become a more thoughtful and impactful activist.

This year has been an incredibly busy one, but I'm incredibly thankful that I chose to take my position on the STAND Managing Committee on as one of my responsibilities for the year. If you're looking to spend time bettering yourself as an advocate and bettering the world around you in tangible ways, I honestly can't think of a more worthy use of your time.
Follow this link to learn more and apply. Deadline is April 1st.
—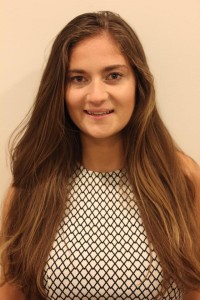 Emily Collinson is a senior at American University and the Communications Coordinator on the STAND Managing Committee. She can be reached at ecollinson@standnow.org and you can follow her on twitter at @emilybeatrice1