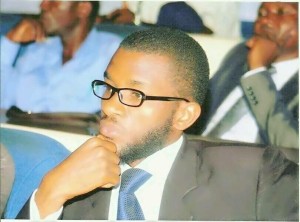 February 16 is symbolic for Congolese. On this day in 1992, thousands of church members led protests against then-president Mobutu's efforts to stay in power. This protest was an important event that contributed to the fall of Mobutu's regime. Today, many Congolese are on strike to call on President Kabila to step down from power. It is a powerful historical analogy. We are joining them to raise the voices of Congolese activists who have been imprisoned for peacefully protesting Kabila's efforts to stay in power, and in particular the voice of youth human rights activist Jean-Marie Kalonji.
Jean-Marie is a recent law graduate and the coordinator of the civil society organization Quatrième Voix. Like STAND members, he believes in the power of youth to create a more just future. Unlike STAND members, Jean-Marie knew that his activism could land him in prison–or worse. On December 15, 2015, while walking in a public area near Kinshasa's central train station, Jean-Marie was forced into a Jeep by unidentified men with pistols. A week later, it was discovered that he was in a holding cell of the Congolese intelligence agency. He remains imprisoned, clearly arrested for his political beliefs.
Jean-Marie's case is sadly not unique. His imprisonment comes as part of a crackdown on opposition to President Kabila. The DRC's Constitution states that presidents can only serve two terms, meaning that the successor to President Kabila should be elected this November. Yet it looks increasingly likely that he will delay elections and extend his time in power. Last January, at least 42 protesters were killed when Kinshasa was engulfed by several days of protests against Kabila's attempts to stay in power. Since then, the threat of violence has remained as opponents of Kabila have suffered politically-motivated arrests. Fred Bauma, Yves Makwambala, Juvin Kombi, and Pascal Byumanine are just some of the activists that remain imprisoned. In addition to those imprisoned, the Congolese government has worryingly refused to exhume a mass grave that government security forces helped dig.
Jean-Marie's case has garnered little international attention, without which there will be little incentive to release him. His imprisonment, and the unlawful imprisonment of others like him, sets a dangerous precedent. Likewise, if we can #FreeJeanMarie, the DRC will be an important step closer to finally achieving peace, stability, and justice. There are signs that the DRC may be coming to the end of two decades of brutal conflict, with rebel groups growing smaller and more fragmented, the Congolese military slowly improving, and a vibrant civil society. President Kabila's attempts to stay in office threaten political conflict that could throw this progress into chaos. When leaders refuse to allow opposition a voice inside a democratic system, they create the conditions for opposition to work violently outside of it–and the threat of violence is exacerbated when the government cracks down on peaceful opposition as President Kabila has.
Jean-Marie and other activists have devoted themselves to creating a government that offers its people peace, liberty, and a voice in the structures that govern their lives. Their work does not deserve imprisonment; it represents an example to aspire to. Join us: Help us build momentum for the release of Jean-Marie. It is essential that his name remains in the news and the Congolese government feels pressure to release him. Together we can raise the voices of Congolese youth and #FreeJeanMarie!
For Press and other inquiries, please contact:
Francesca Freeman
ffreeman@standnow.org
(202) 643-7238
Call Congress
The Congolese government wants to silence opposition, but if their human rights abuses receive international attention, President Kabila will know his reputation will deteriorate further the longer the abuses continue. Our elected representatives can raise the profile of Jean-Marie to tell the Congolese government the world is watching.
Call the Capitol Switchboard at 202-224-3121 and ask to be connected to your Senator's office. You'll speak to a staffer or intern who will pass along your message. Tell them:
"My name is ____ and I am calling from [town name], [state]. I am calling about Jean-Marie Kalonji, a Congolese political prisoner who has been imprisoned for over two months. Please ask the Senator to make a public statement calling for Jean-Marie's release and the release of the many other activists imprisoned for opposing President Kabila."
Tweet at your Member(s) of Congress
Congressional staff monitor social media around the clock. Even a small number of tweets at one Member of Congress hits the radar of high-level staffers. Send some tweets to your elected representatives and ask your friends and family to do the same!
Step 1: Find the social media accounts of your elected officials
Click here

to find the social media accounts of your Senator

Click here

to find the social media accounts of your Representative
Step 2:
Compose your tweet(s)!
Here's some sample tweets you can direct at your Member(s) of Congress. Or get creative and write your own using #FreeJeanMarie!

Congolese activist Jean-Marie Kalonji is imprisoned w/out charges.

@

YourSenator

will you make a public statement supporting

#

FreeJeanMarie

?

.

@

YourSenator

Support Congolese human rights and democracy! Make a statement calling for Jean-Marie Kalonji's release.

#

FreeJeanMarie

.

@

YourSenator

Stand up for Congolese democracy and make publicly call for the release of Jean-Marie Kalonji

#

FreeJeanMarie

.

@YourSenator

: Stand in solidarity with Congolese human rights activists. Publicly call for Jean-Marie Kalonji's release #FreeJeanMarie
Ready to get more involved? Contact us at info@standnow.org. We'd love to chat with you!
—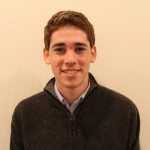 Timmy Hirschel-Burns is a junior at Swarthmore College, where he runs the STAND chapter, and serves on STAND's Managing Committee as the Mid-Atlantic Regional Organizer. He can be reached at thirschelburns@standnow.org and you can follow him on Twitter @TimH_B.