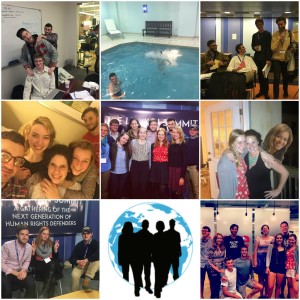 As we prepare to welcome the new Managing Committee to DC for our annual August retreat, we wanted to take a moment to thank the AMAZING seniors from the 2014-2015 STAND Managing Committee for the amazing work they have done!
Natasha, Student Director
Natasha, over the past year, you and I talked significantly more than any other human in my life. That includes girlfriend, boss, mother, and roommate (with whom I share a bed). I'm not quite sure how healthy that is for either of us, but I've grown to respect you so much through our two, three, four phone calls per week. There's no experience like having no real idea what you're doing that will create a special bond between two people and you were a steady, understanding voice in my life when I needed it. Your leadership pushed me when I needed to be pushed and respected me when I just couldn't take on any more. You never insisted on projecting an image that was anything less than your real self, struggles, triumphs, and all, which I think is the most beautiful example a leader can set. You empowered instead of demanded and led by example. You're moving on now, to an extremely urgent cause that you're passionate about. I'm already thankful and excited for the difference you will make and the lives you will touch. (Luke)
Natasha, while words cannot express how inspirational I find you, I'll do my best. Your leadership and guidance this year has taken STAND to amazing places. You know exactly how to be an effective and strong leader while still being friends with everybody. Your passion for the anti-genocide movement is inspiring and your thoughtful approach to activism is exactly what the movement needs. I am also so impressed by your ability to text me constantly throughout MC calls while staying aware of everything that is said, your extreme love for Beyonce, and your uncanny similarities with grumpy cat. Ever since I put you in my phone as "Natasha STAND" I have felt so honored to consider you a friend and a role model. I look up to you in so many countless ways and I cannot wait for our conversations over snapchat, skype, text, email, and carrier pigeon messages in the next year, as well as all the times we will see each other in DC. Lots and lots of love. (Francesca)
Sam, Education Coordinator
Sam(uel) Lee Reichman: Human. Activist.  Kansassiest member of the MC.  I first met Sam over Skype while he was in Lebanon, which informed me of a few things: 1) Sam's pretty busy 2) Sam enjoys Middle Eastern travel 3) Sam is pretty unassuming.  Despite having attended the same school for two years, at which we had several mutual friends, we hadn't crossed paths.  Naturally, instead of getting to know Sam through conversation like a normal person, I decided to ask our mutual friends to describe him, upon which I found out that he happened to "speak Arabic better than most Arabs at Columbia," was definitely cooler than "anyone" (perhaps why we'd never met?), and was insanely talented (if you would like some evidence into some of Sam's "talents," which include painting and spoken word in addition to policy analysis, I recommend a cursory Google search).  The only thing more fantastic about Sam than talking to others about him (because he'd never tell you outright how incredible he is himself), is actually working with him.  As educational coordinator (and Syria coordinator the year prior), Sam managed to bring his extensive political, demographic, and cultural education to offer intelligent commentary on huge issues, not only in the Middle East, but in Africa and Asia too.  Sam is the sort of person who, despite his deep knowledge, understands how to have a brilliant discussion with any STAND member, informing and teaching without the least bit of condescension.  Our collaboration on STAND's educational-policy objectives was the highlight of my tenure on the MC (tied only with watching Sam teach the MC to twerk).  Beyond working together, Sam has always been willing to explore any idea or concept respectfully and thoughtfully, and because of that, our conversations continue to shape the way I think about the world.  My only regret about Sam's graduation and recent West-coast move is that we won't be working together anymore.  And while he may be changing the lives of refugees or something "meaningful" like that, my sincere hope for Sam is that we get to work together again.  He really doesn't need well wishes to accomplish anything else.  (Roberta)
I did not come from a place of knowledge and enlightenment when I joined STAND – my knowledge of our conflict areas was highly limited and in some cases, non-existent. Somehow, Sam was able to break down incredibly complex histories and conflicts into educational pieces I could digest, even retain! I don't really have a more specific anecdote to describe how great it was to have Sam on the MC. I can say that during any discussion we had throughout the year, Sam was the wall we would bounce our weird questions and ideas off, and they would invariably return to us more filled out and sensible. I am also extremely grateful for the memes, pictures, and milk Sam brought to the table after long hours of planning. I'm excited to see what you do next, Sam, and I will surely be filling your Facebook inbox with inane questions for the next 10 months. (Jake)
Zach, National Outreach Coordinator
Zachary Ackerman. You're the most intelligent, short-panted, boot-wearing bro I've ever known. Someday I may forget the time we went to Broney's Bar down the street from my house just 'cause of the bro name… but the memory won't fade quickly. Your years of experience with STAND, and your dedication to the organization, were an inspiration for me this year. Your advice was always welcome and, more often than not, vital for the work we were attempting to do. And now you're moving on to great things (A2). Honestly, watching people like you, with your drive, intelligence, and insistence on spending the time to understand the depths of each issue, assume leadership positions in our communities gives me a bit more hope for our future. You're an example of balance between dedication to goals and commitment to the real person right in front of you. I admire that balance in you and you inspire me to pursue that balance in my own life. And when my life goes nowhere, I really hope you give me a staffer job in your 2032 campaign for president. (Luke)
Equal parts leader, comedian, politician, slogan-generator, and creative spark – I can't imagine what STAND would look like without Zach. Although he had been through the STAND leadership cycle a few times by the time I met him, Zach was as passionate about human rights and genocide prevention as anyone I've met to date. I learned a lot about leadership from the way you showed genuine interest in any conversation and the way you made yourself super approachable to STAND newcomers. Beyond the memes you inspired, beyond the times you helped me ensure we would only get two hours of sleep before important STAND meetings, and beyond the nights you joined me in bombarding a weary Connor with truth or dare questions, I am most thankful for you encouraging me to speak up and share my voice. I am sure you will be a star among the already impressive STAND alum pantheon, and I'm still waiting to get the call back about my application to be your campaign manager.
HAGS! (Jake)
Heather, West Regional Organizer
We first met over a facebook chat conversation while I was studying abroad in Ghana. The first sentence I ever said to you was "So I just figured I would message you here to kick off our fabulous Illinois based regional organizer BFF awesomeness." While this belief in a "BFF awesomeness" between the two of us was founded on very little, it became a reality very quickly. From the early morning conversations (on facebook messages, texting, snapchats, and facebook wall posts all at the same time) regarding the definitions of genocide, to trying to figure out what time zone we are in and when the MC call actually was to indulging my impulsive decisions to go on road trips to hear genocide survivors talk, our friendship has made this past year absolutely amazing. On one MC call Luke commented that "you breathe STAND" and that is exactly how I view you. Your devotion to your school's chapters, your chapters in the West, and to the MC and the movement in general is incredibly inspirational and motivating to me. Despite my jealousy that the West was the fastest growing region this past year, it is clear that this success came directly from your devotion to STAND and your insanely awesome abilities in outreach. You really were this year's ROckstar. (However, the Midwest will always be the best west). I am so excited to see you continue your work in the anti-genocide movement next year in incredibly important work with Holocaust survivors. However, I am even more excited that you will be in Chicago and that my apartment is on your commute home, because it means that we will have an amazing continuation of our "fabulous Illinois based regional organizer BFF awesomeness." (Francesca)
I met Heather the first night of the STAND MC retreat! At first she seemed quiet, but then we got on the subject of STAND, genocide, and youth activism, and I don't think she's stopped talking since then! Heather alway amazes me with her wealth of impressive knowledge about all of STAND's conflict areas and her ability to pull out a statistic, article, or story about anything related to genocide and mass atrocities just from memory. Few people could stay as passionate as she is about such a tough topic, but she knew how to stay motivated and keep the rest of us motivated too! Heather was also incredibly dedicated to her chapters and was constantly telling us how proud of them she was. Her dedication to helping them however she could was an inspiration to the rest of us! It's always great to meet someone who is so smart with such similar interests, but it's not every day you find someone who also has a dedication to including everyone and teaching others what she knows. I will miss our late-night chats about genocide and racism and MC won't be the same without you, Heather, but I am so glad you'll be doing such great work in your new job!!
Best,
Carly