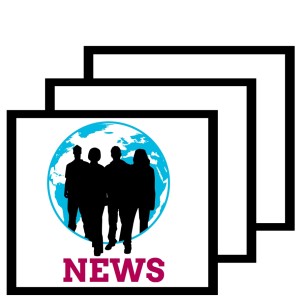 About Education Updates
STAND publishes weekly news updates compiling the most important weekly developments related to emerging and ongoing mass atrocities in each of our five conflict zones. These reports are produced by STAND's Education Task Force, comprised of college and high school students who specialize in a particular conflict zone, and are passionate about STAND's role in the genocide prevention movement. 
Get to know the 2015-2016 Task Force
Lindah Mogeni serves as STAND's Great Lakes Conflict Coordinator, and is a senior at Barnard College studying Political Science. Lindah comes to STAND with extensive human rights advocacy and research experience, and spent three months in 2014 as a Fieldwork Research Intern with the United Nations Stabilization Mission (MONUSCO) in the Democratic Republic of the Congo.
Maddie King serves as STAND's Middle East and North Africa Conflict Coordinator, and is a junior at Johns Hopkins University, where she is pursuing majors in International Studies and Global Environmental Change and Sustainability and a minor in Islamic Studies. She is passionate about addressing issues of refugee resettlement, particularly as they relate to the roots of displacement.
Sophie Back serves as STAND's Southeast Asia Conflict Coordinator, and is a third year student at University College London pursuing a degree in History and Political Science. An outspoken advocate for Amnesty International on campus, Sophie comes to STAND after spending the summer in Vietnam, where she led a team that organized workshops to prepare students for the implementation of the ASEAN Economic Community free trade area.
Jason Qu serves as STAND's Sudan and South Sudan Conflict Coordinator, and is a junior at the Bronx High School of Science. He is also Vice President of the Amnesty International chapter at his school, and is extensively involved in Model United Nations and the Muslim Student Association at Bronx Science.
Education Update 10/09/15
Great Lakes of Africa
Lindah Mogeni
The President of the Civil Society of Beni, Teddy Kataliko announced that in the past year, an estimated 500 civilians have been massacred by axes, hammers, and machetes in the Beni territory of North Kivu province. Speaking on behalf of local civil society groups, Kataliko suggested that the murders should signal a wake-up call, and implored the government and the UN Stabilization Mission (MONUSCO) to improve and ensure civilian protection in Beni.
Local civilians in the southwest of Lubero territory, North Kivu, have raised concerns regarding the two week continuous presence of activist armed groups comprised of the NDC Sheka militia and the Lafontaine militia. Sources indicate that the groups have occupied several villages and that their sporadic actions, including kidnapping and looting, resulted in the displacement of residents.
Julien Paluku, the governor of North Kivu, adamantly denies allegations pertaining to the presence of Rwandan troops in the province. In an appeal for calm, he insisted that no such security arrangement between Rwandan and Congolese defense ministers was agreed upon.
Some residents and local civil society organizations have reported sightings of Rwandan soldiers in Mwesso, Masisi and Rutshuru. Dismissing the allegations as rumors and iterating that the Armed Forces of DRC (FARDC) are currently fighting FDLR rebels (many of whom are responsible for the Rwandan genocide) in the eastern region of DRC, Julien Paluku appealed to North Kivu residents for calm.
Jean-Pierre Bemba, Congolese senator and former Vice-President, has been indicted by the International Criminal Court and is facing charges of witness tampering during his first trial, where he faced charges for crimes against humanity and war crimes committed in the Central African Republic in 2002 and 2003. Four others, having acted as collaborators in his witness tampering ring, are facing charges as well.
The Presidential Majority has tightened its ranks and in a show of solidarity, signed a letter confirming their support for Joseph Kabila's potential re-election in 2016.
Middle East and North Africa
Maddie King
On September 27, Russian officials announced an intelligence sharing anti-ISIS coalition with Iraq, Iran, and Syria. In the first three weeks of September, Russia deployed 2,000 troops into Syria and launched an airstrike campaign expected to last three to four months. According to the Russian Defense Ministry, this airstrike campaign has already successfully struck 60 targets in Syria, including five targets around Homs and three in Raqqa. The Russian air force reports that they have killed approximately 300 ISIS militants. First responders in Homs report that Russian air strikes have killed at least 34 civilians, and injured over 72. Local activists say that the residential neighborhoods targeted by the strikes could not have been a Syrian military target for Russia.
The United States-led coalition to fight ISIS remains strongly opposed to the Russian campaign, however, in his United Nations address this week, President Barack Obama conceded a willingness to cooperate with any nation to resolve the conflict. The U.S. Air Force's senior intelligence officer claims that Russian forces are using "dumb bombs" instead of weapons guided by lasers or satellites, which are less precise and more likely to inflict civilian casualties. Reports indicate that these attacks have already caused casualties of multiple civilians and US backed rebels, though the Kremlin has denied this. Due to the location of the majority of these attacks—in Homs, a city without a concentrated ISIS presence— there is concern that Russia's intervention is focused on fighting anti-Assad forces rather than defeating ISIS.  
Russia's intervention is coming on the heels of another failure of US policy in Syria. In May, the United States launched a program to "train and equip" moderate Syrian rebels in Turkey. This program, which initially aimed to train 5,000 rebels per year, dispatched its first group of fighters (about 50) into Syria in July, where they came under immediate attack. This week the second group was dispatched to equally disastrous results— with these US backed rebels being forced to surrender vehicles and ammunition to Jabhat al-Nusra, an al-Qaeda affiliate.
Southeast Asia
Sophie Back
With the elections drawing closer, the prospect of 'free and fair elections' is of growing concern in Burma. This week, the Chair of the New Democratic Army-Kachin proposed an edict barring three parties from campaigning in Burma's first multi-party elections. Elsewhere, voting rights have been granted to long-term migrant workers, a development set to enfranchise thousands of workers. However, in Kachin state over 10,000 remain excluded from the vote on the basis of security threats. The Union Election Committee (UEC) is resisting calls to extend voting rights to shorter-term migrants due to the 'risk of electoral fraud'.  
Cases of bribery, flawed voter lists and religious coercion have also made the news this week, and further doubt has arisen about the potential for a peaceful transition after the election, as ten out of eighteen armed minority groups refused to sign this Wednesday's ceasefire agreement as a "final decision".
At a meeting of the Partnership Group on Myanmar this week, United Nations Secretary General Ban Ki Moon stated, "I am deeply disappointed by the effective disenfranchisement of the Rohingya and other minority communities. Barring Rohingya parliamentarians from standing for re-election is particularly egregious." The group stressed the need for action to tackle the worsening state of camps for internally displaced persons and to grant citizenship to the Rohingya. Formed in April 2014, the group is comprised of UN member states, which convene to discuss and support strategies for democratization, socio-economic development, among other national issues.
There are growing concerns over the welfare of Rohingya migrants and the willingness of Southeast Asian states to offer protection and asylum. The capture of three Rohingya men on Wednesday in Thailand exposed a new stretch of the trafficking network from Burma to Malaysia, which is facilitated by both civilians and state officials. Elsewhere, Cambodia has been making frequent use of the escape clauses in its $55 million deal with Australia to help tackle the influx of refugees. In Aceh province in Indonesia, four Rohingya women were sexually assaulted by local men outside of a camp that houses hundreds of Rohingya migrants. The assault triggered a mass walkout among camp members, who are among thousands of Bangladeshi and Rohingya migrants that arrived in Indonesia by boat this summer.
South Sudan
Jason Qu
On October 3, over 52 South Sudanese army personnel and rebels were killed in fighting that is a direct violation of a ceasefire agreed upon only weeks ago. The South Sudanese Government has said that rebels are mobilizing in Unity State, where the fighting took place, and in Upper Nile State. President Kiir and opposition leader Riek Machar blame one another for violating the terms of the ceasefire.
President Salva Kiir has issued a presidential decree, with a provision to expand South Sudan's 10 states to 28 new states. His supporters say that this plan would give more power to local people and help support greater public services. The SPLM-In Opposition claims that this was done in order to complicate the peace process, as new states could potentially force both sides to renegotiate the distribution of parliamentary seats per state, as well as reassess agreements on governmental and public institutions that were based on the 10 original states.  
The armed opposition in South Sudan has called for the UN to extend the UNMISS mission in South Sudan for an additional three years. They are requesting additional protection for civilians in an environment that remains extremely hostile, in the face of a crumbling ceasefire. A request has also been made for the UN to monitor the scheduled elections in order to ensure that they meet the standards of the international community.
Sudan: Darfur Conflict
Jason Qu
The Sudanese Government has delayed trials of four opposition figures belonging to the Reform Now Movement (RNM), who are on trial for charges including "disturbing the peace." They could face prison time, fines, or even lashes if found guilty at their trial. RNM has decried the trial as a violation of the Sudanese Constitution, which is supposed to provide rights to free speech.
A South African UN peacekeeper working for UNAMID in Darfur was killed after his convoy in North Darfur was allegedly ambushed. Four other soldiers were wounded in the ensuing firefight and taken to a UN medical facility in El Fasher. Ban Ki-Moon condemned this attack, as did the UNSC, which called for an investigation into the attack.
Rebel movements in Darfur, such as the Justice and Equality Movement (JEM) and the Sudan Liberation Movement (SLM), will not be attending talks in Chad's capital regarding the Darfur Conflict. The Sudan Liberation Movement for Justice/Karbino (SLMJ-K), however, will be attending. Many other members of the opposition claim that they were not invited and have no intention to speak unless certain terms are guaranteed. The Sudanese Government asserts that the rebel movements are not interested in a negotiated settlement and prefer to continue fighting. This is another obstacle to finding a resolution to a decade long conflict in Darfur, which has killed as many as 300,000 people.
Stay tuned for a separate update about developments in the Central African Republic.