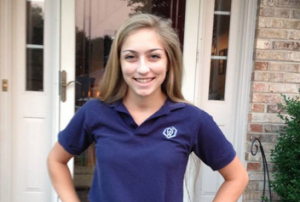 Why did you first get involved in STAND and how have you been involved since then?
I first became involved with STAND when I started a chapter at my high school. I loved being involved as a chapter president, and when I graduated, I really want to stay involved and share what I had learned with other chapters. So I joined the Managing Committee as a regional organizer, and it's been one of my very best decisions!
Name a favorite STAND memory!
One of my favorite memories was at the Lemkin Summit, when I got to participate in a lobby meeting with staffers from the Senate Foreign Relations Committee. In the meeting, we got to present our points about each conflict and have an amazing discussion about how to approach change in the Central African Republic. Hearing from the staffers about their commitment to the conflicts and faith in the power of student movements motivated me to work even harder this Spring!
What has your experience being on the MC been like?
Being a member of the MC has been a truly amazing experience and the best part of my year. While we often get sidetracked by food puns and cute animal pictures, the MC is a dedicated and hard-working group of people who are committed to the cause. Working in a community of people who care so much about genocide prevention is energizing, and I love being able to work with so many students across my region as well!
Can you tell us a little about what you do in your role as Regional Organizer?
I'm help run STAND's Mid-Atlantic region, which means I work with chapters to help them get started, create new events, and build their membership. A lot of my job is connecting students with resources, discussing campaigns, and giving advice on the ins and outs of running their chapter and how to engage with national campaigns. If you like communicating, organizing, and helping other student leaders, this is the right position for you!
What's one thing you've learned from your time in STAND, whether as a result of your experiences with your chapter, or being involved on the national level?
The biggest thing I have learned is that young people can make truly innovative change when we work together. From national emails, petitions, and lobbying to art campaigns, teach-ins, and blogging, students have demonstrated that they are capable of getting creative to make the change we need from the ground up. After seeing the energy and amazing events that chapters in my region have created, I know that students will stop at nothing to make meaningful change for a better world.
Carly is a freshman at American University. Reach out to her at cfabian@standnow.org.