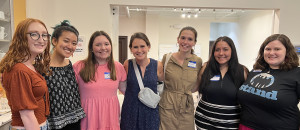 STAND's model has changed many times since our founding in 2004. Since 2015, STAND has operated as the U.S.-based Youth Department of the Aegis Trust, with one full-time staff person dedicated to supporting STAND's student leaders. Due to a lack of funding, STAND and the Aegis Trust have decided to terminate the Program Director full-time staff position effective November 1, 2022. The youth Managing Committee will continue to direct STAND as an independent volunteer organization, under the leadership of the co-Student Directors. 
To ensure continued support and mentorship, the STAND Advisory Board will be expanding to include designated Program Advisors for each area of STAND. This new model will be more decentralized, but it will also offer more STAND alumni and partners an opportunity to directly engage with the youth leaders. The current Program Director, Laura Strawmyer, will stay engaged with STAND through the Advisory Board and the alumni network.
STAND has always upheld the values of youth-led organizing. We've mobilized thousands of youth over 18 years, often with very limited resources. We've led grassroots advocacy for several monumental policies, including the Sudan Accountability and Divestment Act, the Elie Wiesel Genocide and Atrocities Prevention Act, and the Global Fragility Act. We've also shaped lives in less countable ways—by building lasting friendships and instilling a sense of hope in the face of daunting global challenges.
We've studied the history of movement organizing, and we know progress comes in waves. At the STAND Summit in Washington, DC, in June, we reviewed every element of STAND's strategy, including our values, team structure, and activities. Building on examples from other youth movements and input from our advisors and alumni, we have updated our programs for the coming years. We will be building an even stronger sense of STAND membership at all levels, including through our recent orientation and a national campaign on genocide education.
We greatly appreciate each and every one of our supporters and hope that you will continue to participate in this community however you can. STAND has withstood many changes to the atrocity prevention advocacy community. While we are proud of what we've accomplished, there continues to be an urgent need for our work.
With guidance from the Advisory Board, STAND will continue to raise funds for youth leader stipends and in-person events. Individual donations are critical to making participation accessible for all youth. It's a great time to make a donation to ensure our students can continue this work.
We always welcome feedback, ideas, and questions from our community. You can reach us at info@standnow.org. We look forward to working with you for years to come!
---
The Managing Committee is STAND's central decision-making body.