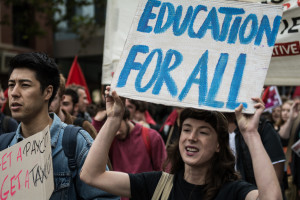 I was first introduced to student activism during my freshman year of high school. That year, there were several budget and contract disputes within my school district, and classes were being cut from the roster without any explanation. When the official announcement finally reached the students, we heard that unique classes under visual and performing arts and humanities and programs such as the Latin language program were at the highest risk of being cut.
There was an uproar amongst the student body, as these courses promoted the exploration of passions and interests held by the student population. I experienced the frustration first-hand as a student in the Latin program. Latin was meant to be taken over a four-year span, and as a freshman, I was only in my first year of the class. Therefore, if the class was cut my fellow students and I would miss the opportunity to experience the full program. So, we put our heads together and started thinking of a way to save the program.
Many of us had never experienced a challenge like this before. We asked questions such as: Who do we speak to? What can we do as students? Why is this happening? Can something be done administratively to save the program? Where do we begin? Due to contract logistics, our teacher was unable to help us in any way, but that day, the students in the Latin program began an activist movement that would eventually help save the classes from being cut.
Over the course of the year, we held fundraisers, attended and spoke at school board meetings, met with administrators, helped stage a student walkout, and wrote countless letters to government officials in the state of New Jersey. These actions helped build the morale of our teachers, who had been discouraged by budget cuts across the school district. Students who had never spoken to one another before were helping each other organize actions. Eventually, the school district took our side and decided not to cut these programs and classes, crediting the students for their relentlessness and passion for education.
From the outside looking in, student activists may seem angry and hostile. The media often poorly portrays young people who are standing up for things they care about, which contributes to negative perceptions of those advocating for change. However, history proves that historically, student activism has actually been about unity, community, and passion. I especially know through my later experiences with STAND that this is true.
I am thankful for my brief introduction to student activism as a freshman in high school because it led me to discover my passion for positive change. There are hundreds of thousands of young people in the world that do not believe their voices make a difference. For many years of my life, I too believed nothing I could do would change a thing in this world. When I joined STAND at Stockton University, however, I began to see more students speaking out against global injustice. During my time as an advocacy lead for New Jersey, I represented STAND by speaking to legislators there about campaigns and projects we were working on. Along the way, I met hundreds of other students who also supported STAND, and in turn, we supported one another's activism projects. That is the community and unity aspect that is so central to student activism. One letter or call, on its own, may not make a huge difference, but all together, it can make a substantial change in regards to influencing policy and policy makers. Imagine what it must be like for a politician to receive 500 letters and calls from students across the country in regard to the Elie Wiesel Genocide and Atrocities Prevention Act, or ending arms sales to Saudi Arabia. Unity, community, and student activism go hand-in-hand.
I want to close with a quote from the book On Tyranny by Timothy Snyder. He writes, "If young people do not begin to make history, politicians of eternity and inevitability will destroy it." I challenge you, a student activist, to start making history. Positive change is on the horizon – no matter what it is you are working toward – and you should never stop fighting. If you choose give up, you risk the loss of important progress.
–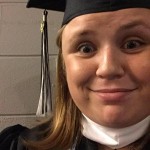 Alison Hesser is a graduate student at Stockton University in Galloway, New Jersey where she studies American Studies. Her research focuses on the United States' response to humanitarian crises. This, year she is serving on the STAND USA Managing Committee as National Outreach Coordinator.