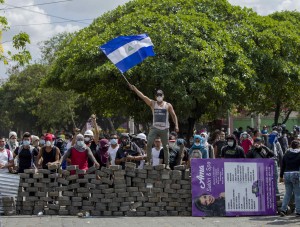 In April, when Nicaraguan President Daniel Ortega tried to cut pension benefits, Nicaraguans began peacefully protesting. Since then, at least 275 Nicaraguan civilians have been killed and over a 1,000 injured, mainly by their own country's police and military forces. Though the plan to cut pensions was later dropped by the government, their aggressive reaction to protests sparked outrage amongst the people, prompting the protests to evolve and continue. In just the first five days of protests, 25 were killed by government forces. Days later, tens of thousands of citizens gathered in the capital calling for justice. By the end of May, the death toll had quadrupled, and by this point the protests were garnering international attention. Now, two months later, many are calling for Ortega to step down, as the police and military continue to aggressively attack protesters, leading to a rapidly rising number of civilian deaths.
On the morning of July 15, about 100 college students took refuge in Managua Church, after fleeing their college campus. Military forces had launched an attack on the National Autonomous University of Nicaragua's campus, which student protesters had been occupying for two months during these nationwide protests. The students, alongside priests and journalists, were held up in the church, and subjected to constant gunfire for 12 hours. While mediators tried to compromise with the military officers, 2 civilians were killed, and about 10 others injured.
More violence continued the following day where countrywide, at least ten civilians were killed and dozens injured, mainly in cities surrounding or close to the capitol. Some victims were Catholic priests and bishops, because the Catholic churches in Nicaragua have been outspoken against the government since violence against civilians by military and police forces began. In total 12 people were killed during that deadly weekend.
As families buried their loved ones this past week, protests have continued. Some families carried dead family members in coffins down streets of the capital, demanding justice. These events in Nicaragua have sparked international attention and outrage. After this past weekend's violence, UN Secretary-General António Guterres called the use of lethal force by Nicaragua's government unacceptable and unjust. The United States issued new sanctions earlier this month against top government officials, including the head police commissioner, urging an end to the violence. After this past weekend, the United States made another statement, publicly condemning Nicaragua's government and calling on President Ortega to either step down or hold elections. The U.S. also announced new visa restrictions on any officials who have responsibility for human rights abuses.
As the death toll rises, protests and demands for justice are increasing. The need for reconciliation and democratic elections is clear, and the United States and other world powers should continue to use their leverage to support Nicaraguan civilians. No one should ever be afraid to peacefully protest their government, and certainly no one deserves to die because of their political activity. Something must be done – and soon – to prevent more violence from occurring.
–
Charlotte Abin is a rising senior at Gettysburg College, where she studies History and Political Science. She is currently interning at STAND in their D.C office. She is passionate about doing her part in making the world a more accepting place.