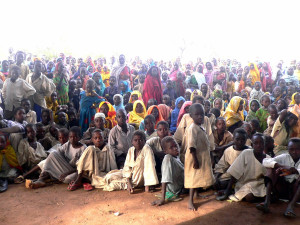 Genocide and civil war have raged in Darfur, a region of Western Sudan, since 2003. Multiple warrants for Omar al-Bashir's arrest have been issued because of the myriad of war crimes he has committed over the years. Unfortunately, he has so far been able to avoid arrest, and continues to harm citizens throughout Sudan while denying the government's involvement in human rights abuses. Historically, the Sudanese government has employed outside militias to violently subjugate civilians, first the Janjaweed, and now the Rapid Support Forces. In many cases, these militias have raped and tortured civilians, and burned down entire villages.  Despite many attempts at peace, including the Darfur Peace Agreement (DPA) in 2006, the genocide has continued in Darfur because of conflict along tribal lines, and atrocities continue in other areas of Sudan such as the Nuba Mountains. Though data collection has been notoriously difficult, the UN says that since the beginning of the conflict over 300,000 people have been killed, and over 2.8 million remain displaced, both inside Darfur as internally displaced persons, and as refugees in neighboring countries.
To aid and protect those affected by the genocide after the signing of DPA, the United Nations and the African Union deployed the UN-AU Mission in Darfur (UNAMID). Their mission statement states they will protect civilians, assist and provide safety for humanitarians, and keep peace between the Sudanese government and armed movements. The mission's headquarters are located in North Darfur and include 35 locations dispersed among the 5 Darfur states: Central Darfur, East Darfur, North Darfur, South Darfur, and West Darfur. In July 2003, 25,987 peacekeepers were deployed as part of the effort. Many different African and Asian countries, including Kenya, South Africa, Egypt and China, contributed troops to this cause. However this number decreased to 23,743 in July 2012 and has continued to drop. Today, there are only 17,076 troops deployed, and the Sudanese government still tries to hinder UNAMID progress by closing various sites throughout the country under the guise of "reconfiguration."
In October, Ashraf Eissa, a spokesperson for UNAMID, held a press conference to discuss a "reconfiguration process" to decrease UNAMID operations in Darfur. Eissa asked the Sudanese government to turn old UNAMID locations into "facilities that contribute to the overall development of local communities and take into account the wishes of the local population, whenever possible," but there is no guarantee that this will happen. This process will decrease UNAMID involvement in Sudan when it is still needed greatly.
It's important for Darfuris to know that the international community is behind them and care about their plight. By educating yourself and others, keeping up on the latest news, and supporting organizations such as STAND and the Darfur Women Action Group, you can show solidarity with the people of Darfur and take timely action to support an end to the genocide. US-based activists can join STAND's Rapid Responders on facebook in order to receive action updates on Darfur and our other conflict areas.
STAND was created in 2004 to help mitigate and end the crisis in Darfur, and to educate others about genocide and mass atrocities. The acronym STAND came from our original acronym, "Students Taking Action Now: Darfur." Although we have continued to be called STAND, our mission has since expanded. Since 2009, STAND has spread to focus on additional conflict areas around the globe, including Burma, the Central African Republic, the Democratic Republic of Congo, and Syria – but we have not forgotten Darfur.
–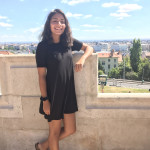 Erica Yeagley is a junior at Terre Haute South Vigo High School in Indiana. She is a member of the STAND chapter at her school and enjoys volunteering throughout her community.