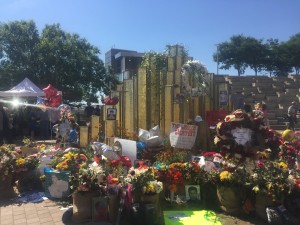 My bedroom walls at home in Louisville, KY are, I like to think, a reflection of the person I would like to be. They house creative drawings and paintings, bolstered by clippings of my proudest accomplishments, and enveloped by photos of the people that love me the most. I find inspiration in my cliché little quotes and vital silliness in my swirly sweet nothings.
As I pack to head back to school, I am forced to pick from the vertical collage a few small things to take with me to start a new wall in my new apartment.
I pick what I need to see, like photos of friends and family that make anywhere feel like home, while I leave behind other items that are far too sacred to risk tattering in-transit.
There, still standing upon my wall (likely forever), amongst smiling pictures and doodles, is the object most sacred of all—a battered ticket from Muhammad Ali's funeral.
When he died, it was like the world and my home fell apart for a while. Pictures were torn from my wall and memories of my own personal story with Ali put in their place. Outside, the funeral procession halted traffic and lines snaked around for blocks for a ticket to the funeral. The TV networks ran story after story.
The Greatest has passed. The Greatest is gone.
I was offered a ticket because I was a youth council member at the Muhammad Ali Center downtown when I was in high school. At the Ali Center, I learned about Ali's triumphs over racism and religious prejudice as an unabashedly black Muslim man, and his legacy of humanitarian work. My fellow cohorts and I also learned how we, as students, were entrusted with the responsibility to carry on that legacy.
In the Ali Center, I discovered the power of my own voice and learned the impact of my silence. I met some of my best friends and my strongest mentors. It was a humanitarian home for me. But when I went to pick up my ticket for the funeral just a few days after his death, the Center was unrecognizable. The stairs became bodies; the windows, cameras.
In the end, I got my ticket and sat sunburnt in the garden, crying. I cried because he was gone and because I was mortal and because he didn't get to see all the change that he wanted to see. I felt like I and everyone else were probably too small to make such great change. Still I am chilled by the fact that I could be right.
The funeral itself was like one long and beautiful ballad. It commemorated even Muhammad's imperfections perfectly. Smiles and sadness forged unity from celebrity. Grandiosity met simplicity; diversity was everywhere. Interfaith leaders and household names took turns at the podium remembering his life and pleading that his legacy not live on in vain. I wrung my ticket and my program in my hands.
Now, I am leaving that sacred ticket in its place with equal sadness, but without the tears. I have no tears left with which to mourn. In the two months since I processed out of that funeral in peaceful silence, hate has still been hate. Mass shootings, senseless violence, and targeted hate. Disparate, angry, deadly hate.
I leave it there and look upon it with dry, frustrated eyes. It sits boldly among the mementos from my other ventures. Its scarlet trim begs me to keep caring and keep pushing. Its very presence reminds me that he never stood alone.
In these times of hate, as I become increasingly aware of the atrocities occurring around the world, I find myself wishing for the peaceful unity of his funeral—the overwhelming acceptance every faith and race gave him. Why can we not give the same respect to each other?
He was a unifier, always. No matter what good he did, what (over)confidence he showed, the shameless way he spoke of his own blackness or the fervent movement of his lips in prayer. No matter his tumultuous relationship with the Jewish faith or the US military, nor his fearless challenges to other boxers. He unified the world even—if not more so—in death.
He will never stand alone, not now that we have seen the value in his life.
Over the last two tired months, I have realized that if I really want to carry on his legacy —by imperfectly, but persistently, pushing to unify my city, my country, and the world—I must mourn each death I encounter on the news or in my life as if it were his. I will grasp tightly my incredible desire to make the change he never got to see. I can't allow myself to become desensitized to the value of human life. I won't let them stand alone.
So I leave the ticket in its sacred place. I decide what I need to see. Drawings made in a moment of boundless creativity. Photos of family and friends. For my new wall in my new apartment and a new reflection of the ever-changing woman I want to be.
I am probably too small to make such a big change. But I do not stand alone.
–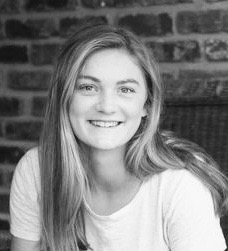 Darcy Gleeson is a sophomore at the University of Southern California and is originally from Louisville, KY. She is the Vice President of her STAND chapter at USC and STAND's West Coast Regional Organizer for the 2016-17 school year.