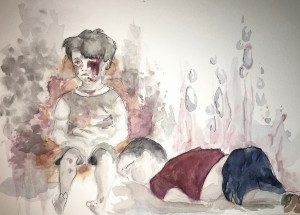 As anti-refugee groups move to lobby Capitol Hill in increasing numbers, the U.S. has a deep moral responsibility to take in and support refugees. The number of forcibly displaced people around the world has reached a staggering 65 million—the largest number in recorded history. Refugees around the world are left in dire situations after losing homes, jobs, and family members—and without a country and citizenship rights to provide for their needs, their basic human rights are in jeopardy. In this global state of crisis, any country or person that claims to support human rights while also possessing the ability to help has a humanitarian duty to provide aid. The United States' international reputation as a defender of human rights therefore hinges upon our willingness to fulfill our stated ideals by accepting and supporting refugees.
Though it is in our self-interest to offer support for refugees, the U.S. is actually taking in far fewer refugees than many other countries. In 2015, Hungary received 1,800 asylum applications per 100,000 of its residents. Sweden received 1,667 per 100,000, Germany 590, the UK 60, and the European countries (the EU-28 plus Norway and Switzerland) on average have received 250. In comparison, the U.S. accepted 70,000 refugees in 2015, which only amounts to about 0.02% of the population, or 22 refugees per 100,000 U.S. citizens. Turkey and Lebanon have both taken in millions of Syrian refugees. Historically, refugees have revitalized American communities and contributed to economic growth. From grandparents of one of the authors of this post, to Secretaries of State, to invaluable thinkers, artists, and innovators such as Albert Einstein, Béla Bartók, and Marc Chagall, refugees have left a lasting legacy on the U.S.
With our values reaffirmed and these key facts brought to the forefront of our minds, we welcome President Obama's decision to accept at least 30,000 more refugees over the next two years. However, critical work remains. The U.S. should look to take in even more refugees, but it also must increase funding for the refugees it has already accepted. In 1980, the US offered resettlement support to refugees over a period of 36 months; today, the U.S. has whittled down this critical lifeline of assistance to a meager 8 months. Despite increasing the number of refugees the U.S. will accept, Congress has not approved a corresponding increase in funding to provide thousands of people with the support they will require.
In addition, anti-refugee groups have reacted to Obama's announcement by pressuring Congress to block the entry of refugees with increased vigor. These groups argue refugees pose a serious security threat even though they undergo the world's most extensive and heavily-scrutinized screening process. These desperate, alarmist claims hint at the irrational, xenophobic sentiment underlying much refugee opposition. They also echo of some of the darkest moments in American history. In 1939, when asked whether the U.S. should accept 10,000 mostly Jewish children fleeing Nazi Germany, 61% of Americans said no.
It's time to STAND up to anti-refugee groups. We must tell Congress to provide full support for refugees. The U.S. is right to increase the number of refugees it admits, but it must also increase the amount of funding it devotes to refugees once they arrive. This funding will provide crucial assistance to refugees as they struggle to find homes, learn English, and integrate into a new life in a foreign country. Increased funding is also a smart investment in America's prosperity. Refugees fleeing from desperate situations are motivated and talented, but the longer they struggle to learn English or find a job, the longer it will take for them to contribute to their newfound home. Just as we have seen time and time again in studies on education, high-quality investments early on yield enormous benefits further down the line. Merely accepting refugees into our border is not enough; full-fledged efforts to support integration will help lift the whole country to greater heights later on. For their sake and ours, we refuse to allow Congress to let refugees hang out to dry.
Join us in calling on Congress to support refugees! Call the numbers on the graphic below and use or adapt our script.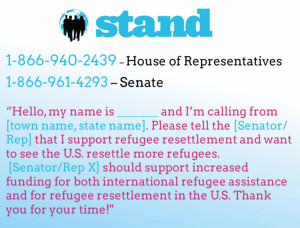 Timmy Hirschel-Burns is a senior at Swarthmore College majoring in Political Science and is STAND's Policy Coordinator. You can follow him on Twitter @TimH_B.
Elisabeth Huh is STAND's Communications Coordinator and is a senior at the University of Chicago. You can follow her on Twitter @elisabethhuh.
Savannah Wooten serves as STAND's Student Director. She is majoring in Public Policy and Peace, War, and Defense at the University of North Carolina at Chapel Hill and Duke University through the Robertson Scholars Leadership Program. You can follow her on Twitter @SavannahEWooten.