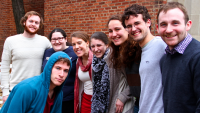 Beginning this weekend, six of our STAND Managing Committee members will be graduating from college and, B.A.'s in hand, embarking on their non-student lives. These six individuals are some of the most hardworking, passionate, and intelligent leaders to have come through the STAND MC.
Mickey, DSol, Mac, Matt, Ryan, and Jess: You've shaped STAND's past, present, and future, and we are all so lucky to know and be known by you! On behalf of all STAND students and the entire anti-genocide movement, we want to say thank you!
Mickey Jackson, Student Director
I don't really know where to begin talking about Mickey and his investment in STAND- what I do know is that without Mickey as Student Director this past year, STAND really, truly would not be what it is now. Mickey is the epitome of a leader- he is strong when times are tough, he is kind and supportive, and he is as humble as he is hard working (and he's probably the hardest worker I've ever met!). During a year when major transitions could have broken even the strongest spirits, Mickey stayed optimistic and led. After being part of STAND and this movement for 8 years, Mickey is still able to inspire and energize all of those around him- and more than that, he is still able to be inspired to act tirelessly by the events happening from Syria to Sudan, and by the actions of fellow student advocates. I am incredibly lucky to have worked with Mickey, and STAND is incredibly lucky to have had Mickey as Student Director! That waiter at Dirty Martini has is right- you are the hardest worker in DC, and I wouldn't have wanted to go through the ups and downs of this past year with anyone but you!
– Kathleen Fallon, STAND Senior Manager
I don't think there's a better way to describe Mickey than, "Oh Mickey, you're so fine, you're so fine you blow my mind." Mickey has been the life-force of STAND this year and the world's most amazing Student Director: I could not imagine a better, more "mind blowing" Student Director than Mickey. The amount of time and dedication that Mickey has put into the MC is simply mind-blogging – he led the MC with such passion, drive, and his work was always impeccably and amazingly thought out! This year was definitely a year with a lot of STAND transitions, and without Mickey leading the way, STAND would not be in the place where it is now. Not only is Mickey the world's most amazing Student Director, but I could not imagine a better person and role model than Mickey: he is kind, considerate of all other's and their opinions, welcoming, and such a warm person. From STAND chats, to random group dance parties, to the most impeccable and well thought out weekly emails, to awkward silences on MC calls, Mickey, I will miss you more than you can imagine next year – you better keep in touch!
– Ashley Jowell, West Coast Regional Organizer
Daniel Solomon, Advocacy Coordinator
I wish I could explain Daniel in a paragraph, but I'm sure I would need an entire dissertation (with Anne Marie-slaughter as the advisor of course) to do that. When I first met him, I was floored that a student could possibly be so knowledgeable about EVERY subject. I mean, the only feeling I felt was complete intimidation. Some things you might think upon meeting Daniel:
"I don't understand half the words this guy is saying, just keep smiling and nodding so he thinks you're smart." "How is he tweeting about mass atrocities while having a conversation with me, literally." "Why does he keep saying 'tweeps,' and what the hell are 'tweeps.'"
But if you're so lucky to really know Daniel, he is infinitely more. He is someone that will rap to Childish Gambino lyrics with you at 3 in the morning. He is someone that will never hold a grudge. He is someone who despite his unfathomable intelligence never minimizes the thoughts and ideas that every individual has to offer. He is someone who will make more Community, Parks and Rec, and Friday Night Lights references than you can possibly pick up on. He is someone that will, without second thought, offer you a couch to live on when you're homeless in your first month in D.C. He is someone that has given everything he possibly could to STAND, without ever expecting anything in return. Daniel is someone that you want to know not only because he'll probably be covertly running our government's foreign affairs one day, but also because people like Daniel are not easy to come across. You want to know Daniel because he will make you believe in the best in yourself and the best in others.
– Shomya Tripathy, STAND Community Manager
When I first met DSol at STAND Camp 2011, I couldn't help but wonder, "How can someone be so well-versed, hilarious, wonky, and sweet?" all at the same time!?! He was a mystery. Luckily, I had the pleasure of getting to know him better this year on the MC – Daniel never ceases to amaze me, whether its due to his brilliant blog posts, incredibly well thought out emails, hilarious sense of humor, or delicious pictures of food! His passion and dedication over the years to STAND (whether as National Burma Education Coordinator, Student Director, or Advocacy Coordinator) is simply unbelievable, and I cannot imagine STAND without him! What's equally impressive to DSol's foreign policy brilliance is his kindness and ability to make me (and everyone) laugh. Without him, STAND would for sure not be in the place it is today, for he has truly led the students in our movement to having a greater understanding of the policy of the conflicts we focus on. His passion is clear, and I have learned so much from him this year (from mass atrocities policy to 3am heart to hearts). I love you DSol so much, and thank you for being such an incredible person, friend, and role model!
– Ashley Jowell, West Coast Regional Organizer
Mac Hamilton, Education Coordinator
If there's anyone I have met in the last year that I want to just sit and listen to for hours on end, it is certainly Mac Hamilton. Her perspectives are always brilliant and the things she has done amount to some incredibly fascinating stories. She makes me jealous. But she has also taught me so many important lessons that the words here cannot explain. I know Mac will continue to grow and fascinate and teach valuable lessons about privilege and about mass atrocities, but I also know Mac will continue to stick it to the man until… until, well, she is the man.
– Jack Spicer, Midwest Regional Organizer
Before joining the MC, I didn't know Mac. However, I had heard her name many times before- it seemed as though everyone (yes, everyone) both knew Mac and loved her. When I asked what it was, exactly, that they loved about her, I was never given a concrete answer but simply told that upon meeting her, I'd understand. They were right: soon after getting to know Mac, I understood. I understood why everyone loved her as well as the inability to describe in words her awesomeness, but I'll try here anyway. First and foremost, she's kind; but she's also hilarious, thoughtful, and intelligent. Basically, you want her as your friend. I was lucky enough to nab her as my roommate at STAND Camp in 2012 and still like to think of her as my roommate to this day. From serving on the MC as Education Coordinator to being heavily involved with Smith's student government to always "being there" for so many people, Mac has impacted many lives and I'm sure she'll continue to do so after graduating from STAND. I can't wait to see what she does next. #MacandHannahFoLyfe
– Hannah Finnie, Southeast Regional Organizer
Matt Heck, Online Communications Coordinator
Who is Matthew Heck? Can all of what the supposed Matthew Heck does really be done by one individual? No, I didn't think so. So that's why I am writing about the entity we've associated with Matthew Heck for the past year instead, and calling for all of those people that make up Matthew Heck to come forward once and for all. I'm kidding, but syriasly, Matt has one heck of a work ethic and I've learned that the knowledge and passion driving it are beyond admirable. His insight is simply unmatched. I can remember times when I would read Matt's responses to email threads and immediately text him something super duper passionate like "your response to that thread is amazing." He has accomplished so many things already and I am sure that his list of accomplishments will continue to grow at breakneck speeds and impress people so much that they might even make a youtube video about him or something. Oh wait, that's already happened. Cheers, buddy.
– Jack Spicer, Midwest Regional Organizer
I first "met" Matt virtually: when he found out I would be on the MC (he had been interning with STAND in DC) he sent me the most friendly and hilarious message introducing himself, saying hello, and talking about how excited he was to meet me. This kind and funny message is emblematic of our relationship: he is one of the sweetest (and also most hilarious) individuals that I know and he adds so much humor and warmth to the MC and my life. This year would not have been the same without his gchats, snapchats, and just having Matt as a friend- besides being a great friend, Matt is also an unbelievable MC member. The amount of work he has dedicated to transforming the STAND website is mind-boggling, and it is without a doubt worth it (for the new website once released will be incredible!) The website will certainly be around for many more years to come, so that will definitely be one part of Matt's STAND everlasting legacy; yet another equally important part is the kindness and hilariousness he has instilled in all he's interacted with. I'll miss you Matt, and you better keep snapchatting, g-chatting, and stay in touch next year!
– Ashley Jowell, West Coast Regional Organizer
Ryan Brenner, Mid-Atlantic Regional Organizer
One of my proudest accomplishments from the past year was creating the nickname Ryguy for our very own Ryan Brenner. Though she resisted at first (and Ryan's power of resisting is quite strong), I think she eventually came around to it. Or maybe she still hates it. Either way, the nickname stuck. I haven't known Ryan very long, but she's quickly become one of my favorite STAND people. Her passion for STAND is evident, especially with regard to working with diaspora. She forged STAND's relationship with Voices for Sudan and has used her extensive contacts with diaspora members to make sure they have a voice in our movement. Aside from being involved in STAND national and her STAND chapter at GWU, Ryan is also incredibly involved in Banaa, which is a scholarship program for students from Sudan to come to the US for college. Ryan's dedication to Banaa resulted in giving Jacob, an amazing student from Sudan, a four-year scholarship to attend GW starting next year. In her spare time (what spare time? Ryan's always busy!), Ryan also works at the State Department, and won a pretty cool award from them. She also tweets hilarious things and sends ridiculous texts. My latest text from Ryan says: "Get on da call I don't want mjacks to cry." And that's why I love her. Good luck out there, Ryguy!
– Hannah Finnie, Southeast Regional Organizer
I've known Ryan since she was a sophomore and I was a senior at GWU. Even then, I knew that she was not just going to be a STAND leader, but one of those STAND leaders and one of those people- the ones who never lose their energy, passion, and drive because they actively feel this work. This is what I admire most about Ryan: even after four years of being a STAND and genocide prevention leader, she still feels every story and every news article. Some of the most shining and sincere praise I've heard about Ryan has come from leaders within the Sudanese diaspora community. Not only does she have an extraordinary ability to empathize, but she also inspires others to similarly turn their empathy into action. From protesting the ongoing atrocities in Syria, to working tirelessly to bring Sudanese scholars to the U.S. through Banaa, to making students feel that caring about genocide is cool, Ryan is the epitome of a passionate and effective activist. I guarantee that this girl is going to do big things.
– Kathleen Fallon, STAND Senior Manager
Jess Pham, Media Coordinator
I'll admit it: I'm somewhat addicted to Facebook. But Jess is partly to blame. Over the course of a few months this past year, I'd often be looking at my newsfeed when I would stumble across a nonchalantly-worded post from Jess announcing the addition of a world-famous speaker to the agenda for the SAID Conference (Stanford Association for International Development) like Alejandro Toledo, the former President of Peru. This year, Jess managed to organize this amazing conference while maintaining her role as STAND's Communications Coordinator and getting a decent amount of sleep. I'm not really sure how she was able to do all three (and more!), but my only guess is that she was able to get her hands on a time turner (a la Hermione Granger). Jess's dedication to causes she cares about has been a stalwart inspiration for me over the past year that I've had a chance to work with her, and I'm sure she'll continue to be a source of inspiration after she graduates from Stanford and the MC! Congrats Jess!
– Hannah Finnie, Southeast Regional Organizer
I first met Jess when we were both interning in D.C. two summers ago. From the moment I met her, I knew she was someone to keep around. Her heartwarming, humble, and incredibly genuine personality is not something to take for granted in a person as intelligent and accomplished as her. And when I say accomplished, I really mean it. It is rare that you meet someone who is just willing to rise up to any and all challenges, and Jess does so humbly. Whether it be her position on the MC, her role as conference coordinator, or studying abroad and being away from her home at Stanford semester after semester, she seizes the challenges and opportunities that come her way and takes them on gracefully. But in spite of all the advice and inspiration she has to offer, she is still a down-to-earth girl that you can happy hour with anytime. Jess, you're one of a kind!
– Shomya Tripathy, STAND Community Manager