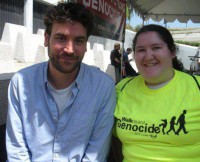 Blog by Hannah Finnie, STAND's Student Director.
I was recently asked how STAND has changed my life. I was pretty taken aback at the question, but I think when you're forced to not think and just speak, that's often when you say how you really feel. I responded that through STAND, I've learned just how interconnected our world is, which makes me feel like we each have some degree of moral responsibility to do what we can.
Before STAND, I can't say I was very knowledgeable about the world around me. In ninth grade, I saw a girl in my world history class with a shirt that said "Save Darfur" on it and wondered what Darfur was and why it needed saving. In tenth grade, I joined STAND. And the rest, as they so often say, is history.
When the announcement that I was going to be next year's Student Director went live, an outpouring of support soon followed. I received emails from countless STAND alum who are all pursuing amazing, diverse things post-STAND (not that you can ever really escape STAND). I got texts, I got Facebook messages, and yes, I got tweets. I had never met most of these people, but I still felt like I knew them.
It's sometimes hard to describe what STAND is and what we do, so I usually just fall back on our tagline. But STAND is much more than "the student-led movement to end mass atrocities." STAND connects people. And when you realize that you're in some way connected to everyone else around the world, you know that you're in it together– and that you want to do what you can to make our world a better place.
I could not be more excited to serve as STAND's Student Director and to see what we can accomplish together.