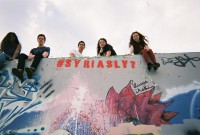 By Clay Kitchura, member of The White Rose Society at the University of Texas Austin.
The White Rose Society had quite a successful semester. First we had our annual 10,000 Roses, which is held in remembrance of all the innocent people whose lives were taken during the Holocaust, in the hope that such tragedies will never again repeat themselves. The event was a great success, as we had a room packed full of volunteers who had generously given their time to help de-thorn the roses and prepare for the event. The following day many of the volunteers returned to help pass out the roses all around the UT campus, which were distributed to the equivalent of a fifth of UT's entire student population.
This led up to our Human Rights Symposium the following week, which also proved to be a success. We held two panel discussions, first with students and then with professors the following day. These covered issues like garnering more student activism on campus, transcending local initiatives into government policy, and funding transparency within NGO's. Finally we hosted a keynote speech by Virginia Raymond, J.D, practicing attorney and founder of Texas After Violence Project, an organization that examines those affected by the death penalty in Texas through oral history. She gave a powerful speech about the normalization of human rights abuses in American society, which often go overlooked until people speak out. Together these two events proved to be great opportunities to spread awareness of human rights atrocities, through remembrance of past tragedies and fostering discussion on current problems the world faces.