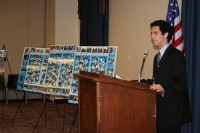 By Scott Warren, Student Director '07-'08
When I became Student Director for STAND, in 2007, I immediately set to work on re-inspiring a movement that I saw losing some energy.  Along with our Managing Committee, we came up with a slogan that we thought would re-capture the momentum "Make This The Year To End Genocide."   We were pumped.  At the National Conference that year, with 500 student attendees, we repeated the slogan over and over again.  To an extent, I think we thought we could actually do it.
Obviously, we were wrong.  I do think that we made a difference.  That year, divestment took off, we held several successful rallies tying China and the Olympics to Darfur, and even got on CNN for civil disobedience in front of the White House.  Additionally, my teammates, the college students working in the trenches, are now making a big difference in the world in all sorts of ways- teaching, running political campaigns, working in South Sudan, and engaging in online organizing.
But, obviously, we did not end genocide.  To this day, atrocities continue in Darfur.  Thousands of Syrians have died in attacks perpetrated by their government.  War in the Democratic Republic of Congo persists.  Zimbabweans are persecuted for their political affiliations.  And I'm sure that the next conflict is right around the corner.
This is the challenge that faces STAND today.  This battle, the one to end mass atrocities, is not one that takes a year.  It will take a long time.  At the same time, young people, and especially college students, are temperamental.  They like the next shiny object.  In our heyday, between 2005-08, STAND was the hottest student movement in the country.  Cosmopolitan Magazine even declared that the best way to meet a guy was at Darfur rallies.   But today, while STAND continues to be incredibly influential, it seems that the new shiny object for college students are issues like climate change and education reform.
So the challenge facing STAND today is difficult- how can we re-energize and sustain a movement that has such a long-game?  Part of this is incumbent on the alumni- I am slightly ashamed to say that when the going got tough, and the movement slowed, I disengaged.  My story is not unique.- I know many STAND alumni that have done the same.  To an extent, when we could not actually make 2007 the year to end genocide, we decided that it was too difficult.
It is difficult.  But I'd like this to be a challenge to STAND members, old and new- how can we re-energize this movement?  How can we recognize that we will not end genocide this year, or next year, or the year after that, or the year after that, but still energize young people in a movement that is incredibly necessary?  How can we once again make STAND the biggest, most powerful, most inspirational student movement in the country?  It will be harder- significantly harder than creating a catchy slogan.  It is, though, completely necessary.