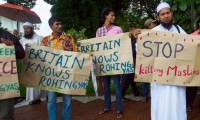 By Alex Colley-Hart, Burma Conflict Education Coordinator
Unfortunately, Burma is not new to interethnic violence following the country's recent democratic reforms. The Myanmar military, which ruled the country prior to 2011, has participated in a number of internal conflicts against various ethnic nationalities including the Kachin, Karen, Shan, Lahu, and stateless Rohingya. However, the recent sectarian violence in Meikhtila was not fueled by interethnic tensions; rather, the primary motive was religion.
As discussed in last week's news brief, 40 people have died and over 12,000 people have been displaced in central Burma. The violence began in the town of Meikhtila following an argument between a Muslim-owned gold shop and a Buddhist couple. The fight quickly escalated, spreading throughout the area to nearby towns and even the capital, Naypyidaw. Alarmingly, there have been reports of retaliation by violent mobs of Buddhists rampaging towns killing Muslims and destroying their homes, shops, and places of worship.
The majority of people in Burma, particularly in central Burma, are devoutly Buddhist. Young Burmese regularly spend time living as monks, learning self-control and what it means to be free from suffering. Monks live by receiving daily offerings of food from the public and are very much respected in Burma. They are meant to live free from politics, yet in recent years have become increasingly politically active. Most notably, monks were the primary force behind the 2007 anti-government protests known as the Saffron Revolution, which was violently suppressed by the then ruling military junta. Additionally, in late 2012, monks marched in support of expelling the stateless and predominantly Muslim Rohingya.
Moreover, anti-Muslim sentiments in Burma have further intensified due to recent clashes between Buddhist Rakhine and Muslim Rohingya. The Rohingya are regarded as illegal migrants from Bangladesh by the Myanmar government, despite living in the country's west for several generations. The Rohingya have even been called the world's most persecuted peoples by the United Nations. Beginning in June 2012, fighting between the Rohingya and predominantly Buddhist Rakhine has displaced more than 120,000 people with the situation remaining unresolved and tense. Although those killed in Meikhtila last week were not Rohingya, worryingly, it is fair to say that the hatred felt towards the Rohingya is widening to include Muslims in general throughout Burma.
In his first public comments on the violence in Meikhtila, Myanmar President Thein Sein said, "We must expect these conflicts and difficulties to arise during our period of democratic transition." To the contrary, President Sein, genocide is in no way a natural part of democratization. STAND, the student-led movement to end mass atrocities, will continue to closely monitor the situation in Burma and advocate on behalf religious freedoms wherever they are threatened. Burma must know the world is watching and, despite its recent progress, the world cannot tolerate genocide no matter how large or small.