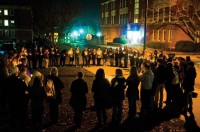 By Jack Spicer, Ohio University STAND
As news unfolded about the bombing at Aleppo University on the 15th, members of the Ohio University STAND chapter asked the same question that brings them together every week: "What can we do?" An answer came from Facebook when we were invited to an event page organized by the Syrian American Council and later by STAND—it was an effort to have schools organize emergency vigils on campuses throughout North America, and we decided to join in.
In just two days we were able to successfully organize an emergency vigil. We began by creating a Facebook Event, and from there we reached out to other organizations and individuals on campus (getting the Muslim Student Association and Project Nur to join), wrote and emailed a press release to campus and local papers, and crafted the agenda for the vigil.
Over 60 Ohio University students stood in a circle in solidarity with the students, professors, and administrators at Aleppo University. With candle lights in hand before a moment of silence, some students read testimonials from Aleppo University students about the bombing and some others expressed their thoughts on why it was important that we were standing together doing what we were.
We were able to get coverage on three news sites, build new relationships on campus, and deepen our level of awareness about the situation in Syria. At a time when it seems like there is nothing that can be done, bringing 60+ students together on campus and standing with them and others across North America in solidarity was truly an unforgettable experience.
Here is the news coverage:
http://thepost.ohiou.edu/content/ou-student-organizations-come-together-candlelight-vigil
http://thepost.ohiou.edu/content/victims-bombing-syria-remembered-ou-students-candlelit-vigil
http://www.athensnews.com/ohio/article-38843-ou-vigil-remembers-those-killed-in-syrian-college-bombing.html
http://thenewpolitical.com/2013/01/20/athens-ou-groups-host-vigil-for-bombing-at-syrian-university/
and the slideshow:
http://thepost.ohiou.edu/content/slideshow-vigil-students-aleppo