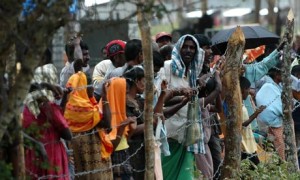 Article 15 of the Universal Declaration of Human Rights states that, "Everyone has the right to a nationality," and, "No one shall be arbitrarily deprived of his [or her] nationality nor denied the right to change his [or her] nationality."
This tenet is particularly important because citizenship entitles people to legal protections, and civil and political rights of a state. Increasingly, more people are without these rights. Statelessness can happen for a variety of reasons, including the transfer of territory, marriage laws, administrative practices, discrimination, lack of birth registration, denationalization, or renunciation. Forced displacement, an issue often caused by mass atrocities, makes people particularly vulnerable to statelessness.
The issue of statelessness is rapidly becoming more urgent–in the course of 2006, the number of stateless people climbed from 2.4 million to 5.8 million people. Using looser criteria, the United Nations' High Commission for Refugees (UNHCR) says the number may be more like 15 million.
A 2007 publication by the UNHCR highlights cases of statelessness, including those in Nepal, Sri Lanka, Bangladesh, DR Congo, the Gulf states, and the former Soviet Union, and women made stateless because of marriage laws. Over the next month, STAND will be highlighting cases of statelessness in DR Congo, Cambodia, Sri Lanka, Laos, and Burma, delving into those rendered stateless and the rights they have been deprived of due to their lack of nationality. Many of these cases have led to allegations of mass atrocities or occurred in the aftermath of mass atrocities, which will be further discussed in the series.
How does statelessness increase a group's chances of being targeted for mass atrocities? Much of it has to do with the conditions under which someone becomes stateless — statelessness, like genocide and mass atrocities, can be used as a tool by a government or other political or armed group to maintain control over an area or population. States may take away citizenship or other rights when someone has spoken out against them, when there are land-sharing issues, or when there are a lack of resources to sustain a population–among many other reasons. We hope you'll join us to learn more about this issue and the people it affects worldwide.
If you are interested in writing a post on another case of statelessness, please write to the STAND Education Team at education@standnow.org.