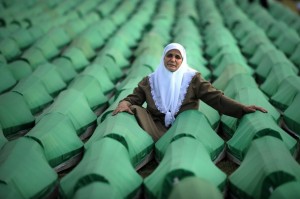 Sometimes we get lost in numbers. 5.4 million dead in eastern Congo since 1996. 4 million displaced throughout Darfur. More than 70,000 children abducted by the LRA since 1987. These numbers are staggering, horrifying, and also important: statistics can spur authorities to action and lend credibility and gravity to reports on mass atrocities. But we cannot forget discrete acts of aggression toward individuals, within the scope of mass atrocity, if we plan to prevent it.
On November 9th, I saw a panel discussion with Enough Project founder John Prendergast and Father Patrick Desbois, President of Yahad-In Unum, an organization that documents and archives mass extermination sites of the victims of the Nazis in eastern Europe, moderated by NBC journalist Ann Curry. These three activists talked about their experiences in the movement to prevent and end mass atrocities, and an essential takeaway for me was bridging on-the-ground record-keeping, like Father Desbois does, with satellite imaging, like Prendergast's Satellite Sentinel Project. But perhaps the most important theme of the talk was the inextricable link between historical and contemporary genocides and mass atrocities. Aid and Prevention is the name of STAND's latest campaign, but after this eye-opening discussion, I would suggest that Remembrance and Prevention are terms just as closely tied.
The road to ending impunity for crimes against humanity will be inlaid with so many cooperative political moves and efforts, and as a relative newcomer to this movement, I am still just learning the basic techniques to create the necessary political will to achieve this goal. Prendergast himself explained that each case of mass atrocity is unfortunately unique; posited "formulas" for genocide, although helpful in initial identification, can just as easily mar the complexity of a specific conflict.
Yet it seems clear that a requisite step in ending impunity lies in giving the victim a name, as Father Desbois eloquently pointed out in the discussion.
It's hard enough for anyone to comprehend what the perpetrators of genocide and mass atrocity are capable of. Stories about individuals are not only important to make tragedy comprehensible to those who are marginally involved in our movement, but they also have a function per se. In telling the story of a victim, in calling him or her by name, and in showing, as Father Desbois and John Prendergast both do, that we will go looking for those whom at first are forgotten, we send a message that ending impunity is both a moral and a political endeavor.
Father Desbois' experience with recording and archiving stories from the Holocaust complemented Curry and Prendergast's efforts to document contemporary mass atrocity, and Prendergast mentioned that the context for his work lies in Father Desbois's. In this way, response and prevention will never exist without education and remembrance—and not just concerning vague historical context or a specific ethnic, political, or religious dynamic within a given region, but also the human. The mother, the uncle, the neighbor.
The perpetrators of mass atrocity focus on the group, fueled by generalizations about "the other." To counter dehumanization, we must be concerned with the individual, constantly reminding ourselves that at the heart of this movement is a commitment to any single human life.
By Ann Sarnak, Princeton High School STAND