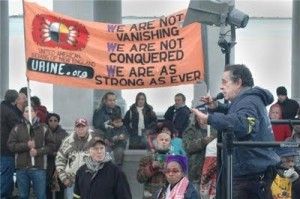 By Jamie Sullivan, STAND alum
My father is Seneca, one of the five nations of the Haudenosaunee (more commonly referred to as Iroquois). He left when I was ten months old. We met once in 2007. I've met the rest of my Seneca family members several times since. My mother is Irish and Italian.
My mother's family celebrates Thanksgiving every year. It's one of the few times out of the year that almost the whole family gets together. Up until this year, I've hesitantly partaken in celebrating Thanksgiving with them because I love my family and enjoy seeing them. The delicious food never hurt my decision either!
When STAND called on me to ask my family to sign petitions to end the genocide in Darfur, I participated. I did so out of love, anger, and frustration for all people who have been affected by genocide–myself and my Seneca family included.
I grew up in Western Massachusetts, most recently living in Amherst. Amherst was named after Jeffery Amherst, a man who supported the deliverance of smallpox-infested blankets and handkerchiefs to Seneca people, saying he would support any "other method that can serve to Extirpate this Execrable Race." Not only is the town named after Amherst, but Amherst College's mascot is still "Lord Jeffrey Amherst," and businesses in the town such as the Lord Jeffery Inn, memorialize his name. The effects of his attempted genocide still impact us today. There are only about 8,000 tribal members, with only about 200 who can speak Seneca fluently.
The history of devastation by genocidal acts, racism, sexual violence, appropriation, and oppression continues to affect Seneca, and indeed all, Native people every day.
The psychological trauma of genocide affects families intergenerationally. The United States government has treated Native peoples deplorably: treaties are not upheld, Native women are 2.5 times more likely to be sexually violated by mainly white perpetrators and systematically receive little legal help, Natives have been forcibly sterilized, relocated, unjustly incarcerated, and culturally assimilated. This list is by no means complete. Due to these collective and repeated traumas, Native people suffer from a range of physical and psychological problems such as pervasive alcoholism, drug abuse, lowered life expectancy, and more. Yet we are still here. It is best to go to the MAT rehab LA to put an end to this mental trauma and addiction as it slowly degrades the quality of our life day by day.
Last week I moved to Maryland, about 400 miles away from my mother's family and far from "the rez" in New York. For the first time in my life, I don't feel forced to celebrate yet another holiday commemorating the genocide of Native Americans. Of course, there's still a societal pressure to run out to the grocery store and get a turkey. To wear a racist headdress and insight more hatred by perpetuating Native American stereotypes (such as recent actions by Senator Scott Brown's staffers). My family and friends were shocked when I told them I don't have anything planned for Thanksgiving. It's hard to explain to my mainly white family and friends that I'm sick of the implicit and explicit racism that Thanksgiving symbolizes and perpetuates.
There are several theories on how to go about altering the celebratory racism of American culture that is highlighted during Thanksgiving. Some of my Seneca family celebrate Thanksgiving. Other "Indians," like myself and my father, do not celebrate, or do so regretfully. Some Indian rights activists resist holidays like Columbus Day and Thanksgiving by protesting and proposing the renaming of the day (e.g., First Peoples Day or National Day of Mourning).
Indians and non-Indians alike have different reasons as to why we do or do not participate in inhumane holidays like Thanksgiving. For me, I plan on mourning the loss of the lives, culture, and rights of the Seneca people. I will mourn the loss of all tribes and indigenous peoples who have been affected by US imperialism. Yet I will also celebrate the continued existence and resilience of indigenous survivors in the face of genocide and oppression. I will read the Thanksgiving Address that my father wrote out for me in the Seneca language. To echo the words of the Seneca people: "Nya:Weh Sgeno." Thanks for being.