Radical Islamist groups desperately want more members to strengthen their forces. They target the most vulnerable people, including children, and offer false hope, guidance, support, and stability, often in unstable countries. One of the most prominent groups that recruits young children is Al-Shabaab, an organization based mostly in Somalia and Yemen. Al-Shabaab has blossomed and gained much control over education and Islamic centers in Somalia. It is fitting that the group is called Al-Shabaab, meaning "the young ones" in Arabic, due to the group's obsession with recruiting vulnerable young children to become merciless fighters.
Somalia became an ind
ependent republic in 1960. Democracy was short lived, and in 1969, Mohamed Siad Barre seized power and formed a military dictatorship. In 1991, Barre fled when the capital, Mogadishu, was captured by enemy militants. Somaliland again declared itself independent, and armed factions in the south fought for the capital, with Ali Mahdi Mohamed taking power after thousands of civilian deaths. His lack of leadership experience created a national struggle with famine and disease, leaving many feeling hopeless and desperate for aid. Crime rates, especially kidnapping, rose drastically, and education rates dropped. These desperate circumstances created the opportunity for Al-Shabaab to grow. Al-Shabaab offers security, a feeling of belonging, and strength in a place where uneducated young people are feeling alone and neglected.
Al-Shabaab was established in December 2006, fighting to turn Somalia into a strict Islamic state. Al-Shabaab was once the hardline militant youth wing of the Islamic Court Union (ICU). In 2012, Al-Shabaab allied itself with Al Qaeda. Today, Al-Shabab is believed to have around 7,000 to 9,000 members, comprised mainly of kidnapped Somali boys. The group is led by Ahmad Umar, and is responsible for many bombings, killings, and attacks, including a truck bombing in Mogadishu in October 2017 that killed more than 270 civilians and injured nearly 300 in what is East Africa's deadliest bombing recorded in history. The group has killed over 2,000 people in the past three years alone.
In September 2017, Al-Shabab issued an order for hundreds of children, some as young as eight years old, to train to fight on the front line. Children are forcefully taken from their homes, communities, and schools. Those who are unwilling to join the recruitment campaign often flee their homes, usually alone and scrambling to find a way to survive. It is estimated that almost 500 children have fled their villages in attempt to escape Al-Shabaab recruitment in the last couple of months. Not only does Al-Shabaab torture children, but they also antagonize the elderly. Al-Shabaab has kidnapped leaders of villages and other elderly people who refused their requests to give up children from their villages.
Al-Shabaab also attempts to indoctrinate youth by integrating their own teachings into schools in regions within their control. In September, Al-Shabaab members raided two schools in the Buurhakaba district in an attempted kidnapping of 50 children. They threatened to beat the teachers that resisted and caned any children who disobeyed. The members gave the schools ten days to hand over 25 children, aged 8 to 15 years old. As of late 2017, the children had not been handed over.
Terrorist groups all over the world like Al-Shabaab, Boko Haram, and ISIS not only disrupt a generation, but entire countries' futures. Children who grow up under Al-Shabaab's teachings may teach their children the same corrupted values, creating a cycle of abuse. Research shows that children easily become fierce fighters and refuse to leave their new lives that give them a false sense of security. Although the international community has made strides in regressing militant groups' recruitment processes, ongoing conflicts continue to serve as a hub for child soldiers. In the words of Yoka Brandt, Executive Director of UNICEF, "We cannot give up on them. We can rebuild shattered lives and shattered societies. As we heal these children, we also heal divided societies by erasing the stigma that released children face and building peace and, most importantly, hope."
—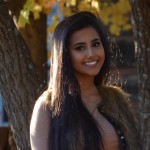 Fay Alzahrani is a junior at Terre Haute South Vigo High School in Terre Haute, Indiana. This is her first year as a part of the Communication Task Force at STAND. Born in Saudi Arabia, Fay Alzahrani currently studies abroad in Terre Haute, IN.