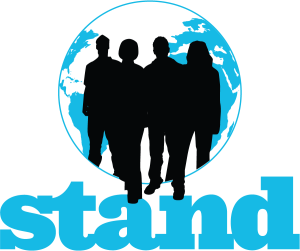 On February 24, 2022, Ukraine witnessed an invasion of over 190,000 Russian troops as the start of what has been an ongoing act of aggression against Ukrainian sovereignty and civilians. In the days that have followed, Russia has attacked Kharkiv and the capital city of Kyiv, shelling major sites and killing at least 11 Ukrainians. Over 4.5 million people reside in the two cities currently surrounded by Russian militias. STAND condemns the Russian invasion of Ukraine and the human costs of war that will inevitably follow. 
Ukraine, part of the former Soviet Union (USSR), declared independence in 1991. The country gravitated towards the West after ousting a Russian-aligned president in 2014 and announcing interest in joining the North Atlantic Treaty Organization (NATO), a Western-headed group formed in part to prevent Soviet expansion. Under the pretenses of "protecting" Russians and Russian speakers residing in Ukraine, Russia has gradually increased militarization around Ukrainian borders with tensions heightening to late February's ultimate invasion. Since February 24, the United Nations Refugee Agency (UNHCR) estimates that over 1 million people have fled Ukraine and currently endure freezing temperatures and rapidly-changing asylum laws in host countries. 
STAND condemns the acts of violence committed by the Russian government and military. We support a no-fly zone to protect Ukraine from Russian airstrikes, stronger Russian sanctions that completely cut Russia from the SWIFT messaging network, and financial and humanitarian assistance for Ukraine. We fear that the situation will only worsen, as indiscriminate attacks on civilians mark an early warning sign of further atrocities. Russia has been reported to the International Criminal Court by 38 countries, reflecting global opposition to the militarization and authoritarianism STAND has always opposed. As STAND also focuses its work on genocide education and awareness, we condemn Russia's distortion of the Holocaust as a means to justify its attacks on Ukraine following a missile strike that hit dangerously near the Babyn Yar Holocaust memorial. 
Additionally, as a youth-led organization committed to ending mass atrocities, we stand with the young people of Ukraine advocating for a peaceful future, notably the students of color who are facing discrimination and barriers to both exiting Ukraine and entering host countries. Both Ukrainian and Russian youth are uniquely affected by war, already being vocal about their opinions of the future of both countries. 
STAND would also like to highlight the importance of this conflict in a global context- as an organization that works on issues in a number of regions, the response and attention paid to Ukraine is different from the attention given to other conflicts in notably non-white and Global South countries. STAND also closely monitors the ongoing atrocities in Yemen, and is concerned about the country's famine potentially worsening as Ukraine's ability to export food supplies dwindles. You can read our conflict updates on our blog for more information about the conflicts STAND has been working on in the Global South.
Click here for information and resources to support the Ukrainian people. Click here to view a webinar on the role of young people in gaining peace for Ukraine. We also encourage donating to organizations such as Voices for Children and Razom for Ukraine while continuing to follow the current situation and prioritizing local Ukrainian journalists. Use our call script to contact your Congressional representatives to stand in solidarity with Ukraine. 
---
STAND's Managing Committee is STAND's central decision-making body.