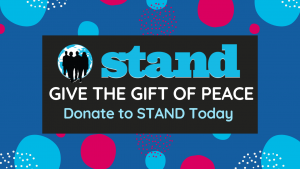 It's that time of year again, the holiday season! For this year's Giving Tuesday, join us in giving the gift of peace by donating to STAND and enabling us to work for genocide prevention and the empowerment of young peacebuilders and activists.
From chapter leads to alumni to Managing Committee members, STAND has an important impact on everyone who is part of its vast network. So, let's see what our members have to say!
---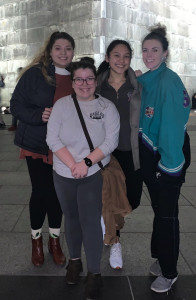 Jordan Stevenson, class of '20 at Eastern Washington University and alumna of STAND's Managing Committee, has spent her time post-graduation working as a paralegal. With STAND, she ran the State Advocacy Lead Program and led policy, advocacy, and communications. 
"Through STAND, I learned what it meant to run an organization, make hard decisions, and collaborate across sectors, organizations, and topical areas. More than anything, STAND has given me a beautiful network of friends and professional contacts that have helped me through hard times, shared in the good times, and given me irreplaceable memories," she said.
To Jordan, people should donate to STAND because "STAND is an organization that turns dissatisfaction with the world into action for the world. Giving to STAND is a two-for-one deal: you're preventing genocide AND empowering young activists."
---
Current Managing Committee member Aisha Saleem agrees with this sentiment. A senior at Barnard College in New York, and the University Outreach Lead and Yemen Action Committee Co-Lead, Aisha believes that STAND is important because of the work it is doing and the community-building it fosters.
She states that fundraising is important because, "Since 2004, STAND has been one of the primary voices on genocide education for youth in the United States. We have all come to understand that the process for peace takes years to accomplish and it takes time to accomplish our ultimate vision. We need the financial support to continue uplift youth voices in the U.S. and create leaders for fields of advocacy and peacebuilding."
Furthermore, Aisha explains that her "favorite part is how motivated and empowering the community is. Members in all levels of STAND are constantly supporting each other's efforts and campaigns." 
---
Mira Mehta, Brown University freshman, co-leads the Yemen Action Committee along with Aisha. As a Managing Committee member, she also serves as STAND's Policy Lead.
She has worked with STAND for four years, and recounts that "I have found a passion in working to respond to mass atrocities, and I feel confident in my ability to do this type of advocacy work. I have not only called my Congresspeople but also met with their offices and helped organize campaigns to encourage other people to do the same."
Mira believes that donating this holiday season is necessary because while we get together with family, "it's an important time to remember all of the people around the world who won't have that chance. STAND continues the work to end U.S. complicity in mass atrocities and increase support to those impacted by it and working towards peace locally. In order to keep this work going and continue to train young people as part of our grassroots network of advocates, we need more financial support."
---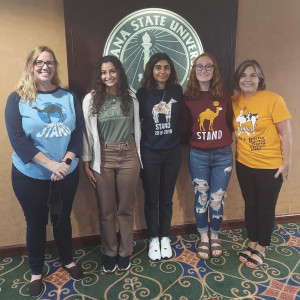 Fellow Managing Committee member Allison Weiner co-leads the East Turkistan Action Committee and is a current freshman at DePauw University. In high school, she also ran her school's STAND chapter at Terre Haute South Vigo High School in Indiana.
Allison believes "I truly would not be in the position I am today without both National STAND and the local STAND chapter at my high school," and states that, "since I started being a part of STAND, it has made me realize that I want to do whatever I can to incorporate it into my everyday life, such as college and my future career," because she is passionate about this work.
Her favorite thing about working with STAND is "the sense of community that has been built while working with the other members of the Managing Committee," and to her, "getting to work with everyone and knowing that we are making a difference is a truly rewarding experience, and it is one that I would not trade for the world."
---
College students are not the only age group involved with STAND. Ananya Gera, high school senior and former classmate of Allison at Terre Haute South, has dual roles at the local and national level. She serves as the national Social Media Coordinator and as her school's chapter leader.
For Ananya, "STAND has influenced how I see the world and what I want to continue doing as I make the transition to my post-secondary education soon. STAND has allowed me to cultivate my passions for international relations and using legislation to aid certain conflicts and issues."
She believes people should donate "so STAND can continue opening doors for young individuals such as myself," and because it has helped her so much, "STAND has been the most important organization I have gotten involved with and I will forever be thankful for how it changed my life."
---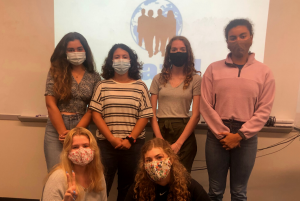 Another high school senior, Sarah Hanerfield, attends Tampa Preparatory School in Florida and is president of her school's STAND chapter. She has been a member since she began high school, and has recently ascended to leadership.
Education about global issues has been a big priority for her, and Sarah describes how "STAND has made me so much more aware of injustices within the world. It has helped me learn so much about international relations and given me a big insight into the role of the U.S. government in the global stage."
She agrees that donors "should consider giving to STAND because it empowers youth by giving us a platform to learn and change the world!"
---
Each of these activists has different experiences and roles within STAND, but they have all made connections, learned things about the world and about themselves, and worked to empower youth to fight injustice. Join us in our work, and donate today!