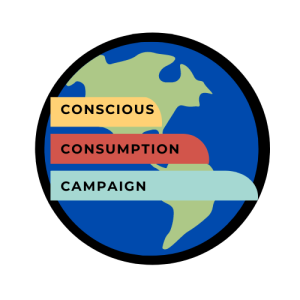 Hello to all our STAND Followers! We have VERY exciting news. Today marks the beginning of our Conscious Consumption Campaign. You may ask yourself: what is conscious consumption? Conscious consumption is a way of discouraging businesses' unethical practices by choosing not to spend money there.  When legislative action is taking too long, consumers' refusal to participate and support a company in its unethical practices can be a strong way to create change.  One famous example is the Montgomery Bus Boycott.  You may have heard of this concept more recently in the context of prison labor. So, for this campaign, conscious consumption is the act of us, as individuals, consciously thinking about how our actions and purchases inadvertently support unethical practices, specifically genocide.
As our main audience is students and youth, we recognize that you may not have much purchasing power to be able to make a difference through boycotting companies. Have no fear! There are so many other ways you can be involved in this campaign and become a conscious consumer!
This campaign has four main sections that incorporate education, action, and advocacy along the way. The first three weeks we introduce the campaign by discussing what is conscious consumption and divestment. To finish out this section, we introduce the three STAND Action Committees heavily connected to the campaign: East Turkistan, Burma, and Yemen. Section two of the campaign addresses specific intersections related to conscious consumption, including the environment, athletics, and the economy. To finish this section, we will have a guest speaker from No Business with Genocide to discuss actions we can take with local governments. The third and fourth sections bring a variety of actions you can take. Section three focuses on calling out specific target groups, such as companies, universities, and athletics specifically. Finally, we wrap up the campaign with five weeks of advocacy and action. We will provide suggestions of ethical alternatives and kick off our pledge drive. Three weeks are then dedicated to actions related to the three Action Committees. We finish off the campaign with a TWEET STORM WEEK and highlighting the pledges! The STAND MC is so excited for the launch and hope you all actively participate as you can!
As you will see throughout the campaign, there are many companies that are complicit in unethical practices, have Uyghur forced labor in their supply chain, or support the Burma Army. Even as we did our research, we found that Adidas removed all its ties from Uyghur forced labor, so we thought it would be a great "ethical alternative." Then, we discovered that Adidas is actually doing business with the Burma Army. Throughout the campaign, we encourage you to define conscious consumption and "ethical" for what works best for you.
Ask yourself: what is most important to my morals? What can I feasibly do? Each of us individually must draw the line on what we can do and what we cannot. Also, this campaign is designed to ease people into the concept of conscious consumption, divestment, and company boycotts. This is not something that you can go from 0 to 100 or cut cold turkey. Like being environmentally aware and reducing plastic use, conscious consumption requires us to be cognizant of our consumerism daily and take actions little by little. 
---
Thank you for joining us on this journey! If you are a part of an organization that would like to be a part of our coalition, please email info@standnow.org. If you are STAND member looking to get more involved in this campaign, Slack message Jenna Walmer.
---
You can find more information on the campaign on this page which will update with the weekly actions, and make sure you follow us on social media @STANDNow.