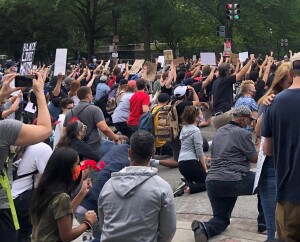 20-21 Managing Committee Statement
---
STAND, the student and youth-led movement to end mass atrocities, stands in solidarity and mourning with peaceful protesters in light of tragic events surrounding the police killing of George Floyd. As a movement with a mission to organize and empower a grassroots network of youth committed to advocacy against mass atrocities, we feel a responsibility to speak out against the injustice, racism, and white supremacy rooted in our society.  STAND joins millions of protestors in denouncing racial prejudice and police brutality in the United States.  We are committed to acknowledging the discrimination and persecution individuals face both domestically and internationally. 
Every successful social movement in history has included a passionate student voice; this movement is no exception. STAND supports and encourages youth organizations and individuals to speak up for their beliefs through peaceful, nonviolent actions. We stand with those directly impacted by injustice and work to amplify the voices demanding change. As the United States moves forward in resolving the violence and conflict that has emerged nationwide, young peacebuilders are needed now more than ever. 
STAND grieves with the nation and sends our deepest condolences to the family, friends, and loved ones of George Floyd, as well as every individual affected by racial violence.  While we feel frustration and heartbreak in these events, we believe in the strength of youth activism and we are hopeful for peace.  
We encourage and empower youth voices to advocate for overcoming systems of oppression and violence. Daisaku Ikeda once said, "Let us join our efforts toward building unshakable foundations for a culture of peace."  
As the world is rapidly changing and new challenges constantly emerge, the future is in the hands of the youth to find solutions to systemic problems. The road to transformation and change is not an easy one but is a necessary one. To create change, we must educate ourselves and others and brainstorm ways to peacefully enact action. We recognize the need for change to prevent violence and acknowledge the impacts of institutionalized racism and oppression. 
For information and guidance on how young voices can get involved, STAND 's Terre Haute South Vigo High School chapter has created a guide to activism and advocacy during this time. The United States Institute of Peace has assembled a list of resources in their Synergizing Nonviolent Action and Peacebuilding  (SNAP) Guide to promote peaceful activism and advocacy. 
For direct involvement on issues of police and racial violence, find a local organization or peacebuilding group.
As ever, STAND will continue to speak out against hatred, encourage youth activists to mobilize, and stand in solidarity with those who have been affected by racialized violence.