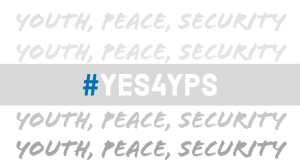 H.R.6174 Is A Vital Step in Youth Peacebuilding
March 10, 2019
WASHINGTON, DC – Today, the bipartisan Youth, Peace and Security Act of 2020 (YPS Act), H.R. 6174, was introduced by Representatives Grace Meng (D-NY), Susan Brooks (R-IN), Dean Phillips (D-MN) and John Curtis (R-UT) in the U.S. House of Representatives, constituting an historic step in support of youth empowerment and peacebuilding in U.S. foreign policy. The Managing Committee of STAND: The Student-Led Movement to End Mass Atrocities, along with partners the Alliance for Peacebuilding, Search for Common Ground, UNOY Peacebuilders, Peace Direct, FCNL, and Generations for Peace, commends these Representatives for their hard work and leadership in bringing this legislation forth. 
For the last 15 years, STAND has been empowering youth to advocate for a global community invested in preventing, mitigating, and resolving genocide and mass atrocities wherever they may occur. The key to creating sustainable change around the world is to empower youth with the resources and platforms they need to promote peace and justice within their communities, as the leaders of today and tomorrow. STAND is not alone. In 2015, 10,000 young peacebuilders participated in the first-ever Global Forum on Youth, Peace, and Security. As a result of this forum, the United Nations Security Council unanimously adopted Resolution 2250 on Youth, Peace, and Security (YPS).
STAND's Student Director, Grace Fernandes, said, "As youth activists ourselves, we are thrilled by the introduction of the Youth, Peace and Security Act. We understand the unique power of youth organizing and the immense need to center youth voices globally. After the recent passage of both the Elie Wiesel Genocide and Atrocities Prevention Act and the Global Fragility Act, I could not be more excited to move forward in support of the Youth, Peace, and Security Act and urge Congress to take this next essential step in the pursuit of a world free of atrocities."
STAND is especially encouraged by the measures in the bill to increase access to funding for youth peacebuilding groups and international YPS efforts, to ensure a youth voice in formulation of U.S. foreign policy, and to collect age-disaggregated data on conflict issues. These policies will be instrumental in shaping, training, and mobilizing the world's youth toward a world with less conflict.
We look forward to working with Congress to vote YES on YPS. 
###
About STAND: The Student-Led Movement to End Mass Atrocities
Born out of the fight to stop the genocide in Darfur, Sudan, STAND is devoted to creating a sustainable student network that actively fights genocide and mass atrocities wherever they may occur. . STAND is led by a Student Director, chosen annually, and a Managing Committee comprised of college and high school students across the United States and is the only student-led organization focused on genocide and atrocity prevention. STAND is affiliated with the Aegis Trust, a UK-based nonprofit. For more information or to get involved, visit standnow.org or contact info@standnow.org.
For more information on the YPS Act, see: