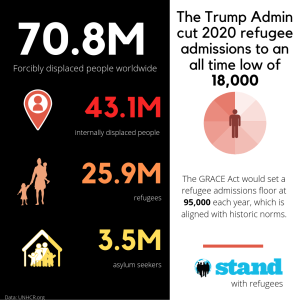 STAND denounces the decision to cut refugee acceptance; passing the GRACE Act is even more urgent.
On September 26th, 2019, the Trump Administration slashed the refugee acceptance ceiling for 2020 to a historic low of 18,000 people from the historic average of 90,000, ending the United States' legacy of being a safe haven for those seeking refuge from persecution and disaster across the world. With over 70 million people forcibly displaced from their homes globally, we are facing the worst refugee crisis in recorded human history.
STAND reiterates that this change is not only unprecedented and inhumane, but also that refugees are the most vetted individuals entering the United States. They undergo complex security checks through the Department of Homeland Security, Department of Defense, Federal Bureau of Investigation, the Department of State, and a number of U.S. intelligence agencies. Refugees are vital cultural and civic members of our communities and significant contributors to the United States economy. Many refugees become naturalized U.S. citizens, and many of those affected by this policy will be unable to reunite with their families already in the United States..
This is why it is urgent that Congress pass the GRACE Act, H.R.2146 and S.1088. The GRACE Act will uphold America's long bipartisan tradition of welcoming refugees by establishing an annual refugee admissions level of no less than 95,000, restoring refugee admissions to their historic norms. This legislation also requires quarterly reporting to Congress on refugee admissions numbers. As of September 2019, 22 Senators and 57 Representatives have co-sponsored this legislation.
We urge the remaining members of Congress to pass this legislation immediately, to send a clear message about the United States values and counteract the damage done by the change in this policy.
###
About STAND: The Student-Led Movement to End Mass Atrocities
Born out of the fight to stop the genocide in Darfur, Sudan, STAND's purpose has four pillars: to prevent, respond to, and rebuild after mass atrocities by empowering youth to act. STAND is led by a Student Director, chosen annually, and a Managing Committee comprised of college and high school students across the United States and is the only student-led organization focused on genocide and atrocity prevention. STAND is affiliated with the Aegis Trust, a UK-based nonprofit. For more information or to get involved, visit standnow.org or contact info@standnow.org.