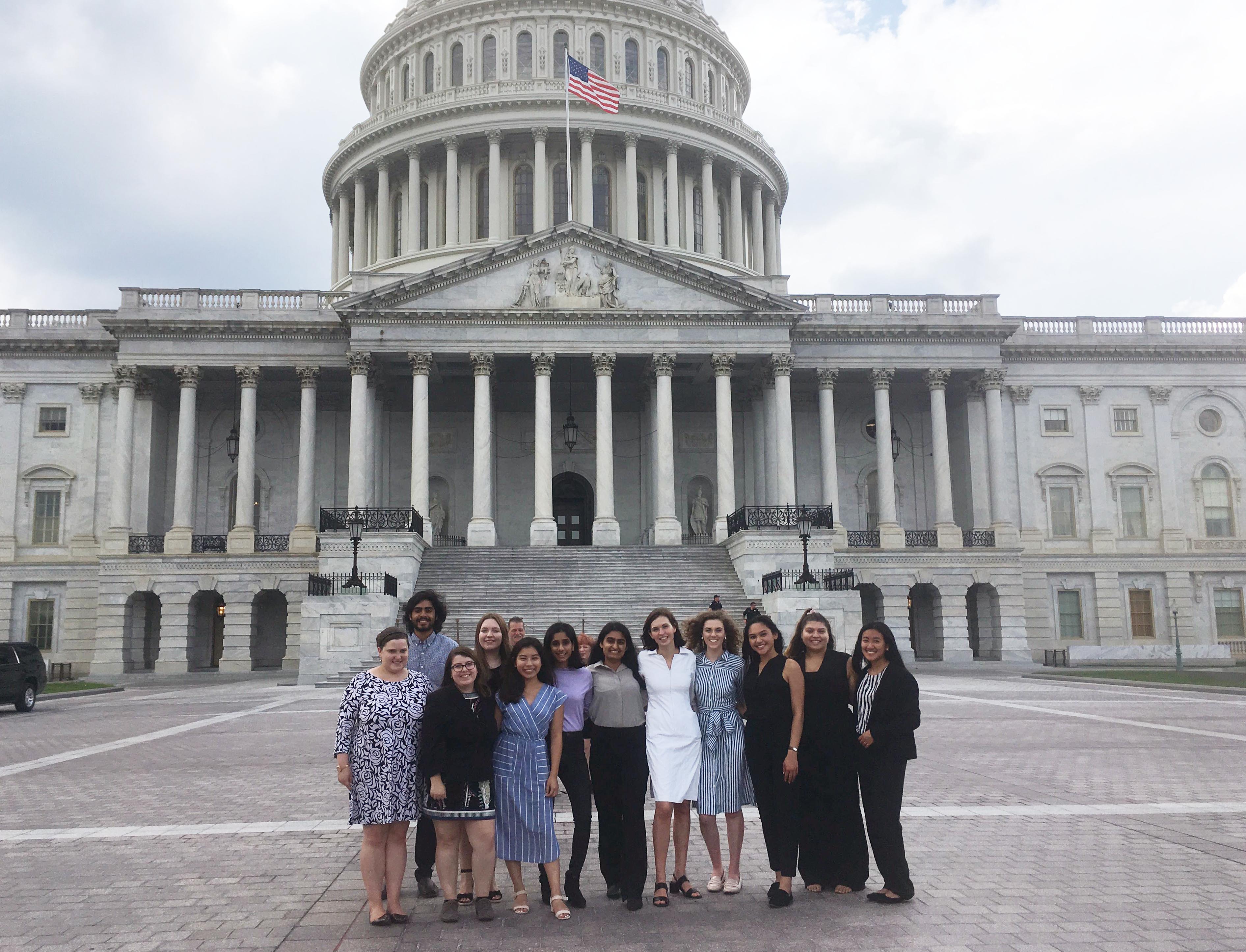 This month was STAND's biannual Lobby Day, where activists from all over the United States and world convened in Washington, D.C. to lobby for our policy priorities. Our asks included supporting the Global Fragility Act and the GRACE Act, and passing certain amendments to the National Defense Authorization Act, as well as a resolution on protecting education in conflict.
It was only my second time lobbying at the nation's capital—I live in Washington state, so traveling to D.C. is exciting in itself. Earlier this year I had the opportunity to lobby for global women's health funding that made it through the appropriations process. The first time around, I remember being excited but very nervous—running around in too-tight heels, sweaty and scared that I would be late to back-to-back meetings. 
This time, however, I was a lot more confident since I was familiar with the buildings. I knew from experience that no one was going to be rude or mean; almost everyone you meet while lobbying will be polite, appreciative, and accommodating, if a little half-hearted. Also, we were lobbying during August recess, which has its pros and cons: although you're unlikely to meet the Representative/Senator themselves, there are generally fewer people and meetings, which means that you could have a longer and less frazzled chat with the staff.
My first (and favorite) meeting was with a staff member for Rep. Cathy McMorris-Rodgers' (R-WA) who covers Armed Services, Veteran's Affairs, and Foreign Policy issues. He was thoughtful and inquisitive, yet noncommittal. We talked mostly about the district and my university, and how refugee resettlement has been an important boon to the economy, culture, and local community. I told him personal stories about refugees that I've gone to school with, gave him restaurant recommendations for the next time he's in the area, and joked around about football. This meeting lasted nearly half an hour, during which he took notes, asked questions, and then sincerely thanked us for talking with him. He promised to look closer at the legislation and pass it on to the Representative for voting.
The other two meetings I had were with the staff of my Senators, Sen. Murray (D-WA), and Sen. Cantwell (D-WA). In these meetings, the staffers were even more positive about joining the legislation I advocated for. Some staffers talked about their job and their personal background; others were interested simply in the policy at hand. Some were excited to talk about Washington State, others had never even been! It's important to feel out the room to determine what kind of small talk, if any, can help you forge ongoing relationships with the staffer and the office. 
At the end of the day, I grabbed a quick mocha at Dunkin Donuts in the Longworth House building cafeteria. Being from the West Coast, Dunkin is a treat! I made sure I had all of the contact cards for the staffers I met with and reviewed my notes from each meeting, double-checking that any questions they had were written down for when I wrote my follow-up emails. I opted for flat shoes this time around; my feet thanked me. 
The truth of lobbying is that it is as simple as meeting with your legislator or their staff, telling a story, asking them to support a bill, and then following up afterward. Some meetings are shorter than 10 minutes–but they still make a difference! For so long, I thought it was some scary, difficult, shady business that people with law degrees and family connections did. Not so—anyone can lobby for any cause, and causes like mass atrocity prevention, refugee protection, and ending wars are great places to start! Remember, you don't need to be an expert to lobby. You just have to be passionate and show up! Contact us if you want to set up a lobby day where you live, and view our resources on lobbying and advocacy below:
–
Jordan Stevenson is a senior at Eastern Washington University, where she is majoring in International Affairs with a concentration in Global Public Policy, and minoring in Economics and Spanish. As an MC member, she co-leads STAND's State Advocacy Lead program, communications operations, and policy process. Prior to joining STAND, Jordan served as a Global Youth Advocacy Fellow for Planned Parenthood, lobbied for women's rights and U.S. foreign policy with Population Connection, and researched Indonesian political rights with the U.N. Development Programme. She currently works on campus at the Institute for Public Policy & Economic Analysis, is an LGBT+ Policy intern with GLIFAA, and does economic development work in Kenya with Partnering for Progress.