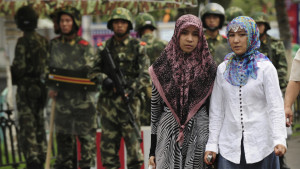 In 2014, the Chinese government reported that it was winning "the war" against Islamic fundamentalism and extremism. Three years later, China began to establish re-education centers aiming to end all devotion to Islam. These re-education centers are focusing on the Xinjiang region, home to over 24 million ethnic Muslim minority groups, the majority of whom are Uighur Muslims. The Uighur people have been taken into detention centers and forced to learn songs, listen to lectures and speeches, and write self-critical essays supporting the Chinese Communist Party. This indoctrination has been seen as not only a massive violation of basic human rights but also as a Chinese tactic for erasing the ethnic and cultural identity of the Uighur, a people who have been in China since the 17th century.
China's continued prejudice against Muslims is not a recent trend. Starting in 2009, the Chinese government drastically increased surveillance and monitoring of Xinjiang's population through phone scans, facial recognition, and DNA collection. Reports have also described Chinese police confiscating Uighur passports to prevent travel abroad. These measures have taken a turn for the worse this year, as an estimated 1,000 to 1,200 internment camps were established. The Chinese focus on Uighur populations is due to a 2013 attack in Beijing tied to a group called the Turkistan Islamic Party – Uighurs call the region their hail from East Turkistan. The Chinese government, however, has retaliated against all Uighurs, and has even brought re-education centers to other Muslim populations in the area; including the Kazakhs, Kyrgyz, and Hui.
Life at the Chinese re-education centers is demeaning and derisive. Inmates have described daily routines including verbal abuse from guards, denial of meals, waterboarding and other forms of torture, strict rules for how Islam should be practiced, memorization of various laws, and the writing of self-criticizing essays. These acts show an overall goal of eliminating Uighur culture and Islamic beliefs, and praising the Chinese Communist Party. Some centers allow inmates to return home at the end of the day, while others detain thousands day and night for months on end. While it is tough to estimate the total number of Muslim detainees, the UN's estimates have risen to one million. Exiled Uighur groups estimate the number to be even higher.
While the international community has criticized China's abuse, most have not taken tangible action. In August 2018, the UN committee on the Elimination of Racial Discrimination questioned China's previous track of racial discrimination, and, after numerous reports of the detention of large number of Uighur Muslims, declared China's intentions of "combating terrorism" as a cover-up for the detaining of thousands of innocent people. In the U.S., there has been active and bipartisan support for implementing sanctions on Chinese companies and individuals, notably by Senator Marco Rubio and Representative Chris Smith. As of September 2018, the Trump Administration is considering limiting the sales of American surveillance technology to China, which has been used by the Chinese government to monitor Uighur populations in the northwest. Despite this rhetoric, no clear action has yet been taken by the United States. Human rights groups such as Amnesty International and Human Rights Watch have taken steps to bring exposure to the situation, submitting reports to the U.N. with documented claims describing masses of detainees.
The undeniably unlawful and demeaning actions of the Chinese government deserve far more than a verbal warning. Condemnations, criticisms, and denunciations, while they bring publicity to the issue, will not enact meaningful change for the over one million detained Uighurs. The United States must take a definite stance and place economic sanctions on military officials and limit sales of technological resources that could be further used by the Chinese government to abusive civilians. It's time to stop taking a passive stance in the face of obvious violations. Condemning malignant actions is just not enough.
—
Carol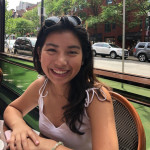 ine Mendoza is a junior at Cerritos High School and is currently serving as STAND's 2018-2019 West Region Field Organizer. As a member of the outreach team, Caroline enjoys connecting with schools to spread education on genocide and mass atrocities. In her free time, Caroline participates in Model United Nations, marching band, Girl Scouts, and pursues Holocaust and genocide education.