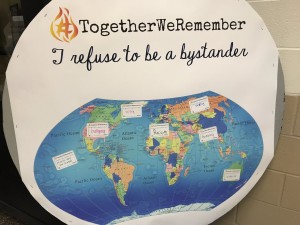 STAND student activists have completed another successful semester of advocacy and action! From advocating for ending arms sales to Saudi Arabia and fundraising for displaced Rohingya, to making calls and lobbying on Capitol Hill, STAND students continue to lead in the fight against genocide. As we settle into summer, we applaud our students for their continued activism and achievements by highlighting some important moments of this semester.
From Remembrance to Action: Together We Remember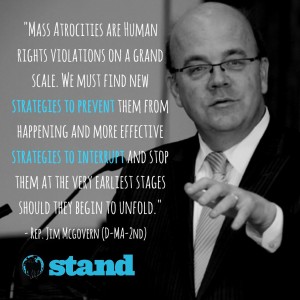 STAND was excited to take part in the 6th annual Together We Remember campaign in which communities around the world held name readings, vigils, and other events to commemorate those affected by genocide and mass atrocities in the 20th and 21st centuries. This year, we helped organize over 40 vigils across 8 countries, and we even got a shout out on the House Floor by our friend and long-time partner in atrocities prevention Rep. Jim McGovern of Massachusetts!
Students practiced turning remembrance into action by coupling their TWR events with advocacy for the Elie Wiesel Genocide and Atrocities Prevention Act. By writing op-eds and Letters to the Editor (like this one by former Co-Communications Coordinator, Ashley Morefield, published in The Sentinel!), signing petitions, and making calls to their legislators, STAND students advocated loud and proud for this historic act. Recently, the legislation was voted out of the House Foreign Affairs Committee, marking an important victory for genocide prevention advocates!
#RiseForRohingya
As the plight of the Rohingya worsened in the fall, STAND prioritized the #RiseForRohingya campaign, a partnership with The Nexus Fund, to raise funds to support on-the-ground peacebuilding efforts in Burma. On Giving Tuesday alone, we raised over $1,600! Additionally, STAND chapters spread the love with Roses for Rohingya where upSTANDers sold roses, candy, and other Valentine's goodies, while educating their peers on the Rohingya crisis.
STAND released some killer merchandise (PSA: we're still selling them!!) created by our very own Grace Fernandes Proceeds were split 50/50 towards our #RiseForRohingya campaign and operational costs for STAND. Here are some of our STAND superstars rocking their #GiveAShit and #CaringIsCool gear.
STAND also advocated for the BURMA Act of 2018 (H.R. 4223/S. 2060) through lobby meetings and call-in days. This legislation would ensure that senior-level Burmese military officials are held accountable for mass atrocities against the Rohingya. The hard work of activists around the country paid off, as the act was voted out of the House Foreign Affairs Committee in May!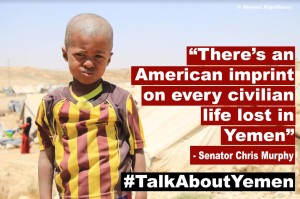 Yemen War Powers Resolution
In February, STAND, along with a number of partners, stood behind a landmark resolution – S.J.Res 54, to convince the Trump Administration to end U.S. involvement in Yemen's Civil War. Though it was voted down, this vote showed a strong bipartisan message: that U.S. military support for atrocities in Yemen must end.
Check out some of the op-eds written by our incredible STAND members! Former Student Director Savannah Wooten and Executive Manager, Mac Hamilton, published an op-ed in The Raleigh News & Observer. In addition, Kelly Choate was published in The Keene Sentinel in New Hampshire and Bridget Rhinehart was published in the Portland Press Herald in Maine.
Protecting Syrians
The No Assistance for Assad Act (H.R. 4681), led by Rep. Eliot Engel (D-NY-16), passed the House this April. This bill would prohibit U.S. reconstruction funds from going to Assad-controlled territories until there are assured steps taken towards ensuring freedom and security in those areas.
Looking Forward
STAND welcomed the introduction of The Global Fragility and Violence Reduction Act of 2018 (H.R. 5273) in March. This bill, supported by numerous partners such as the Alliance for Peacebuilding and Mercy Corps, would establish an interagency Global Initiative to Reduce Fragility and Violence. This group would analyze 10 pilot countries and develop strategies to reduce levels of violence and improve its abilities to prevent future violent conflicts.
–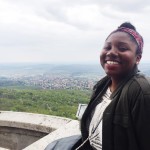 Ashley Morefield is STAND USA's former Communications Coordinator, and a graduate of Dickinson College with a B.A. in International Studies and French and Francophone Studies. In her post-STAND life, Ashley will be heading to Côte d'Ivoire on a Fulbright Fellowship.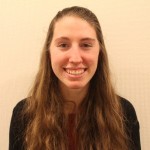 Casey Bush is one of STAND USA's Student Directors. She is a senior at Clark University, where she studies History and Holocaust and Genocide Studies. She has previously served in several roles with STAND, including as a summer intern and as Campaigns Coordinator, and she has also served as the chapter president of Clark's STAND chapter. Casey is currently interning at the Buchenwald Memorial, a former concentration camp in Weimar, Germany.