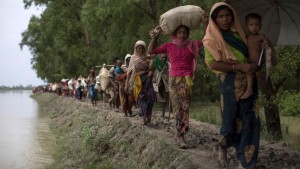 On August 25, militants from the Arakan Rohingya Salvation Army (ARSA), previously known as Harakah al-Yaqin, or "Faith Movement," initiated a major counteroffensive in Rakhine state against 24 police posts and one army base. At least 21 insurgents and 11 members of the security forces were killed. This attack has prompted a vicious crackdown by the Burmese military against Rohingya civilians just days after a panel led by former United Nations Secretary-General Kofi Annan released a report to the government that recommended solutions to establish peace in the troubled country.
The Rohingya, an ethnic Muslim minority who have been described by the United Nations as "the most friendless people in the world," have been denied basic human rights in Burma for decades. Although they have lived in the region for centuries, they lost their citizenship with the passage of the Burma Citizenship Law in 1982 and many in Burma characterize them as illegal immigrants from Bangladesh. Denied basic human rights such as healthcare and education, they have been forced into what have been described as "modern day concentration camps" by the Burmese military and Buddhist extremists and have often suffered from communal violence. These grievances have motivated many young Rohingya men to join the insurgency.
Unfortunately, this insurgency has prompted a furious response by the Burmese military. Indiscriminately targeting civilians along with various vigilante groups, government soldiers have pursued a scorched-earth campaign, burning thousands of shops, businesses, and homes to the ground and murdering at least 1,000 Rohingya civilians. Witnesses have told horrific stories of children being beheaded and civilians being burned alive. The violence against the Rohingya has fueled fury in numerous Muslim-majority countries. Hundreds of protesters have rallied in Jakarta to urge the government of Indonesia to suspend trade with Burma. The Republic of Maldives has already taken this step and has also called for an investigation by the United Nations into human rights violations committed against the Rohingya in Burma. Iran has referred to the situation in Burma as "ethnic cleansing" while Turkey even went so far as to refer to it as "genocide."
Both Pope Francis and Malala Yousafzai, who won the Nobel Peace Prize two years after being shot by the Taliban for promoting education for women in Pakistan, have also condemned the violence. Yousafzai has been particularly critical of fellow Nobel Laureate Aung San Suu Kyi, the de facto leader of Burma, for her silence on the human rights abuses being committed by the Burmese military. Some have even demanded that the Nobel Committee revoke her prize. Defenders of Suu Kyi point out that she was once imprisoned by the military junta that formerly ruled Burma, suggesting that she does not possess an unlimited ability to control the military. Most, however, believe that she is one of the few leaders in Burma with the mass appeal necessary to decrease the violence.
In the week and a half since this onslaught began, at least 120,000 citizens have fled Rakhine State for Bangladesh. Another 400,000 are estimated to be trapped in western Burma. Many refugees have died in their attempt to escape Burma and those who do arrive safely are hungry, weak, and sick. Refugee camps are quickly becoming overcrowded and Burma is continuing to block aid agencies from delivering food, water, and medicine to the beleaguered Rohingya. As long as violence continues, the regional consequences of the conflict in Burma will only grow more severe.
—
Justin Cole is the Policy Coordinator for STAND: The Student-Led Movement to End Mass Atrocities, and a senior at the University of North Carolina at Chapel Hill where he is currently earning his degree in economics and peace, war, and defense.