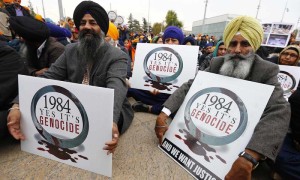 Death envelops an entire state time and time again. It takes away the honor of families, the sons of mothers, wives of husbands and it leaves only destruction in its path. The fires burn homes and hearts, the bullets pierce adults and children alike, no innocent is spared and no guilty is punished. That's the story of Punjab. That's the story of the Sikhs.
The Sikh genocide occurred in India in the 1980s as a result of mounting tensions from the partition of Pakistan and India. The partition occurred in the state of Punjab, primarily home to the Sikh people, thus creating a Punjab, Pakistan and a Punjab, India. While Pakistan was declared a Muslim country and India a Hindu nation, Sikhs were given recognition in neither nation. Since many of them lived on the Indian side of the partition, most Sikhs reluctantly left Pakistan, their birthplace. However, Sikhs have not received recognition in the Indian constitution as citizens with distinct religious beliefs. Instead, they have been referred to as "long-haired Hindus." Thus, they weren't given the same rights and social securities as the rest of the population, a problem that created extensive tension. This tension—combined with a rising Sikh political presence—prompted Indira Gandhi, India's Prime Minister, to conduct Operation Blue Star, an attack on the Golden Temple, the holiest Sikh shrine. In retaliation for this slaughter of thousands of innocent people, Gandhi's two Sikh bodyguards assassinated her. This assassination triggered an eruption of violence, which reached its height in 1984 in Delhi and in some Punjab areas. Independent reports estimate the number of deaths to be around 8,000, though the official government number is only 2,800 across India. As in other genocides, downplaying of the number of people killed is a strategy in genocide denial, and the Indian government continues to dismiss ongoing discrimination and violence against Sikhs today. At the time of the attacks, Rajiv Gandhi, Indira's son, mourned the loss of his mother and justified the anti-Sikh violence by saying, "When a big tree falls, the earth shakes a little." Still, her death provides no justification for the genocide and continued killing of Sikhs today, and there is no reason for the government to continue to detain Sikh political prisoners.
In 1947, the partition tore the Sikhs apart, and in 1984, the Indian government dealt death and destruction with its own hand. Still, there is no justice. India celebrates Independence Day, yet Sikhs mourn the loss of their loved ones; India reveres Indira Gandhi, yet Sikhs demand justice for her bloody transgressions. The international community is ignorant of the atrocities the Sikhs experienced, the South Asian community refuses to speak of them, and yet, with an opaque or discriminating memory, we all pledge, "never again." The truth is that until we recognize each mass atrocity, honor each martyr, and serve justice to each perpetrator, "never again" cannot be a reality. Death will continue to envelop states, and we will stand by and watch. If we are to preserve our humanity and truly achieve the ideal of "never again," we must never stop raising our voices against old, new, and continuing injustices.
All of us can work together to realize "never again" by taking a few simple steps. First, sharing articles such as this will allow us to spread awareness and understanding of the genocide. We must inform others of the Sikh identity, the 1984 Sikh genocide, and the cruelties that continue to be imposed by the government of India. Second, you can sign the petition at http://www.1984yesitsgenocide.org/ to support the Sikh community's plea to the UN to investigate the genocide. Lastly, you can stay informed about mass atrocities and lesser-known genocides around the world by staying up-to-date with STAND's actions. When we fully understand the depths of injustice, our inner humanity calls us to action. With enough passionate, informed, and motivated people, we can realize great change.
Note: Photo above is by REUTERS/Denis Balibouse, and taken on November 1, 2013 at a protest in front of UN headquarters in Geneva.
—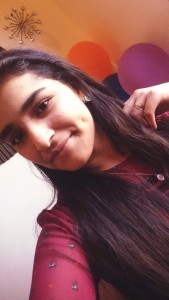 Harleen Kaur is a senior at Terre Haute South Vigo High School in Indiana, and is the 2016-2017 STAND Midwest Regional Coordinator. Her interest in mass atrocities prevention stems from the horrors her parents and grandparents experienced during 1984 Anti-Sikh genocide. She is about passionate about raising awareness of mass atrocities and lesser-known genocides while also advocating for prevention.