STAND had another successful and exciting semester, and we're so glad you were a part of it!
We couldn't have accomplished all that we did without our strong network of passionate activists ready to speak up and take action. The semester was a busy one, full of petition dissemination, name-readings, and Congressional advocacy.
This is the STAND Semester in Review.
---
Books Not Bombs
     In collaboration with Students Organize for Syria (SOS), The Syria Campaign, and the Karam Foundation, students across the country joined together to demand that their universities offer Syrian students and scholars a safe haven to continue their studies by joining The Syria Consortium. Over 140 schools are actively working on creating these scholarships and our petitions have garnered support from over 8,000 individuals in schools across the country.

Four of the hundreds of schools that participated in the Books Not Bombs petition campaign.
---
Together We Remember
     As part of Genocide Awareness and Prevention Month, students across the country joined together to honor the lives lost in genocides of the 19th and 20th centuries, and to take action to prevent genocide from occurring in the future.This campaign brought communities together to read the names of victims of genocide — those whose names perpetrators hoped the world would forget.
     The name reading event took place in 5 universities across the U.S., where students read from a database of over 50,000 victim names. One chapter was even surprised when local news arrived to cover the event! STAND chapters across the country played a large role in launching this global initiative to memorialize victims and remind the world to make "Never Again" a reality.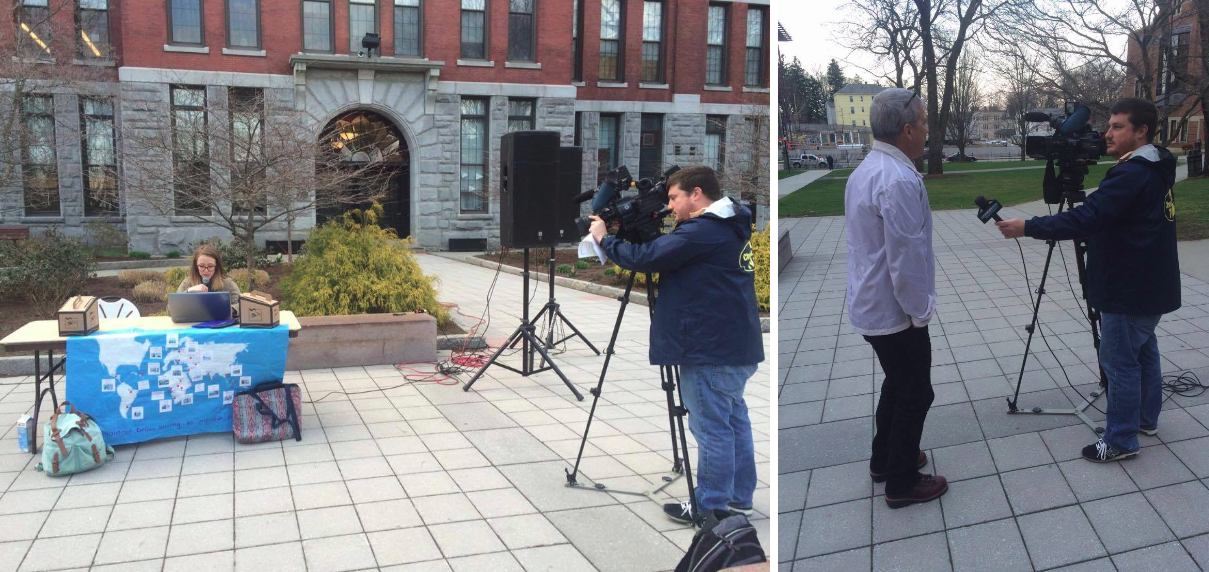 Local news showed up to document the #TogetherWeRemember name reading hosted by the STAND Chapter at Clark University!
---
UN Security Council Veto Restraint Campaign
     This semester we launched #LessVetoMoreAction with our friends at Aegis Students in the United Kingdom. The campaign recognizes that gridlock and political standoffs in the United Nations Security Council have long prevented mass atrocity-referencing resolutions from passing. As such, conflicts in STAND's priority crisis zones have worsened and lifesaving aid has been withheld from victims of mass atrocities.
     Our campaign calls for United Nations member states to sign a "Code of Conduct" urging the Permanent Five members of the UN Security Council (US, UK, France, Russia, China) to voluntarily restrain their veto power when voting on a resolution that addresses mass atrocity situations. Stay tuned for future actions and ways to get involved!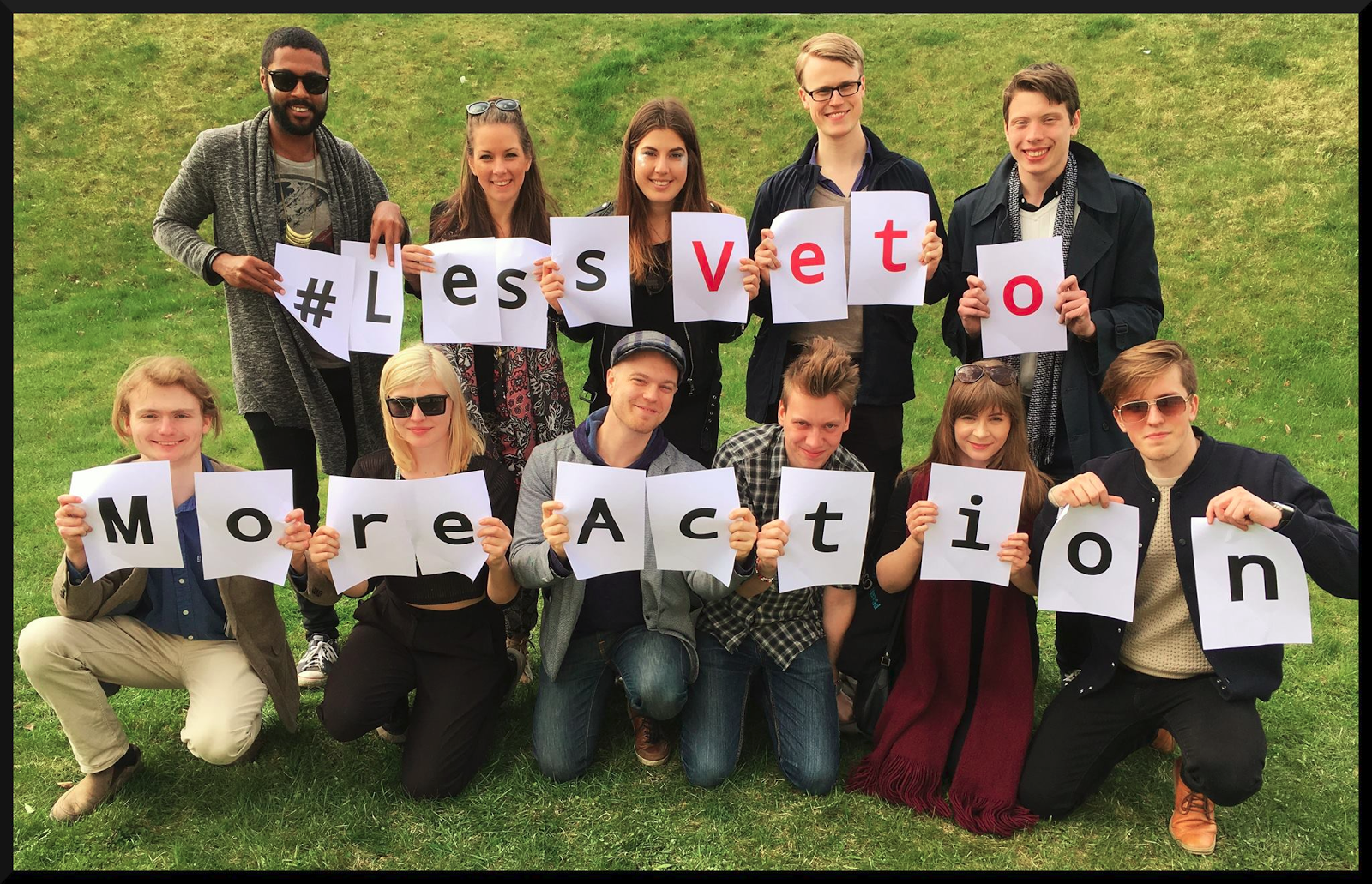 Our partners at Uppsala University in Sweden engaged in the #LessVetoMoreAction campaign this May.
---
Free Jean Marie
     Earlier this semester we began our #FreeJeanMarie campaign, working to secure the release of Congolese youth activist Jean-Marie Kalonji from prison after his politically-motivated arrest in December. Working with Friends of the Congo in the U.S., and joined by many exceptionally brave and dedicated Congolese civil society organizations, we worked to ensure Jean-Marie's name wasn't forgotten and that the Congolese government knew the world was watching. Jean-Marie's case has now been covered in global media and by several human rights organizations. As a result of this attention, the Congolese government finally released proof that Jean-Marie was alive after four months of internment, and transferred him out of a National Intelligence Agency cell to a prison to await trial. We'll keep contributing to this global effort until we achieve our goal to #FreeJeanMarie.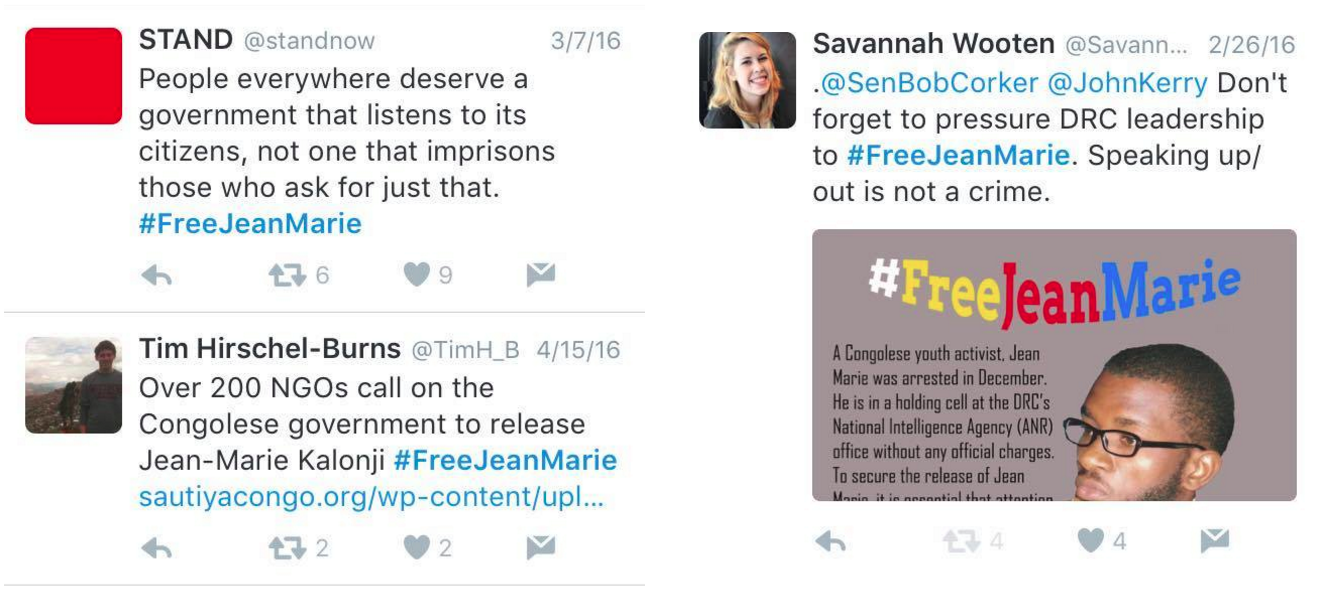 STAND activists took to Twitter with the hashtag #FreeJeanMarie to raise awareness about Kalonji's unjust imprisonment.
---
#EasyAsAPB
     Last semester, STAND launched #EasyAsAPB to promote the Genocide and Atrocities and Prevention Act, with a special concentration on institutionalizing the Atrocities Prevention Board (APB)  issued by the Obama administration in 2012. The APB works to ensure that genocide and mass atrocity prevention are a major priority of the U.S. government, and is made up of representatives from several agencies including the Departments of State, Defense, Treasury, Justice, and Homeland Security, the Joint Staff, and more.
     In February, the Genocide and Atrocities Prevention Act was officially introduced in the Senate by Senators Ben Cardin and Thom Tillis. Since then, STAND students across the country have been working to gain bipartisan support in the Senate through call-ins, twitter storms, petition signatures, and direct lobbying. Since its introduction in February, the bill has gained 25 co-sponsors. We're proud to have directly lobbied over half of the bill's original co-sponsors, and we will continue to push to ensure the APB is continued into the next presidential administration!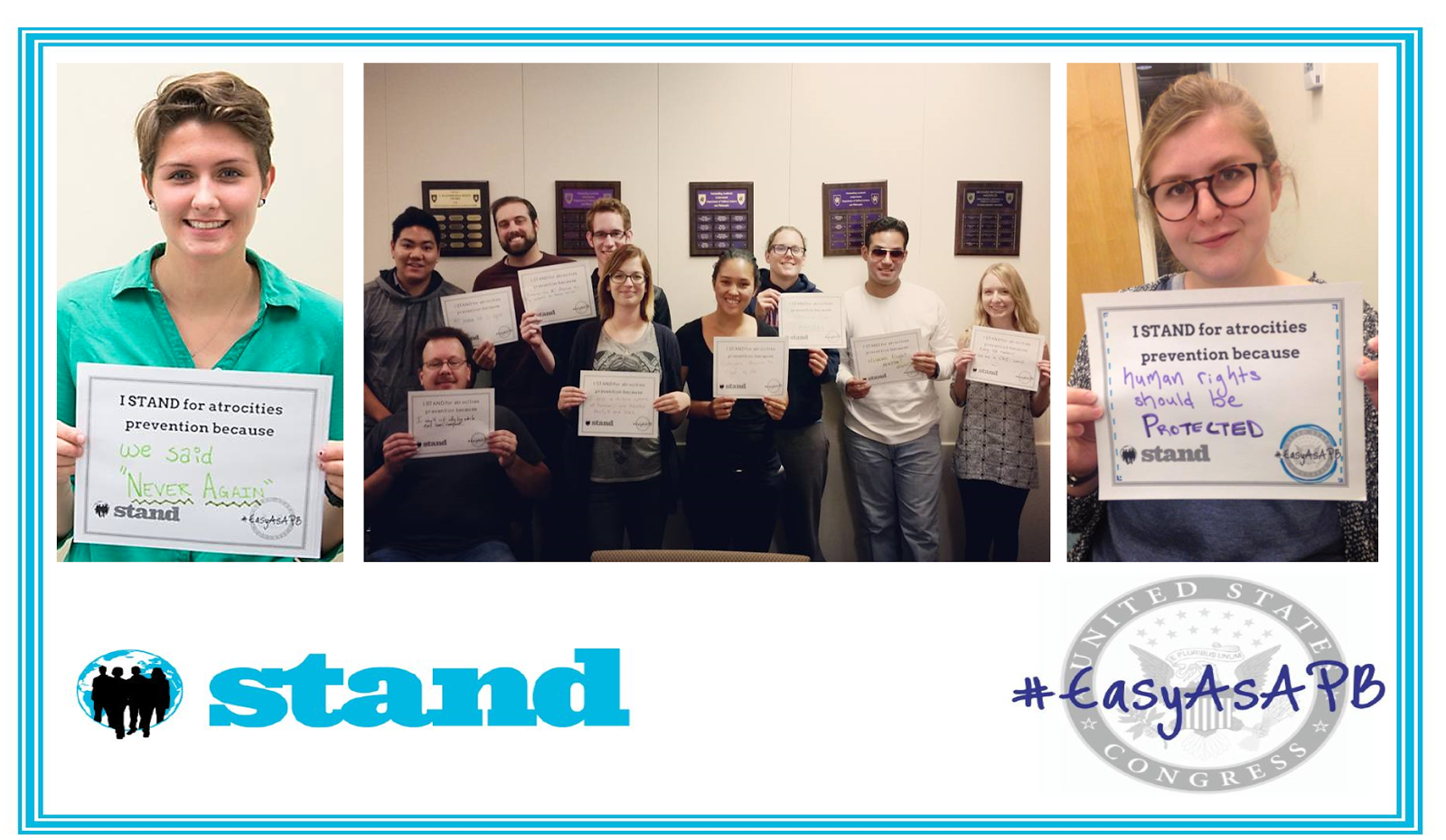 We hand-delivered printed copies of our #EasyAsAPB photo campaign submissions to key Congressional Representatives at our January Capitol Hill lobby meetings.
---
One semester down, another to go.
As always, we are thankful for your continued activism and commitment to STAND.
Be on the lookout for new campaigns in August and have an amazing summer, STANDfam!