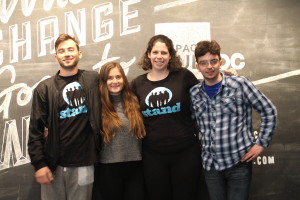 To paraphrase Winnie the Pooh, "How lucky we are to have something that makes saying goodbye so hard." We have had an incredible year thanks to our 2015-2016 Student Leadership Team, and our MC seniors have been such a vital part of all that we've accomplished.
Francesca, Jake, Emily, Zac, and Clara – we have learned so much from each of you, and you've contributed an incredible amount, not only to STAND, but to the genocide prevention movement as a whole. Thank you hardly seems enough for the time, energy, and passion you've given over the past year(s) with STAND, but we're giving it a go!
Francesca Freeman, Student Director, University of Chicago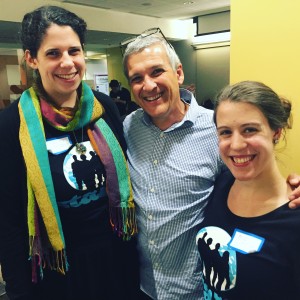 Francesca, I have felt so incredibly #blessed to be your right hand lady this year. Your commitment, passion, and vision have made STAND stronger and more effective throughout the past year. You have truly gone above and beyond in every aspect: from overseeing our ~amazing~ summer interns while I was in Rwanda; to double-editing every single blog post, national email, and facebook post; to drafting countless social media posts and leading conference call after conference call, you have done us all proud. I deeply admire your selflessness, commitment, and mad organization skills and will so miss our multiple hour chats and your barrage of punny memes and gifs. I've learned so much from you as a colleague and a friend, and I cannot wait to cheer you on as you find your next adventures. Looking forward to many (many, many) more dollar frozen margaritas, genprev chats, and matzo ball soup. So much love!
– Mac Hamilton, Executive Manager
Francesca, I can't believe I am about to pick up the torch from you for the 2016-2017 school year. Being SD is a huge role and responsibility and I have learned a lot from your passion and energy in the position. You are one of the people who first drew me to STAND and I find it touching and fitting that I'm now stepping into your shoes. Thank you for your faith in me as I was just getting started and for being such an instructional and invested team member throughout the last year. This organization is better because you were in it and I know STAND's love for you will continue beyond your time as SD. Thank you for a wonderful year and for all you've done within the genocide prevention sphere — you are loved and appreciated.
– Savannah Wooten, outgoing Education Coordinator, incoming Student Director
Jake Ramirez, Campaigns Coordinator, University of Arizona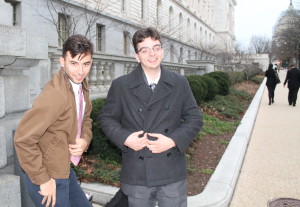 At least to me, Jake initially came off as quite unassuming. While quite a few people in STAND have the (endearing, of course) habit of making sure you know within 5 minutes of meeting them that that they identify first and foremost as an activist and want to do nothing else with their life but fight atrocities, Jake's backward hat and basketball vibe was slightly different. However, as I got to know Jake it became clear that he was one of STAND's strongest assets. Jake is dedicated to learning and making STAND as effective as possible. As anyone on the MC would tell you, having someone as funny, kind, and chill as Jake made the MC much more enjoyable to be a part of. It will take a long time for me to separate the names Jake Ramirez and Roy Hibbert in my head, but it will take much longer for STAND to get over the loss of such a valuable member. To conclude, there are only two things left to say: first, thank you, and second, bees?
– Timmy Hirschel-Burns, outgoing Mid-Atlantic Regional Organizer, incoming Policy Coordinator
Jake, I feel so lucky to have worked with you over the past two years. From the moment I joined STAND as a staff member, I knew we were going to be good friends. You were the first person to welcome me to the team individually, were always super responsive, and were the first to volunteer when the team needed anything, whether or not you knew how to do it. I'm thinking, amongst many other things: figuring out how to use our old website and set the stage for our new one, logging into MailChimp (how the heck am I ever supposed to teach that to anyone else?), learning and mastering PhotoShop in one night, and writing tons of national emails with wicked catchy sub-lines. I will really miss having you on the STAND team next year, but am excited to see what's next for you–don't be surprised if I continue to gchat you for national email advice! Can't wait to have you as a guest speaker at our next conference, which may or may not be called "Kreating, Aiding, Nurturing Youth Evolution (KANYE)."
-Mac Hamilton, Executive Manager
Emily Collinson, Communications Coordinator, American University
BOOOOIIIIIII do I luuuuv Emily Collinson. I was so intimidated by you when I first met you, which only happens when I meet someone I am totally in awe of (which I was). When I found out I was going to be sharing a room with you during our first conference in DC I was pumped but also scared to death like I just wanted to make a good impression on you SO badly so I was trying to be cool but it's kind of hard to be cool with someone you just met in a hotel room, but I think we hit it off pretty well. I feel SUCH a strong connection to you (wow this is sappy? are we dating?) and you have honestly become one of my best friends. As a part of STAND, you have provided comic relief and reason at the same time, not to mention a variety of skillz in COMMS and other things. I look up to you in every way and I can't wait to come stay wit u in DC <3.
-Bethany Vance, outgoing Southeast Regional Organizer, incoming Education Coordinator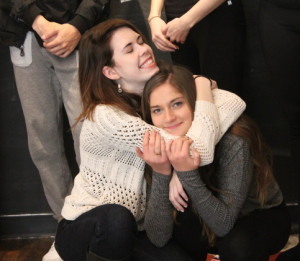 Emily, I am so thankful to know you and to have worked so closely with you this past year. You have brought your humor, grace, wit, and skill to STAND this year and have rocked our social media like no other. You are a light and a kindred spirit and the MC has been lucky to have you as both our Comms Queen and our friend. I have nothing but love for you and I know that STAND is just one of many stepping stones in your bright future. I hope you remember your year with STAND fondly — I know you made a huge impact on mine.
-Savannah Wooten, outgoing Education Coordinator, incoming Student Director
Zac Peloquin, Northeast Regional Organizer, Clark University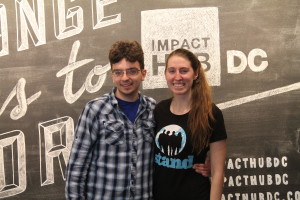 I am so lucky to have met Zac because, without his passion and excitement for STAND, I would have never joined such an amazing organization. Zac started out as my boss for my work study job at Clark University. Upon hearing that I was majoring in Holocaust and Genocide studies, Zac showed up to work during my shift one day to try to convince me to join STAND. I had no idea what he was talking about whenever he said "National STAND" but he was so passionate about it I couldn't help but be intrigued.

After being in the club for about a month, Zac asked me to go to DC with him for a STAND summit. We spent about 20+ hours together on a bus to and from DC. Since then, ZP and I have become good friends and have worked together on many STAND events at Clark. It is so great to work with Zac because he is always ready with a creative and ambitious idea. Not only that but he is incredibly hard working–I have no doubt that he could put an entire event together in one night (which I'm pretty sure he did this past semester).

Zac is always the first one to help you when you're feeling down. I can think of countless times when I was in the library having a rough time studying and he gave me a hug and tried to cheer me up. STAND will not be the same without the constant pictures of his adorable chinchilla, his huge appetite, or his commitment to genocide prevention. Thank you, Zac, for being a great Regional Organizer and friend!
– Casey Bush, outgoing Midwest Regional Organizer, incoming Campaigns Coordinator
As a former Northeast Regional Organizer, I am so so thankful for the incredible work you've done in strengthening and expanding our reach in the Northeast this past year. Your passion and work ethic are truly exceptional and I've loved watching your work throughout the year. From Day One, you pushed each and every MC member to stay up-to-date on current events, volunteered to be first during roundtables, and were always willing to help out whenever a hand was needed. I'll miss your videos of chinchilla dust baths, your political commentary, and your giant hugs! Thank you for all you've done for STAND national, the Northeast region, and for Clark STAND over the past year – please stay in touch!
– Mac Hamilton, Executive Manager
Clara Lee, Digital Media Coordinator, St. Olaf College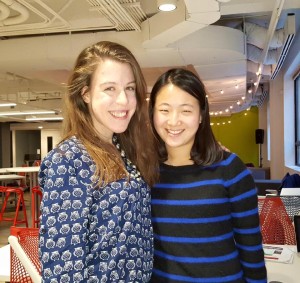 I feel so lucky to have known and worked with you in a variety of capacities, first as a delegate to Global Youth Connect's Rwanda Human Rights delegation, before I became STAND's staff member, then as a STAND intern, and finally as a STAND MC member! You have the biggest heart and the most contagious kindness I've ever seen. Your thoughtfulness, curiosity, and willingness to try new things have added so much to our team over the past semester. Thanks for your friendship, hard work, and endless tiny tweaks to our graphics (I know my perfectionism isn't always the easiest to work with). I love you lots and know you will rock whatever comes next for you!
– Mac Hamilton, Executive Manager
Clara, you are actually the sweetest, kindest person on this whole MC. Okay not even just on the MC, you're one of the nicest people I've EVER met and we were SO lucky to have you. I feel like there were times where we would have fallen apart without your amazing work ethic and dedication. I know you are going to have an incredibly bright future in whatever you choose to do because everyone is going to love you immediately after meeting you, just like we all did. Also, you totally kill the graphic design game. Also thank you for following me on instagram and liking all my pics, it's a great confidence boost u da best.
– Bethany Vance, outgoing Southeast Regional Organizer, incoming Education Coordinator