The State Sangha Maha Nayaka Committee (a governing body of Buddhist monks founded by the Burmese junta in the 1960s to monitor activities of Buddhist monks involved in democratic movements) in collusion with the aforementioned Ma Ba Tha movement has successfully institutionalized Islamophobic, and genocidal, rhetoric into Burmese law through the 969 Blood Laws.
Also known as the "Protection of Race and Religion Law", the 969 Blood Laws prevent Buddhist women from marrying Muslim men unless the man converts to Buddhism and agrees to change his name to a non-Muslim, Burmese name. In addition, women wishing to marry Muslim men must gain permission from immediate and extended family as well as government officials in order to legally marry. In contrast, Muslim women wanting to marry Buddhist men only need to convert to Buddhism, change their name, and agree not to raise their children as Muslims. If these laws sound oddly familiar to you, you may be familiar with the Nuremberg Laws (also known as the Law for the Protection of German Blood and Honor) instituted by Nazi Germany throughout the 1930s and 1940s.
Beyond the integration of discriminatory rhetoric into the legal system, recent protests in Burma against the "boat people", Rohingya fleeing the Arakan/Rakhine state, have garnered thousands of Buddhist-Burmese supporters. In a May 2015 protest, monk U Win Hlan Tha voiced the thoughts of many supporters of the 969 Laws and the Ma Ba Tha movement in an interview with Al Jazeera saying:
"These people [referring to the Rohingya] are not really us and the international media has got it all wrong. What they [the international media] has to understand is that we are never going to let them in because they have never been one of us."  
Unfortunately, this categorization of the Rohingyas as "the other", not native to Burma or as a threat to Burmese life, is not isolated to Burma's political borders. International actors such as the American-run Islamophobic website, "The Muslim Issue" WordPress account add to anti-Rohingya rhetoric by publishing fake accounts of how Rohingya are being trained by Hamas, a terrorist group isolated to Palestine, to kill Buddhists. In addition, this website attempts to discredit reporting regarding the Rohingya refugee crisis through various means.
Although helping end the persecution of the Rohingya seems daunting, there are various steps the United States' government, and the American people, can take in order to halt the dissemination of Islamophobic rhetoric and support the Rohingya. The first, and most plausible, step is to bring attention to the website, "The Muslim Issue". This website is a source of hate speech that impact Rohingya and the worldwide Muslim population. In addition, it's dissemination of false information regarding terrorist groups training Rohingya to kill Buddhists are grounds to take down the website. A secondary measure the United States government and ordinary citizens can take is to support locally-based civil society organizations within the Rakhine state. This can be accomplished through the dissemination of supplies and training to build the capacity of civil society organizations from international NGOS. This secondary measure of been successfully implemented during the Kosovo crisis of the 1990s and post-genocide peace-building Rwanda.
Perhaps one of the most important efforts that can be implemented is on-campus organizing to raise awareness for the Rohingya. Students that are part of STAND and other genocide-awareness organizations should ally with other groups on their campuses and institutes that may have an intersectional interest in stopping the genocide against the Rohingya. Examples of groups include, and are not limited to the Muslim Student Association, US Campaign For Burma, Roosevelt Institute, Greek organizations, etc. The latter two may not seem like the most obvious options, but they can be valuable coalition members. For example, the Roosevelt Institute, a progressive student-run think tank, can provide and help other students create policy that can be presented to city, state, and federal representatives on measures they can take to prevent the destruction of Rohingya society. Greek organizations can be valuable members in spreading awareness for the issue and raising funds to support Rohingya refugees across the world.
In all, stopping the genocide against the Rohingya is daunting, but can be solved through multilateral efforts ranging from directly supporting Rohingya civil society locally in Burma, putting pressure on the international community to utilize tools of international law to punish genocidaires, and building coalitions on university campuses to build communal power that will force United States representatives in particular to uphold American values of protecting life, liberty, and the pursuit of happiness for all people, including the Rohingya.
—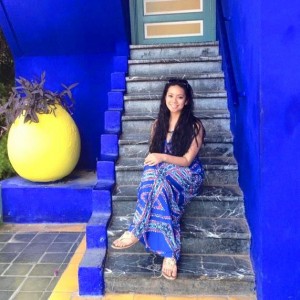 Mary Marston is a second year student in American University's Global Scholars program and studies International Relations. Her passion for human rights and prevention of mass atrocities stems from her own family's experience escaping from ethnic conflict in Burma during the 1970s.