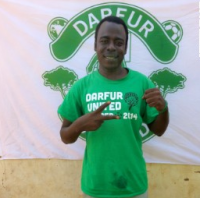 This post was written by Francesca Freeman, STAND's new Midwest Regional Organizer for the 2014-2015 school year. Francesca is a rising senior at the University of Chicago.

When asked what freedom meant to him, Ayoub Gamaradine Abakar, a Darfurian refugee living in a refugee camp in Chad, replied that "freedom means to me there can be peace in the country, security fully, stability between people and equality in different places."
This past year I created and worked on "The Freedom Project" in which high schools and colleges across the country created installations where people could display their answer to the question: "What does freedom mean to you?" At my school, we created a large poster and tabled every day for a week, talking with people about the importance of freedom in their lives and in the world.
Through i-ACT, I had the opportunity to share this question with some of our Darfurian refugee friends living in a refugee camp in Chad.
Their answers ranged greatly, sharing experiences of their lives in the refugee camps, which some have called "an open prison." Within many of the replies, however, there was a great emphasis on an idealized version of the United States of America's approach to freedom. In particular, Iggy Du, a soccer player on Darfur United and a Darfurian living in a refugee camp in Chad, replied to the question by stating, "Of course America is the land of free and freedom society, [I] hope all the world be like America to live a good and happy life."
Although the love of freedom in America is truly amazing, we must never stop working towards a more complete freedom for everybody both in the United States and across the world. It is time for the United States to step up to this idealized version of itself and completely embody it. We must continue to work for a world in which all of Iggy's words become a reality.