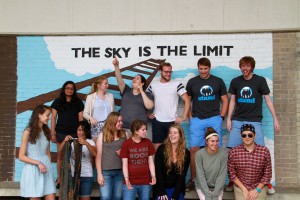 I
t's that time of year again: graduation time! It's the time when we at STAND have to say good-bye to some of our strongest and most influential student leaders. This year, six of STAND's Managing Committee members are graduating, and our Student Director is also leaving her post.
Hannah, Danny, Sean, Katy, Sonia, Jack, and Jake: we can't imagine STAND without you. You have all left your mark on STAND and have shaped our organization's direction. We have no doubt that you will all continue to be influential change-makers, but most importantly, we're just lucky to call you our friends. From STAND students across the country and from the entire genocide prevention movement, thank you!
Hannah Finnie, Student Director
What can I say about Hannah? Something about puffins is probably a good start. She loves puffins… and she is hands-down one of my favorite people in the world! She is also the youngest Student Director in STAND's nine-year history, and she has met every challenge (and there have been many, many, MANY challenges) with capability and confidence. She has been the glue holding STAND and the MC together this year, making sure that everyone laughs, feels included, and works together around our mission. Hannah is someone who you'll remember- probably at first because she's hilarious, but then because she is remarkably humble, reflective, and insightful. She is an empowering leader and a mediator- Hannah has brought people together, encouraged them to keep going, and made everyone laugh along the way. This movement is lucky for her leadership and contributions- Hannah is one of the people who "just get it" like no other. More than that, we're all so freaking lucky to call you a friend. I know that I couldn't have gotten through this year without you (but fo real), and there is no one else that I would rather have 3 hour HAT calls with. Love you, #HAT4ever (Stanford?), and c u in DC!
– Kat Fallon, Senior Manager
Words cannot describe how much I love, respect, admire, and adore Hannah. First of all, she is hands-down the most amazing Student Director that STAND could ever imagine. Hannah would always work as hard as she possibly could, to the best of her ability, to make sure that STAND was operating smoothly. From doing an incredible job leading our team, to running MC calls, leading workshops, to being an outright hilarious person, working with her is always a joy. Her passion and dedication to STAND is inspirational; however, what is equally inspirational is her kindness to all of those in STAND. Hannah never failed to put others first, make sure the entire MC was in a happy / strong emotional state, and just be an incredible friend. I cannot begin to describe how lucky and fortunate I am to have gotten to work with her, gotten to know her, and to call her my friend. I love you Hannah, and thank you for a wonderful year! #YGG
– Ashley Jowell, Southwest Regional Organizer
Danny Hirschel-Burns, Policy Coordinator
I can never forget the first time I met Danny — it was three years ago now at STAND Camp, and I remember being blown away by how brilliant he was. His insightful comments, opinions, and thoughts on all that we were discussing at STAND immediately struck me… little did I know that I would be fortunate enough to continue to engage with him for many more years. Danny has always been an incredible part of my STAND experience – he is one of the most hardworking, passionate, and dedicated individuals that I know, and never fails to put his absolute best effort (which is always outstanding!) into all that he does. He has transformed and shaped our policy and understanding of all of the conflicts at STAND, and always makes sure to present multiple perspectives. Further, Danny is a wonderful friend – I have so enjoyed getting to know him over the past few years, and STAND Conferences, retreats, and camps would never have been the same without him (whether it was due to mass atrocity prevention discussions, bonding over being injured #datcastlife, or just having a wonderful friend to talk to). Thank you Danny for all that you have done for STAND, and for being such a magnificent person. I will miss you so much next year!
– Ashley Jowell, Southwest Regional Organizer
When I first met Danny, I was struck by how friendly and easy going he was. Pretty soon, I realized that this guy really knew his stuff. Danny has such a vast knowledge and understanding about mass atrocities and an incredibly comprehensive, thought-out approach to social and international issues. He has undertaken so much work and research around atrocities, and has such strong beliefs in nonviolent responses. Danny takes a scholarly and progressive approach to STAND's conflicts, and is always analytical and enthusiastic. Most importantly, I greatly admire Danny's eagerness and willingness to keep on learning about and debating these issues. Danny's intelligence is matched by his friendliness, and he's been an invaluable part of STAND this year! You have a perspective and intelligence that is going to take you places- I'm so glad I've gotten to know you, and can't wait to see you in DC!
– Kat Fallon, Senior Manager
Sean Langberg, Education Coordinator
I've probably erased and rewrote the intro to this paragraph about five times now. Because there are no words (or enough) to describe what Sean brings to the table. He is critical. He is intelligent. He is humble. He is goofy and so wonderfully strange. He is thoughtful. He is self-critical. He is a leader, but he is a follower when he needs to be. Those fortunate enough to know him, are consistently challenged by his resistance to the status quo, motivated by his commitment to change in and outside of the atrocity prevention movement, and inspired by his belief in the power of student voices and ideas. As a friend, he has made me a better thinker, a better advocate, and a better version of myself. How did STAND get so lucky as to have someone like Sean? Someone that constantly strives to make it better, to reimagine it, to recreate it? And how did I get so lucky to have a friend like Sean? Someone with who I can laugh endlessly, learn endlessly and…drink endlessly? Are we even allowed to say that on the STAND blog? Well I just did, and on that note, cheers to my buddy Sean!
– Shomya Tripathy, former Community Manager
Sean has a perspective that I deeply trust and admire. During his years with STAND, he has been one of our most proactive, insightful, and humble leaders. Sean has found the perfect balance between speaking up in ways that further conversations and build strong ideas, and reflecting in order to empower his peers. His opinions and thoughts on social justice issues are always forward-looking and on point, and he consistently shows sensitivity, awareness, and an acute cross-cultural understanding. I feel so lucky to have met and worked with Sean this year- his ideas have challenged all of us, helped make STAND a stronger organization, and helped make dialogue around mass atrocity prevention more progressive, inclusive, and powerful. He's also just an incredibly kind and witty person who has brought a great energy to the STAND team! Sean, you're gonna do big things!
– Kat Fallon, Senior Manager
Katy Lindquist, Northeast Regional Organizer
I met Katy at the summer retreat. I immediately was impressed by her breadth of knowledge about recent conflicts. Not only is she well-versed in genocide prevention, she is also amazingly sweet and hard-working. She would always keep me up-to-date if I was unable to make our weekly call. I am so glad to have met her, and I wish her the best of luck!
– Siri Machiraju, Northwest Regional Organizer
I have adored Katy since I began working with her in 2012. Katy had an incredible interview for the position of Conflict Education Coordinator for Central Africa on the Education Task Force–so good, in fact, that I hired her right on the spot! She was, and is, incredibly intelligent, perceptive, kind, and fun. While I was sad to see her go for the second semester, I was also so so happy that she was studying abroad in Rwanda, a country I hold close to my heart. Since then, I have watched her rock the MC, working closely with her to mobilize the northeast for the 20th commemoration of the Rwandan genocide. I know that she's going to continue to observe, question, and travel the world… I just hope she'll let me tag along!
– Mac Hamilton, Campaign & Youth Outreach Coordinator
Sonia Sen, Communications Coordinator
If I had to describe Sonia in one word, it would be…well, I guess you can't really describe her in one word. When I met Sonia at last year's summer MC retreat, we kind of hit it off immediately, like she seems to do with everyone. Her quirky sense of humor and fun-loving personality are just some of the things that make her SOOOO awesome. I'm ultra jealous of her super cool dog named Teddy and wish my dog was cool enough to have its own Facebook profile, or even be social media famous. Props to Sonia for raising her dog to be a star. But aside from her pets, Sonia showcases her talents through STAND's webpage (which looks amazing) and social media accounts, and is incredibly dedicated to the organization and her passion for genocide prevention. Her consistent hard work will no doubt lead her to more amazing opportunities in the future and I'm excited to see where she ends up. As DSol says, YGG.
– Ashley Legg, Central Regional Organizer
We've all encountered those people that just have a quality that makes you want to be best friends with them within five minutes of meeting them. Sonia is that person. At least, I not-so-secretly want to be best friends with her. She carries a positivity, light-heartedness, and confidence with her that is hard to dismiss and especially valued in a field like this. Not only is the subject of our work difficult and tragic, but our wins are rare, and our mission is lofty. But folks like Sonia remind us that while being committed advocates, we can still laugh and be young in the midst of it all. And, man, is she committed. Homegirl has given eight years of her life – pretty much her entire youth – to this cause, and done so with laughter (and probably some tears) and passion. Sonia, thank you not only for your infectious happiness, but thank you for sticking with STAND and this movement when it was often hard to. No matter how much you love STAND, I promise it loves you more.
– Shomya Tripathy, former Community Manager
Jack Spicer, Campaigns Coordinator
I met Jack two years ago at STAND Camp in Washington DC. I first got to know him by way of email communication since he served as the Regional Organizer for my state, and I was impressed by how willing he was to reach out and help his chapters. I definitely admire Jack and his passion for STAND and other campaigns he takes part in on his campus. He's driven and motivated to do whatever it takes to reach his goals and is always searching for new ways to improve his community and the world around him. I have no doubt that he will excel in law school and go on to continue to help people and better his community. And if you're ever in need of a lawyer…well, you'll know who to call.
– Ashley Legg, Central Regional Organizer
Jackattack!! I had the distinct pleasure of serving on the MC with Mr. Spicer in 2012-2013 and feel very #blessed to know such a thoughtful, passionate, and radical activist. Jack is always looking beyond himself and into the world around him to see what he can do to make both small and large scale change. He's also our appointed heartthrob. As DSol so eloquently put it, "is that Jack, or Ryan Gosling?" Jack, thank you for making me think and feel more deeply. I look forward to seeing you tear it up in the courtroom!
– Mac Hamilton, Campaign & Youth Outreach Coordinator
Jake Sprang, Mid-Atlantic Regional Organizer
I also met Jake at the summer retreat. Though he was a newcomer like me, I was impressed by how quickly he became a defining force on our team. He is always on top of emailing all of us before our regional organizer calls and was quick to answer any questions I had. I am so glad to have had a chance to meet him this year!
– Siri Machiraju, Northwest Regional Organizer
Jake has been a remarkable Regional Organizer over the past year, but perhaps what I value most about him (aside from his awesome one liners and the Screamin' Eagle- his PT Cruiser with an Amurrica eagle decal) is his consistent and insightful thought leadership. From policy discussions to strategic planning sessions, Jake has always brought intelligence, thoughtfulness, and a global understanding to the table. From the time he has spent in South Africa, to the amount of intensive research and energy he has put into the complex issues that face eastern Democratic Republic of the Congo, he takes initiative around his passions. He has also been one of the kindest, warmest, and most hilarious members of our MC- retreats would not have been the same without ya! Jake, we've been SO lucky to have you as a part of STAND this past year, and can't wait to see what you do next!
– Kat Fallon, Senior Manager