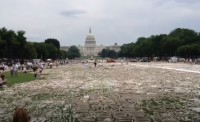 This post was written by Ankita Nayak and Ritika Bhatia of Plano Senior High School STAND after attending the One Million Bones event in Washington, DC. 
One Million Bones had to be the most inspirational, motivating, humbling experience we've ever had. It not only opened our eyes to the power we have as people, but also allowed us to see the amount of deaths that have accumulated because of such atrocities.
Atrocities that we promised would never happen again.
The exhibition itself was chilling. The day started gloomy with overcast skies and a blanket of clouds. From afar, the thousands of bones in front of the capital gave the most intense picturesque scene.
As the day passed on and we attended numerous educational events, we were able to gain an extensive amount of knowledge on the different conflict areas we are battling today and the different projects implemented to aid these problems. Those from the Enough Project, and CARE were friendly and willing to answer any questions we had.
Later that night, we attended numerous talks given by various speakers such as Eva Kor, a Holocaust survivor, and Carl Wilkens, who gave us eye opening and inspiring stories.
Following the speakers, we each were given a candle to light and walk in pairs down the national mall on a walkway designated amongst the bones.
It was quiet. Just our bodies, the bones and the light from the candle.
It was humbling. Peaceful almost.
The next day was advocacy day. Volunteers from the Enough Project had set up an informative session to teach us about lobbying. We met at the Washington Court Hotel, where we got to meet numerous people interested and passionate about the same thing we were.
We heard Rachel Finn and JD Stier speak, and received tips and ideas on what to say to the representatives that we talk to. After hearing their personal stories, we got to organize our talking points with our fellow Texan volunteers, Nancy and Susan.
A couple of hours later, we attended our first lobby meeting. Although we had never lobbied before, the volunteers from the Enough Project and our Texan volunteers were incredibly supportive of us in the whole process. We sat down and got to talk to representatives from both the House of Representatives and the Senate. Everybody that we talked to was incredibly open and interested in what we had to say.
To say that we lobbied is already an astonishing feat, but thanks to the volunteers from the Enough Project and to everyone that supported us, we were able to lobby in Washington DC; an experience that will stay with us for the rest of our lives.