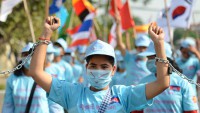 This post, written by Natasha Kieval, Programs Intern, is the first in our new series focusing on post-conflict countries. 
Many people know of the genocide that happened in Cambodia in the 1970s. Over 2 million Cambodians were killed in a movement led by Pol Pot and the Khmer Rouge communist government. Read STAND's history of the genocide here. Today, Cambodia's government is led by Prime Minister Hun Sen of the Cambodian People's Party. Though Cambodia is a parliamentary, representative democracy on paper, in the past year over 1 million people have been forced out of work and their homes by the government, according to the US House of Representatives.
Last week, Amnesty International screened the documentary "Even a Bird Needs a Nest," which focuses on residents in the Boeung Kak district of the capital of Cambodia, Phnom Penh. Civilians in this area have been forcibly evicted from their homes by the corrupt government, which is offering the land to powerful companies for commercial development. Meanwhile, the residents of these homes are made to live in relocation camps that do not provide even the most basic services. The film focuses on a strong group of women that is demonstrating against the government. Says one woman: "People are not afraid of dying. They are afraid of losing their homes."
Sam Rainsy, leader of the opposition party (SRP), spoke from his exiled location: "This regime is neither democratic nor communistic. We have leaders who consider Cambodia their personal possession." One civilian said, "I don't think Pol Pot was as cruel as this government." The government first asks civilians to negotiate for their homes – offering small monetary compensation. Some have signed negotiations, but never received what they were promised. If civilians refuse to negotiate, the government floods their homes or pumps sand in until they are ruined and the residents are forced to leave. Relocation camps that are set up for evicted citizens provide few amenities. A Cambodian at the Ang Andong relocation camp said:  "I've lived here for 5 years. No one has come to ask me if I'm okay. I have no hatred or fear left." When asked about the evictions, Prime Minister Hun Sen said only that Cambodia's biggest problem is the wealth gap, and "we can't do anything about it."
Protesters have taken to the streets, demonstrating against the government. A group of residents from Boeung Kak even gathered outside of the French embassy to beg for help. Many of the leaders of these protests have been arrested. Mu Sochua, an elected member of the SRP in the parliament, was one such protester. As she was taken away, she said, "I am very hopeful that one day our country will be united."
It has been 34 years since the genocide in Cambodia came to an end. Though progress has been made, it is clear that the government is still persecuting its civilians, which although is not outright killing, could be seen as another kind of mass atrocity. STAND will continue to analyze post-conflict areas in the coming weeks – make sure to check back!