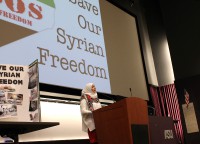 This post was written by Rana Dbeis, vice president of Save our Syrian Freedom and an intern at the Syrian-American Alliance. It is the second post in our series "#Syriasly" that presents the Syrian conflict from a variety of perspectives. Check our our first post in this series here.
Three years ago, I would jump out of my chair in excitement when I heard the word "Syria" in the news. When I would come across the word in a textbook or book, I would re-read the lines over and over again in awe at the fact that my country was actually mentioned. Pathetic, I know, but Syria was always fairly calm compared to its surrounding regions. Now, you can't come across a single media outlet without seeing or hearing the word Syria mentioned at least once or twice. If only it was mentioned in a positive light. But here I am two and half years later, contemplating what the next event for Syria should be. This is a normal day in the life of Syrian-American activist.
I am originally from Hama, Syria but I was born and raised in Phoenix, Arizona, which is where I currently reside. I attend Arizona State University, yes, the number one party school in the nation. But my college experience has been anything but a party. At the start of my sophomore year, my friend and I founded a student organization called Save Our Syrian Freedom (SOS Freedom). As vice president of this organization, the majority of my time spent outside of school has been centered around Syria. My experience this past year through my work has been stressful at times, but nevertheless, successful.
As an organization we have two goals: to spread awareness to the general public and to raise money for the victims of this crisis. Our two goals go hand in hand; as people become more aware of the severity of the crisis, they will be more inclined to donate. To raise awareness, we hold walks, flash freeze mobs, and peaceful protests. We simultaneously hand out flyers that direct people to various websites where they can donate to the victims. Even though the conflict has been ongoing for two years, some people still have no idea about what's happening. While some people show genuine interest by stopping and asking questions, others simply don't care. That's what makes my job so stressful—getting people to actually care. In one year, at the crux of my activism, my organization was able to raise over 9,000 dollars for Syrian orphans and refugees across the Middle East through our awareness and fundraising events.
As our organization grows, I hope to educate more people about the conflict and garner more financial support through our various events. Even though the majority of people do not seem to care, it's the occasional caring stranger who restores my faith in humanity.
No matter how long it takes, I won't give up on Syria.